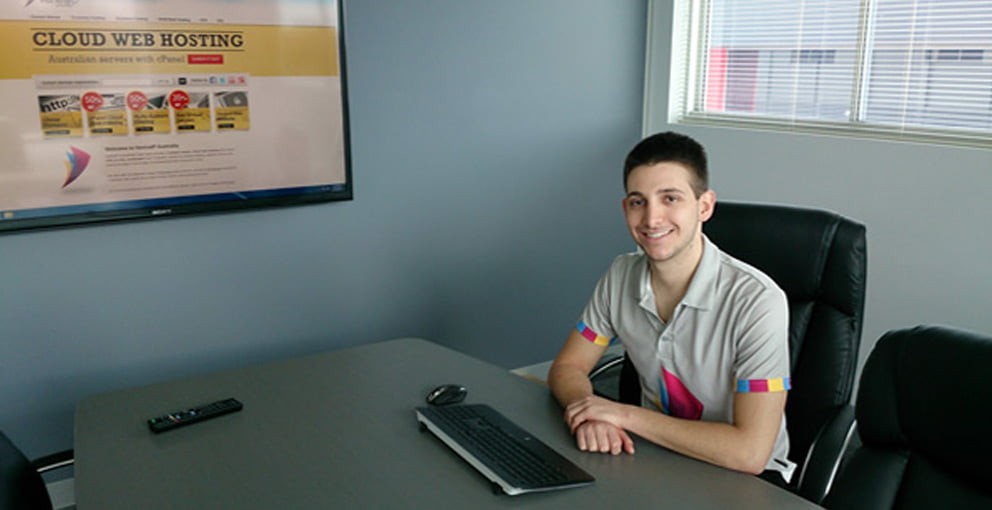 Q&A with our CEO
Our CEO, Angelo, promised earlier in the year that he would conduct another Q&A session with questions from customers.
Yesterday we asked on social media for questions for our CEO, Angelo, and today he sat down to answer as many of them as he could, and here are the answers you've been waiting for.
Q: Cheezels or Twisties?
A: Neither, actually! And for two reasons. The first is that I am lactose intolerant, so cheese of any kind if out of the question for me. The second is that I have OCD and having that greasy, yellow fake cheese on my fingers is like a nightmare for me!
Q: Will you ever offer dedicated servers?
A: You never know what could pop up. I can tell you that we have something in the pipeline that may get us to doing something with dedicated servers, but that's all I can say for now.
Q: I recently noticed downtime of over 1 hour and 30 minutes on a server but it never appeared in the service status tracker. Is there any reason you decide not to include certain unscheduled downtime?
A: Interesting. I'm not aware of any outage that has last that long that was not added to the service status page. I'm happy to look in to it for you though. For reference, our policy is to only add events that have lasted or are likely to last longer than 15 minutes, but I do know that sometimes small issues in the early hours of the morning won't get posted if there is a firm ETA as we don't want to wake people up in the middle of the night with emails and SMS.
Q: Are you finding it hard to compete with the bigger players in domain registration?
A: This is a great question! Are we finding it difficult to compete? That all depends on what and who you are comparing us with, so I am going to give you both a market comparison and a product comparison for .au as it's the best real-life data I can publish.
There are 39 auDA accredited registrars, and as at April 2013 VentraIP Wholesale was ranked #10 in total market share and ranked #6 in new registration share, as per the monthly report issued by AusRegistry.
Our total market share has continued an upward trend since we first became accredited, but what I think has shocked many registrars is our new registration share.
In terms of new .au registrations, we are beaten only by Crazy Domains, GoDaddy, NetRegistry, TPP Wholesale and Melbourne IT. Every other registrar is trailing us by more than 1%. In fact, even if a company like UberGlobal and their newly acquired companies MYOB and SmartyHost was to combine their total new registration share it still wouldn't be more than us.
So to be beaten in the market only by massive, multi-million dollar companies with huge marketing budgets behind them is a huge testament to our product and customer service, which I will talk about next.
On a retail level, we offer .com.au registrations and renewals for $19.95 for 2 years. This is our everyday price with no coupons, specials or discounts. This price also includes free DNS hosting, free URL forwarding, and free email forwarding.
When comparing this to those who I've already said beat us in terms of new registration share, this represents outstanding value when you consider Crazy Domains sell their .com.au domain names for $24.00 for 2 years with an additional fee of $18.00 per year for DNS hosting and forwarding (a total of $60.00 for 2 years), meanwhile NetRegistry sell their domain names for $34.96 for 2 years with an additional fee of $30.00 for 2 years for DNS and forwarding (a total of $64.96 for 2 years).
Now I'm not going to go and make comments on their respective levels of customer service, since a quick search will allow you to form your own opinion on that, but I know that our customer service and feature packed control panel is always raved about by our customers and that is what matters most to us.
So to wrap this up I would say that we have no problem competing but we have always taken the approach of selling things cheaper and allowing our customers to do the advertising for us, instead of charging more and having a lavish marketing budget for TV ads and Google AdWords.
Q: What's the new office like? Will we get a video tour?
A: I think it's great! And yes we will be doing a video tour once it's complete. We have a sofa that has been on back order for a couple of weeks and as soon as that arrives we will post a video.
Q: Is your U.S. expansion going as well as you'd hoped? As I understand competition is cut-throat in the U.S. market for hosting.
A: To be honest it's doing better than we had first anticipated. Branden, the General Manager of our USA company, is doing an outstanding job and we hope that it continues the current upward trend. It's definitely a tough market to crack but we've had years for our product to mature, so we were confident going in that we had our niche already worked out.
Q: Tell us about the new S1 data centre, and your plans, and what benefits this will offer, and about the migration.
A: The new NextDC S1 data centre opens at the end of September and we cannot wait! In two weeks I'll finally have the opportunity to go through it however I am going to miss the grand opening as I will be in New Orleans for the cPanel Conference.
I strongly believe that the benefits to our customers will be substantial, including dual power to every device which will ensure complete power redundancy, and having diverse local access to a multitude of carriers will also allow us to ensure complete network redundancy.
These two changes alone will correct the majority of issues we have faced in Sydney over the past three years.
Sydney will also become the central point of our network with new transit and peering providers added to the mix, including another Vocus transit connection, relocation of our existing AAPT transit from Melbourne to Sydney, Megaport and NSW-IX.
It may be hard to believe, but by doing this we will actually be increasing capacity and reliability without adding any additional cost to our OpEx.
The migration will begin later this year with Zuver servers being the first to go in. This will be followed by VentraIP and VentraIP Wholesale servers being migrated from our existing data centre in December and January.
Q: What is being done to ensure that more technical e-tickets are handled properly. e.g. I've had a recent ticket RE setup of my new VPS that was not handled well, since the person at the other end, didn't seem to know much about VPS and wasn't helpful at all, wheras when it was escalated and handled by Dean, he had it sorted out in a flash.
A: Dean is one of our most knowledgeable team members and a huge credit to the company. But it's always difficult when new staff come on board, but as we grow it's essential that we continue to staff our helpdesk appropriately. New staff can sometimes come across as not knowing some things, because generally they don't know everything when they come to us, but we do offer extensive training before they begin and in many cases the best way to learn is to simply dive in and give it your best shot.
Our more experienced guys are never too far away from them and we have been refining our internal escalation policy to ensure that the new guys learn while at the same time making sure the customer is not frustrated with the answers being given.
If there are any specific issues that you would like me to take a look at, please send them through to Customer Care.
Q: Will your hosting prices now stabilise, considering for some services they have more than doubled in recent years?
A: Tough question! The answer is two-fold.
Hosting prices will remain stable for at least the next year or two based on our Accountants forecasting, but it's something that we always have to review if there are any substantial changes to our operating costs, such as taxes, super, supplier cost increases, etc.
In addition, we believe that our current pricing model continues to represent great value for money for the service that is supplied. Our Economy customers are loving the new Dell Cloud environment as it has greatly improved speed and stability which makes the service technically "undervalued" at the current price when compared to similar offerings.
Q: When are you going to ensure all your branding is consistent? I regularly still get emails with your old logo that was changed years ago…
A: ARGH! Believe it or not, this is something that bugs me too! The trouble is that WHMCS's template system is terrible to work with, and it takes a lot of time to go through and update the templates. Having said that though, we are spending time updating email templates but I promise that will be a thing of the past very soon!
Q: When is the automated domain renewal going to be offered?
A: Soon. I can't give you an exact date, but it will be soon. Wholesale customers can already do it through the wholesale system.
Q: How about Zuver offering ultra low cost $10/yr type plans with less inclusions and no support and no hand holding (e.g. under 5gb/month and under 50mb space). Useful for small hobby type sites which are not terribly important, or people who require hosting of micro sites in multiple locations.
A: The problem with that is volume. There are not many customers who will benefit from a service like this, and while you can say "no support" you can bet people who buy it will complain if they don't get support when something goes wrong.
If you had a couple of these sites to host, you would be better off buying a Zuver Multi Hosting service at $96 per year which has 10 cPanel accounts included, making them just $9.60 per year with 1GB disk space and 25GB bandwidth per account.
Perhaps that could be a new business idea for you?
Q: Also, I'd be interested in Zuver and VIP offering hosting in additional locations like Perth, Auckland, Adelaide etc…
A: As we've already announced Zuver will soon be relocating to Sydney from Brisbane, but I can tell you that VentraIP will have a new PoP location early next year and that will be announced very soon!
Q: Also, how about allowing people to add credit into VIP Control to pay for future invoices (this has been being talked about for quite some time). And also, when those invoices come up, why not allow for them to be paid for all at once (particularly useful when say 10 domains come up for renewal at the same time).
A: Unfortunately this is all limitations of WHMCS, but within the next twelve months we will have a solution for both of these issues… stay tuned!
Q: Planning on having hosting options in Adelaide (or other local or international locations)?
A: We've already announced that Singapore will be our next international location, but we will soon be announcing our next Australian location that will underpin the Singapore PoP.
Q: Is ventra planning on offering hosted exchange, SharePoint etc in the future??
A: It's funny you ask that, because we are currently evaluating a number of email hosting platforms and we have recently become a Microsoft partner. Read in to that what you will!
Q: Will bulk DNS updates ever be an option?
A: I'm not 100% sure what you mean by bulk DNS updates. If you mean bulk domain name updates, for say updating contacts and nameservers, then yes it will be possible in the next twelve months.
Q: Ventra ADSL?
A: Not happening. If anything it would be Ventra NBN but at this stage it's not on our to-do list.
Q: Bring back the forum ? Gr8 knowledge/base self-help resource without bothering support staff 4 minor issues.
A: The forums were great in their day, but rapidly declined in use and content. As we said when we closed down the forum, we will soon have an interactive FAQ-type system that will be a great replacement for the forums and will feature some great integration. That's all I want to say about that for now.
Thank you to everybody for their questions! We will try and do these Q&A sessions every couple of months.