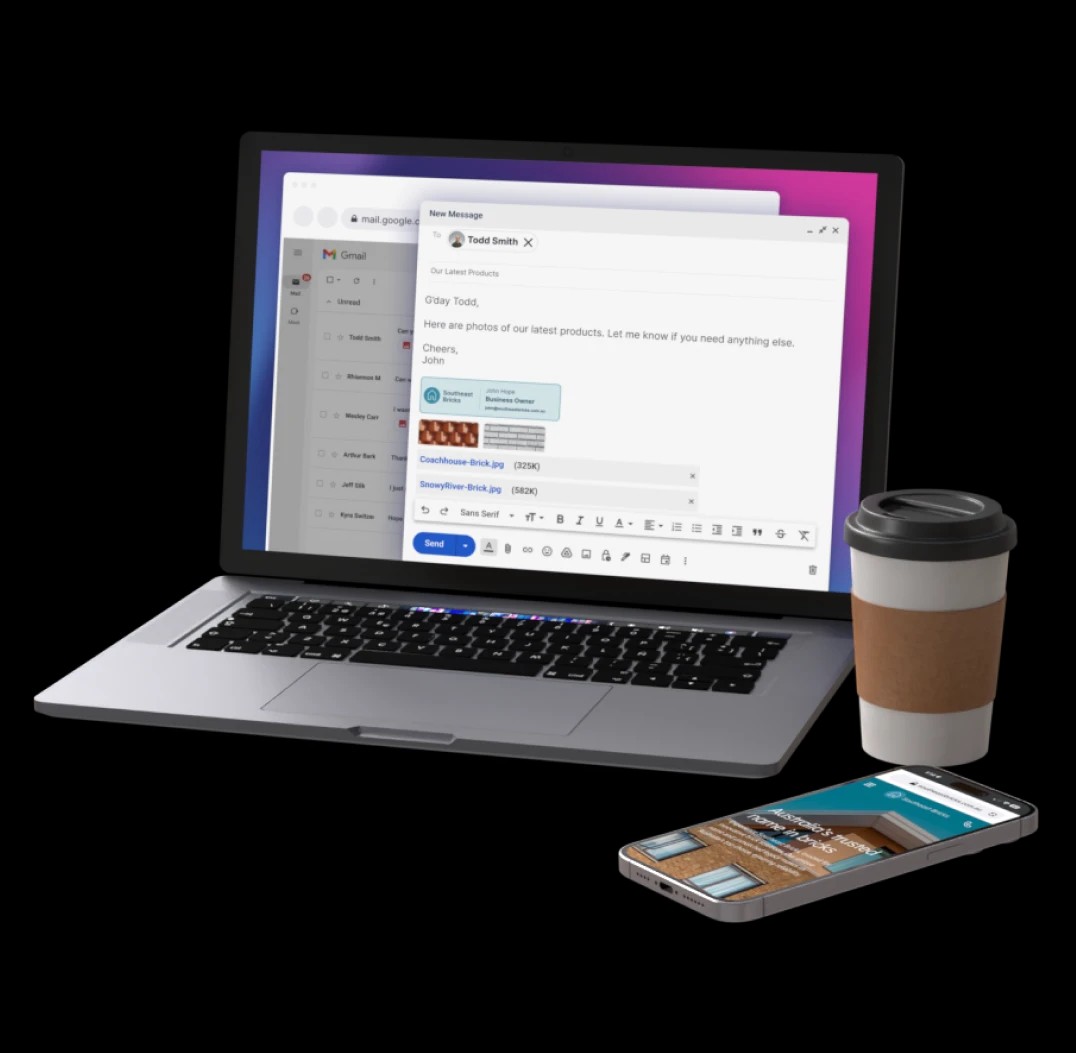 Establish Trust With Your Audience
The best way for you to communicate with your online visitors, as well as start to gain their trust, is through a professional, personalised email address. All our email options allow you to create a unique email address with your business name, ensuring consistency across your brand.
Business Email Hosting

If your team actively leverages their emails within your business, you need a purpose-built, hosted email solution with spam and virus filtering to ensure you never miss a message.

Popular Choice

Google Workspace

Supercharge business productivity with Google Workspace – the all-in-one, cloud-based solution for seamless collaboration, efficient communication, and effortless organisation.
Why Choose VentraIP?
Explore a range of benefits that come with VentraIP's email hosting solutions.
24/7 Australian
Support
Available 24 hours a day, seven days a week, our Melbourne-based team are known as the best in the business for delivering unmatched customer service and technical assistance to our customers.
100% Australian Owned
& Operated
Through our innovative approach, VentralP has become one of Australia's largest online services providers, proudly supporting our local economy, jobs, and community.
Trusted
Provider
With a strong reputation for reliability and security, we have already earned the trust of countless Australians and their businesses.
Outstanding
Performance
With a focus on speed, dependability, and advanced features, our email hosting service ensures efficient and seamless communication for your business.
Elevate Your Brand With Email Hosting
Experience seamless and professional communication among your team and clients with our industry-leading email hosting solutions. With custom domains, you can create your brand's presence and establish a unique online identity, all the while gaining the advantage of a dedicated inbox, securely stored and managed by an Australian team. Enjoy enhanced privacy, accessibility, and compatibility features, all at an affordable cost.

Our email solutions ensure uninterrupted reliability and top-notch performance. Elevate your email experience with us today!
Trusted by Over 300,000 Australians
We are one of Australia's most loved online solution providers.
In over 15 years using many different hosting services, VentraIP is by far the best that I have ever used, and I now recommend all of my clients use them. The prices are great, the services just work almost flawlessly, and on the rare occasion that there are any problems the customer service is exceptional with support staff that really know what they are doing.
We had been with a service provider, which was then acquired by the worst hosting provider in the universe ( crazy domains / vodien / dreapscapes etc) Anyway, Ventra IP has helped us to move all our services over, customer service us local Australian, support is fantastic, the service is outstanding. I would like to highlight the control panel, and the order process, which is absolutely brilliant, I have never actually seen anything near as good as their system. 10/10
Impressed with the level of customer service from these guys. Having previously always dealt with the likes of Melbourne IT etc I was used to mediocre to poor customer service (and value for money). Someone recommended these guys to me and the best thing I ever did. Issues are dealt with quickly and efficiently.
Things We Get Asked All the Time
We've answered some of the most frequently asked questions.
Email hosting is a service that allows you to have a professional, personalised email address under your own domain name. Your hosting provider will store and manage your emails on a dedicated server, ensuring efficient and seamless communication for your business. Additional services include features like spam and virus filtering to ensure your team never misses important messages.
What email plans does VentraIP support?
VentraIP currently support a range of email hosting plans.
Business Email Hosting – Our Australian business email hosting plans are a purpose-built, email solution with free spam and virus filtering, automatic backups and flexible storage options.
Google Workspace – Google Workspace offers a complete range of online tools, allowing you to create and collaborate seamlessly with your team.
Can I move from my existing provider?
Yes, of course! Once you have purchased one of email hosting solutions, you'll be able to contact our support team who'll assist in moving all of your existing emails and data from your existing provider to VentraIP – all at no extra cost!
What is IMAP and POP3? What is the difference?
IMAP and POP are the protocols that are used when streaming email data from a mail server, and most email clients (such as Outlook, Thunderbird, Windows Mail) will accept either when configuring email accounts. VentraIP email hosting products support the use of either protocol.
IMAP – When you receive a message, the mail app will leave the message on the mail server and stream a copy to your devices. The email remains on the server, and you can access it via another IMAP mail client and view your mail exactly as it appears in your other devices, which will keep everything in sync.
POP – All of your emails will be downloaded to the device you access it from (into the mail client) and removed from the mail server. This will allow you to read your emails while online or offline. This is a great option if you do not wish to invest in more Disk Space or email storage as part of your plan.