Domain Names
Register your new domain name instantly with Australia's largest independent
accredited registrar, backed by 24/7 local support.
Learn about domain names
.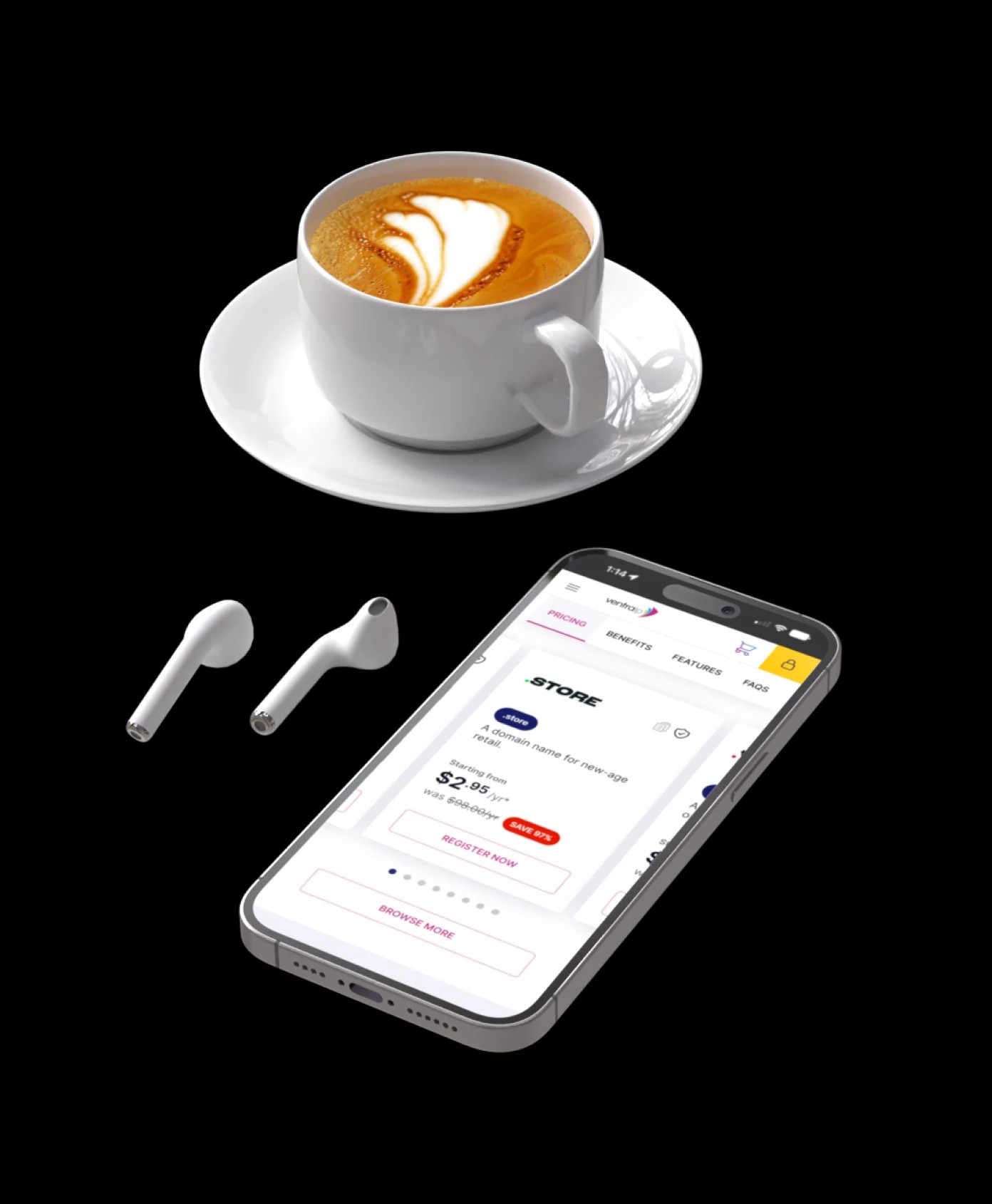 Cracking the Code of Domain Names
A domain name is a user-friendly way to locate and access specific websites on the internet and are made up of two parts:
The Name: This section represents the website or brand identity.
The Domain Extension: Also referred to as the top-level domain (TLD), this indicates the website's type or category.
For example, with the domain name "ventraip.com", "ventraip" represents the name, and ".com" is the TLD.
Domain names play a crucial role in establishing an online presence, as they help visitors find and remember websites more easily, contributing to brand recognition and accessibility on the web.
Why Choose VentralP?
We are a leading domain registrar with a proven track record of exceptional service and a commitment to customer satisfaction.
Instant Domain
Name Registration
Experience the speed and convenience of instant domain name registration, securing your online presence with just a few clicks
auDA & ICANN Accredited Registrar
As an auDA and ICANN-accredited registrar, we ensure the highest standards of domain registration and management for your online business.
Over 1M
Domains Registered
With over 1 million domains registered, we have established ourselves as a trusted and reliable platform for securing your online identity.
24/7 Customer
Service
Ensuring a seamless experience throughout your domain registration journey, our team of award-winning experts are here to help you 24 hours a day, seven days a week.
The Best Value Domain Names With No Hidden Fees
Our all-inclusive domain name pricing gives you access to free features such as DNS hosting, web and email forwarding, and ID protection, which some providers charge extra for.
Customer Service Location
Australia
Comparison based on 01/12/2023
Things We Get Asked All the Time
We've answered some of the most frequently asked questions.
A domain name is your digital address, serving as an easy-to-recall identifier for specific websites on the vast internet landscape. It comprises two sections: the unique name symbolising your website or brand, and the TLD (Top-Level Domain), acting as a category marker for the site.
Why is a domain name important?
A domain name plays a pivotal role in your online footprint, acting as a digital signpost that helps your audience find and remember your website. It is an integral element of your brand's online identity, contributing to brand recognition and easy web navigation.
What's the best domain name for me?
The optimal domain name should mirror your brand, reflecting its essence in an easily memorable and spellable manner. It should be relevant to your website's purpose, offering a hint of what visitors can expect, thus enhancing your online visibility and credibility.
What types of domain names are there available?
There's a kaleidoscope of domain names available, primarily distinguished by their extensions or TLDs. You'll find popular ones like '.com', '.org', and '.net', along with country-specific ones like '.au' for Australia and industry-focused TLDs like '.tech' or '.health'.
Should I register more than one domain name?
Certainly, securing multiple domain names can be a strategic move. It offers a protective barrier around your brand, boosts your SEO, and helps capture a wider audience. You might consider owning different TLDs for your primary domain or having variations of your domain name to shield against competitors leveraging similar names.