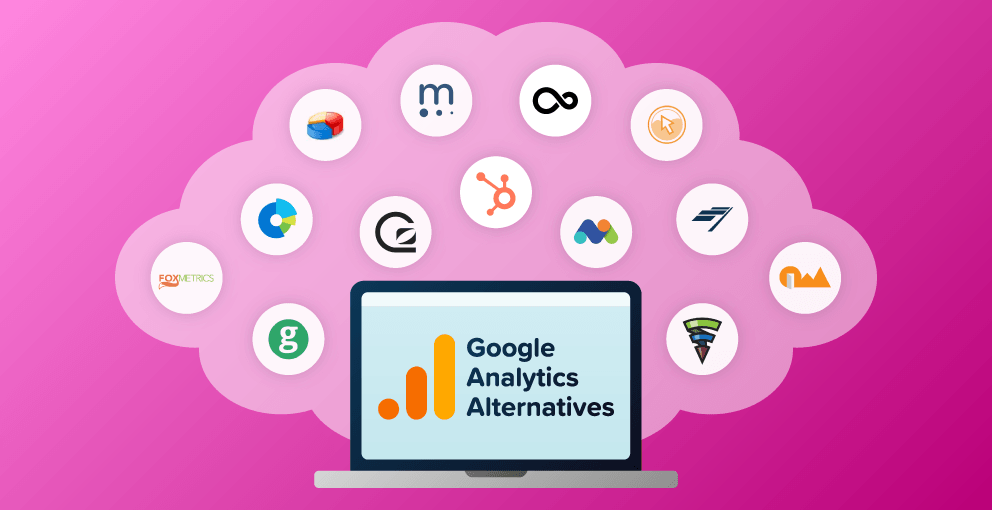 13 Google Analytics Alternative to Create an Informed SEO Strategy
There's more to analytics than page views and Google. Check out these 13 analytics platforms and the unique metrics and methods of measurement they use to give you the most actionable results.
Google Analytics is a great platform that offers businesses many insights into your traffic and web users. Plus it is free.
Yet, it is not the only web analytics solution out there and checking out other platforms is an excellent idea for many possible reasons:
Different platforms offer different ways to present data giving you access to more insights, otherwise hidden in Google Analytics reports

Google Analytics is great, but it is incredibly vast and hard to navigate. Not many businesses or teams need that level of insight and benefit more from minimalistic, yet informative reports.

Google Analytics is Google's property, and many businesses may feel uneasy giving Google so much data about their internal site operations. Who can blame them?
Here are great Google Analytics alternatives:
1. Matomo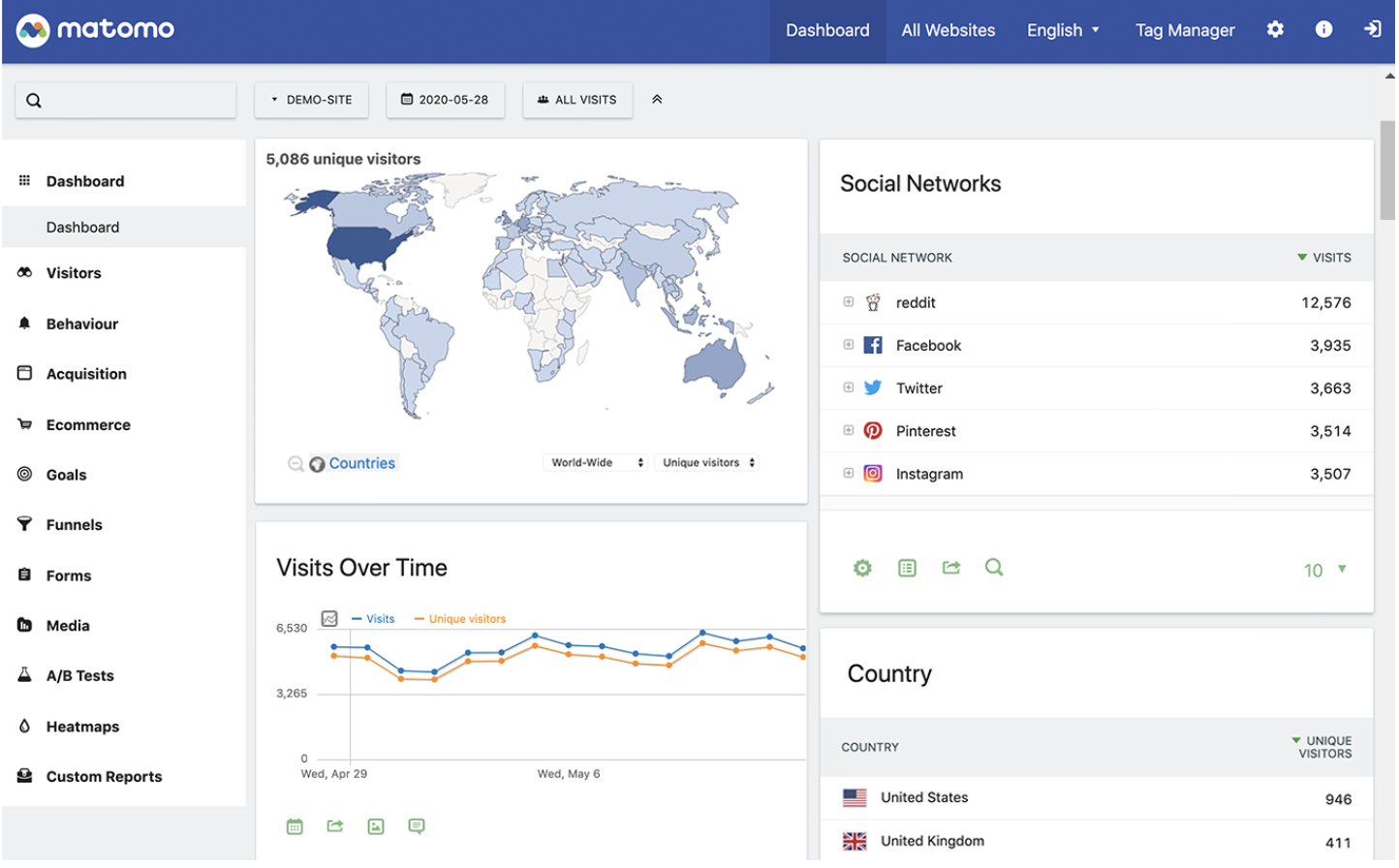 Matomo (formerly known as Piwik) is an independent web analytics platform that gives you insights into your website's visitors and marketing campaigns. You can use it for web analytics, eCommerce analytics, server log analytics, and intranet analytics. 
It will allow you to profile your audience, learn about your users' behaviour (where they come from, what they do, and where they go), and measure goals to increase conversions. Matomo also offers a pro version of their platform for additional functionality, support, and training. Matomo pro costs $23 per month, but there's also a free edition if you have a technical team to support that effort.
2. Open Web Analytics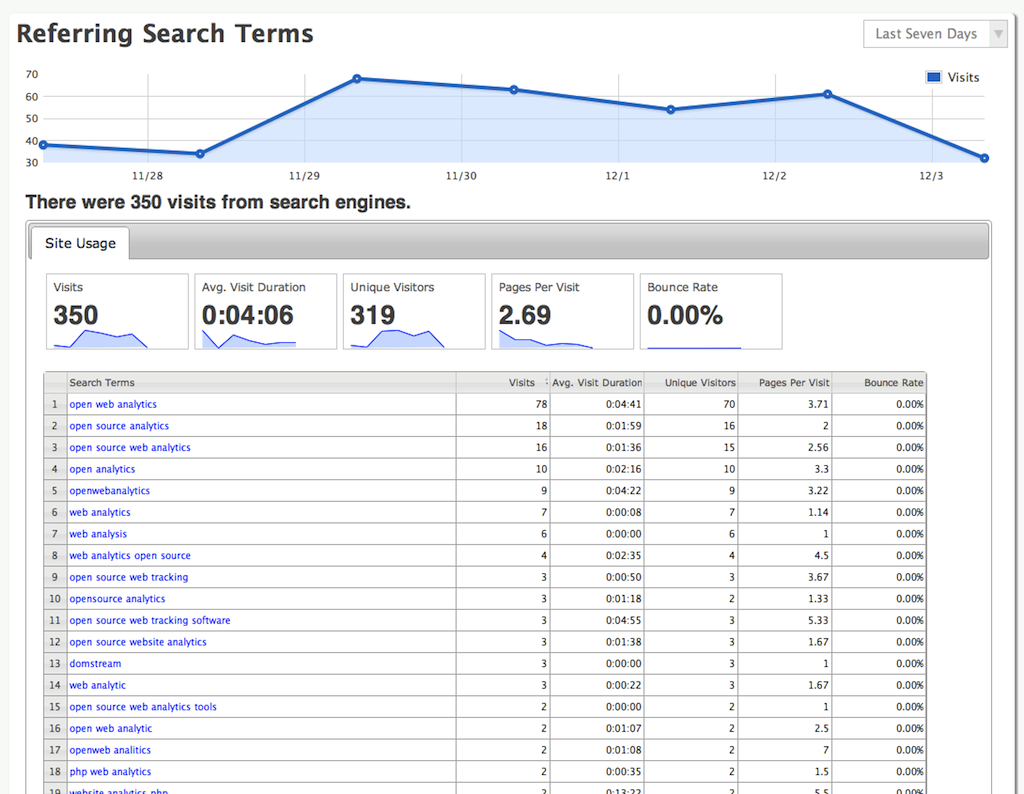 Open Web Analytics is an open-source web analytics platform where you can track and analyze how people use your websites and applications. 
Its main reporting and analytics dashboard is similar to Google Analytics, including visitor tracking across web pages, heat maps, geo-location, click-stream reporting, custom actions, search terms, returning visitors, and DOM element tracking.
3. Clicky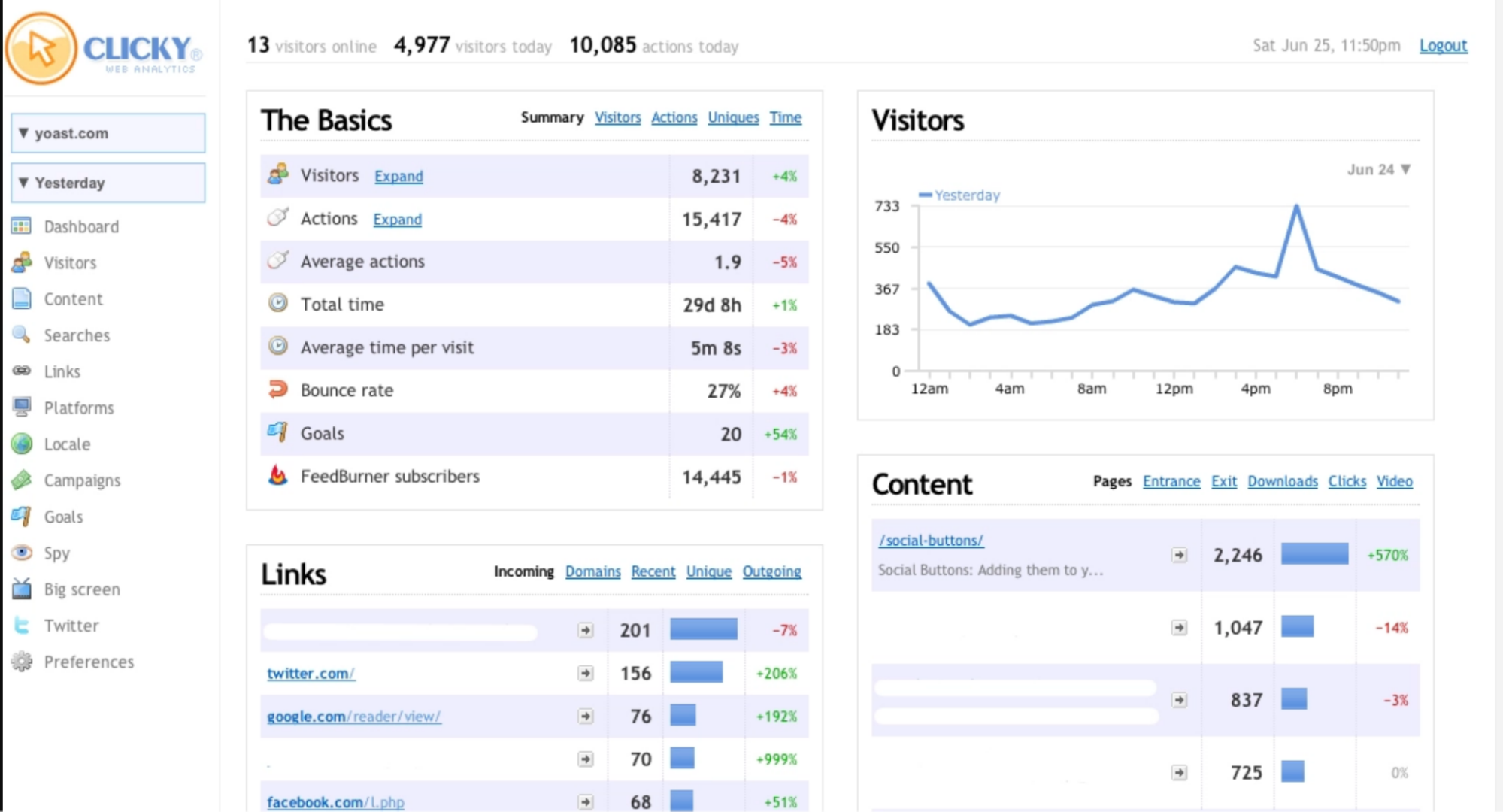 Clicky is a freemium web analytics platform that allows you to see all of your analytics data in real-time. You get data on individual visitors and actions, heatmaps, uptime monitoring, alerts, and much more. 
They even have a comparison chart of their analytics vs. Google Analytics and additional competitors. Pricing is free for under 3,000 daily visitors and starts at $9.99 per month for more active websites.
4. W3Counter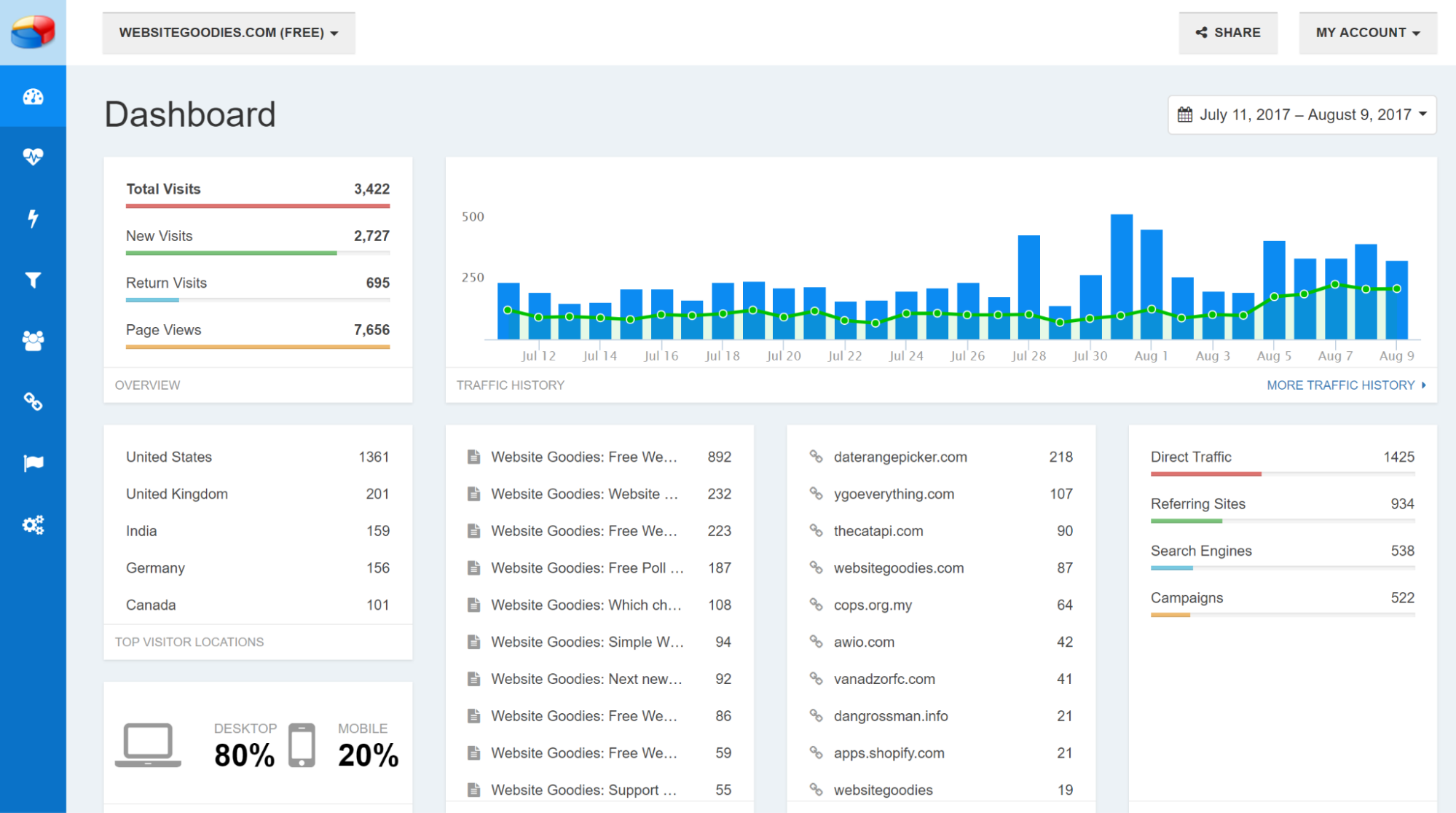 W3Counter is a freemium web analytics platform that allows you to add their confer or badge to their website to see where your visitors come from, how they use your site, and which pages they love the most. 
They also have 20 real-time reports for various web stats. Pricing is free for websites with under 5,000 views per day.
5. StatCounter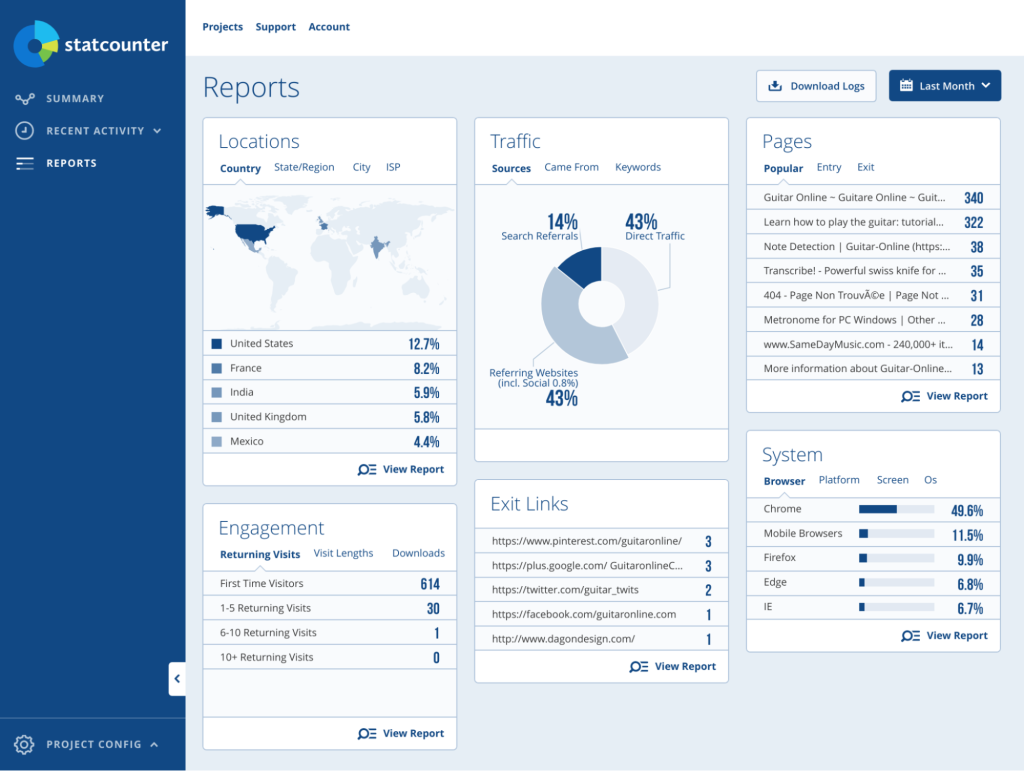 StatCounter is a freemium web analytics platform that allows you to monitor visitor activity in real-time. You can learn about your visitor's entry pages, exit pages, keyword analysis, download activity, location, tech stats (browser, ISP, O.S., resolution, and more), returning vs. new visits, and popular pages. 
This platform is free for websites with 500 page views per month. Pricing for more significant sites starts at about $15 per month.
6. Finteza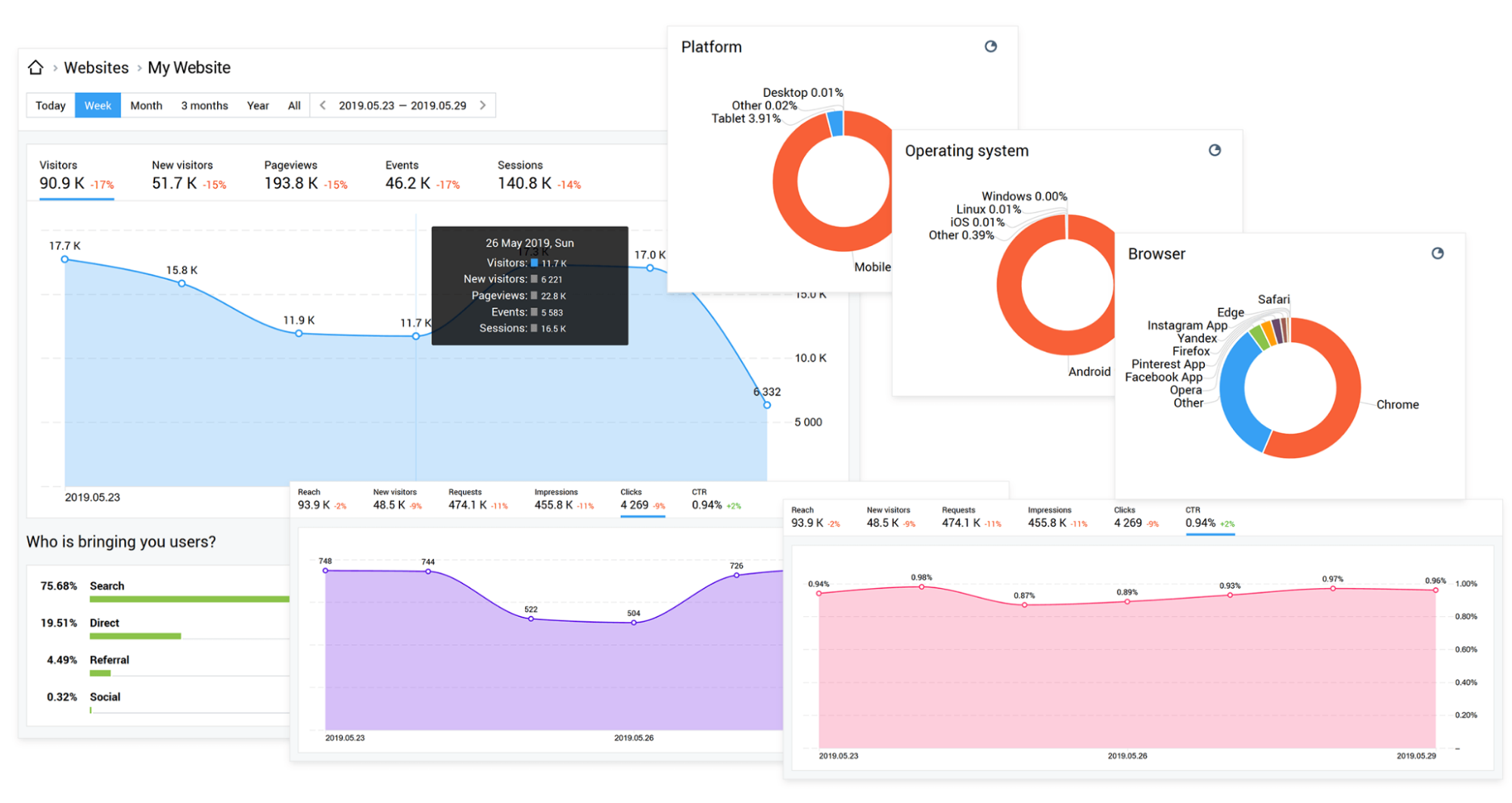 Finteza is a premium web analytics platform that allows you to cut through the clutter of other analytics platforms to discover the most helpful information for your business. 
You will get real-time activity tracking, desktop alerts for conversion goals achieved, the ability to tag your visitors, detailed visitor reporting, referral tracking, page-level details, and many additional features. Pricing starts at $25 per month.
7. Gauges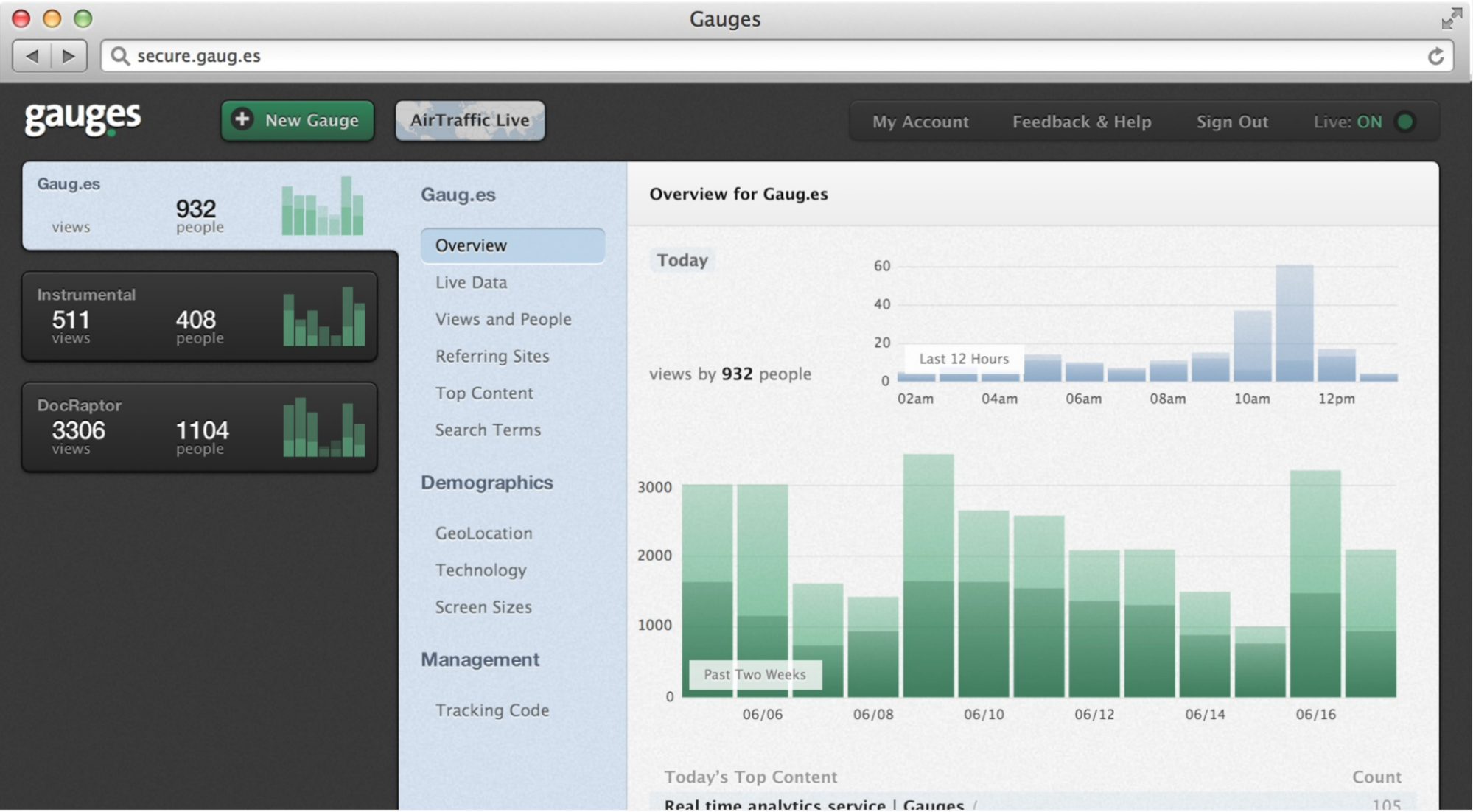 Gauges is a premium web analytics platform that collects and analyzes web traffic for your websites in real-time. You'll get actionable metrics that answer the questions of how much, where from, and where to. 
You will get a breakdown of visit activity, referrers, searches, most popular pages, recently accessed content, feed subscription patterns, technology versions, and areas to target your most important content based on visitors' resolution. 
Pricing starts at $6 per month.
8. Chartbeat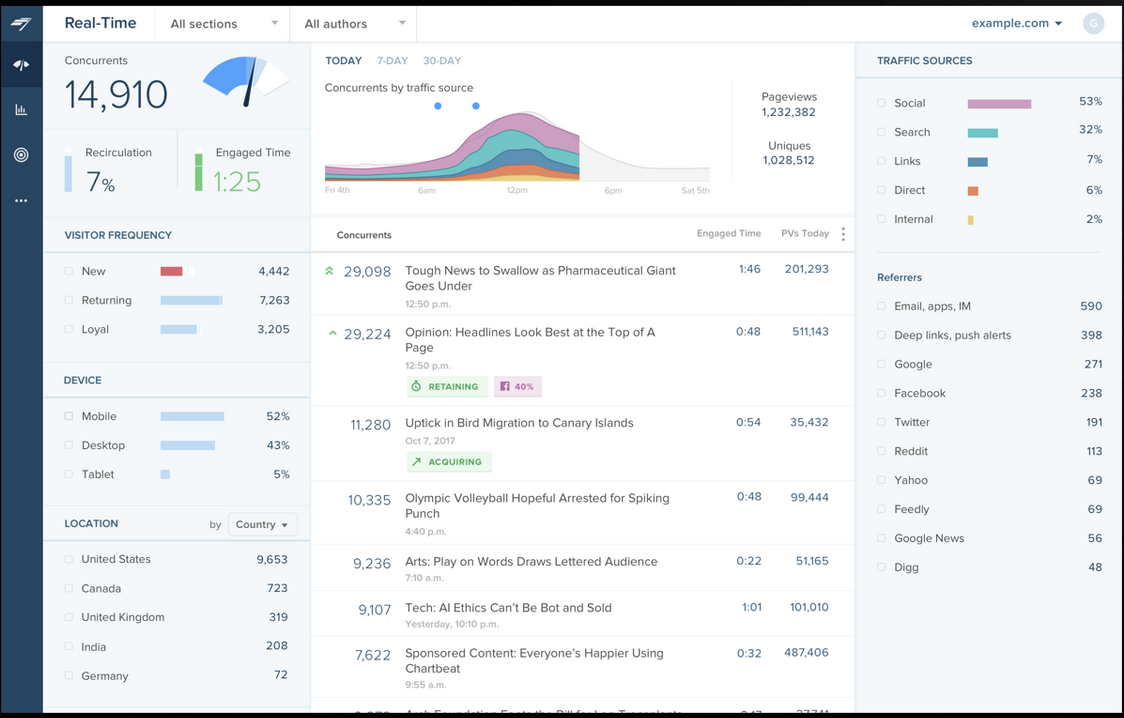 Chartbeat is a premium web analytics platform for publishers and media content creators to get live, real-time data about their website performance. You can learn who is on your site and how they are engaging with your content, along with what content is converting first-time visitors into loyal enthusiasts. 
You'll also get insights into referrers, return rates, and recirculation. Depending on the features you need and concurrent users on your website, pricing starts at $7000.00 per year.
9. FoxMetrics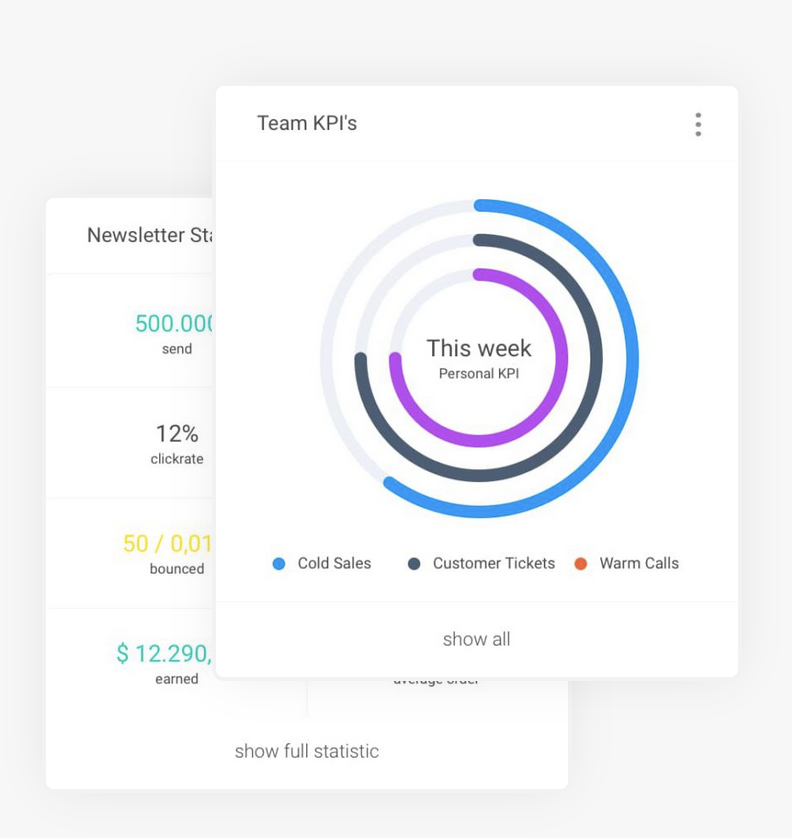 FoxMetrics is a premium web analytics platform that tracks your customers' interactions with your website or mobile applications in real-time, providing actionable metrics to help you increase conversions. 
Pageviews, customer events, unique visits, visitors, files, bounce rates, exit rates, and other actionable KPIs are included. Pricing starts at $299 per month.
10. GoSquared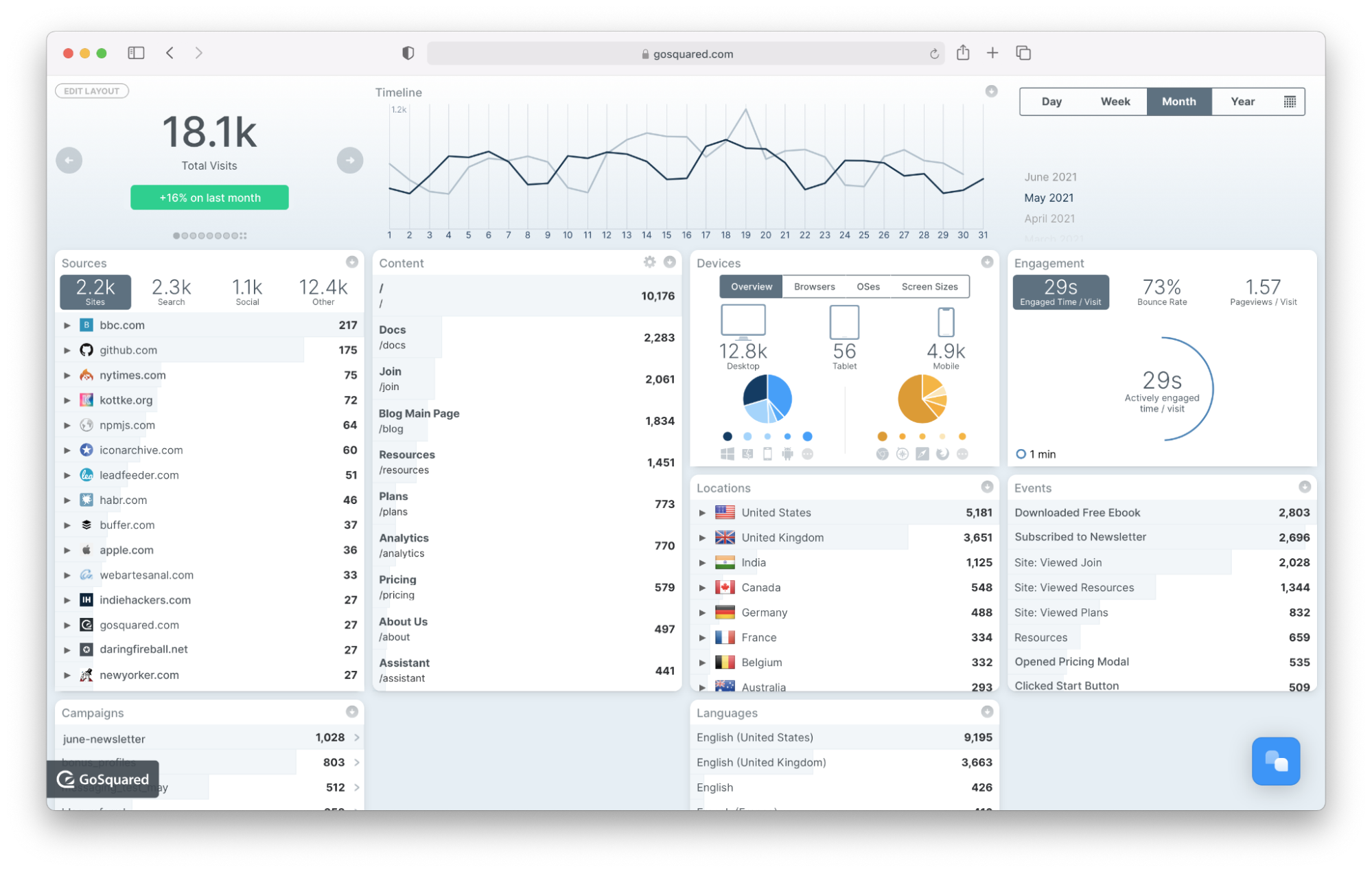 GoSquared is a premium web analytics platform that scales from minor to enterprise for any business. They offer beautifully simple real-time analytics and marketing tools for your entire company that help you fix mistakes that may cost you conversions, customers, and money. 
Pricing starts at $9 per month.
11. Woopra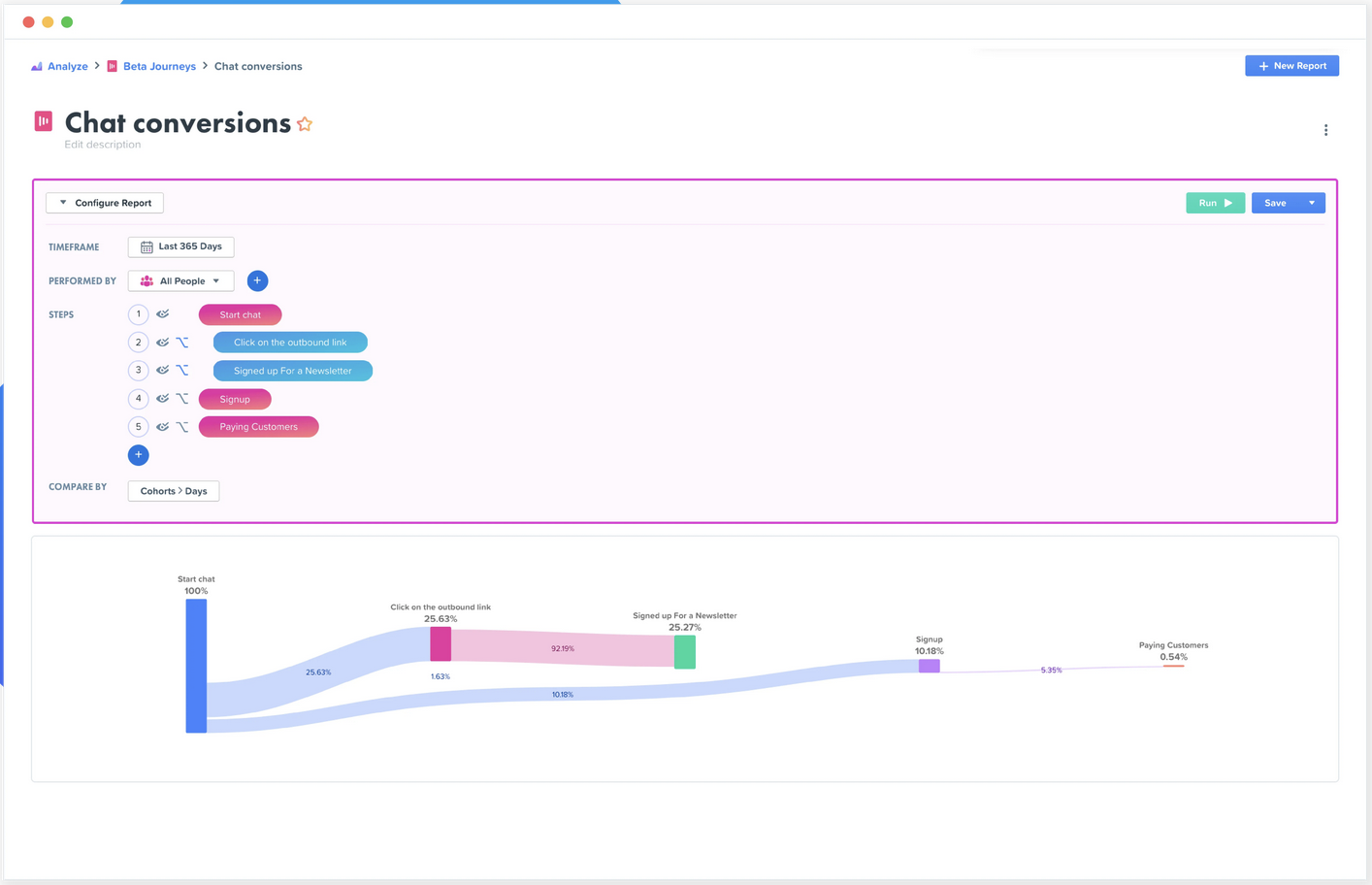 Woopra is a freemium customer journey analytics platform that allows you to get to know your customers beyond page views and events. You'll see who they are, where they found you, and how they engage with you. It will help you identify problems in your conversion funnels so you can fix them, find out where your customers lose interest and get notifications based on customer activity. 
Pricing is free for websites with under 30,000 actions (visitors perform on your website) and starts at $349 per month for larger websites.
12. Mixpanel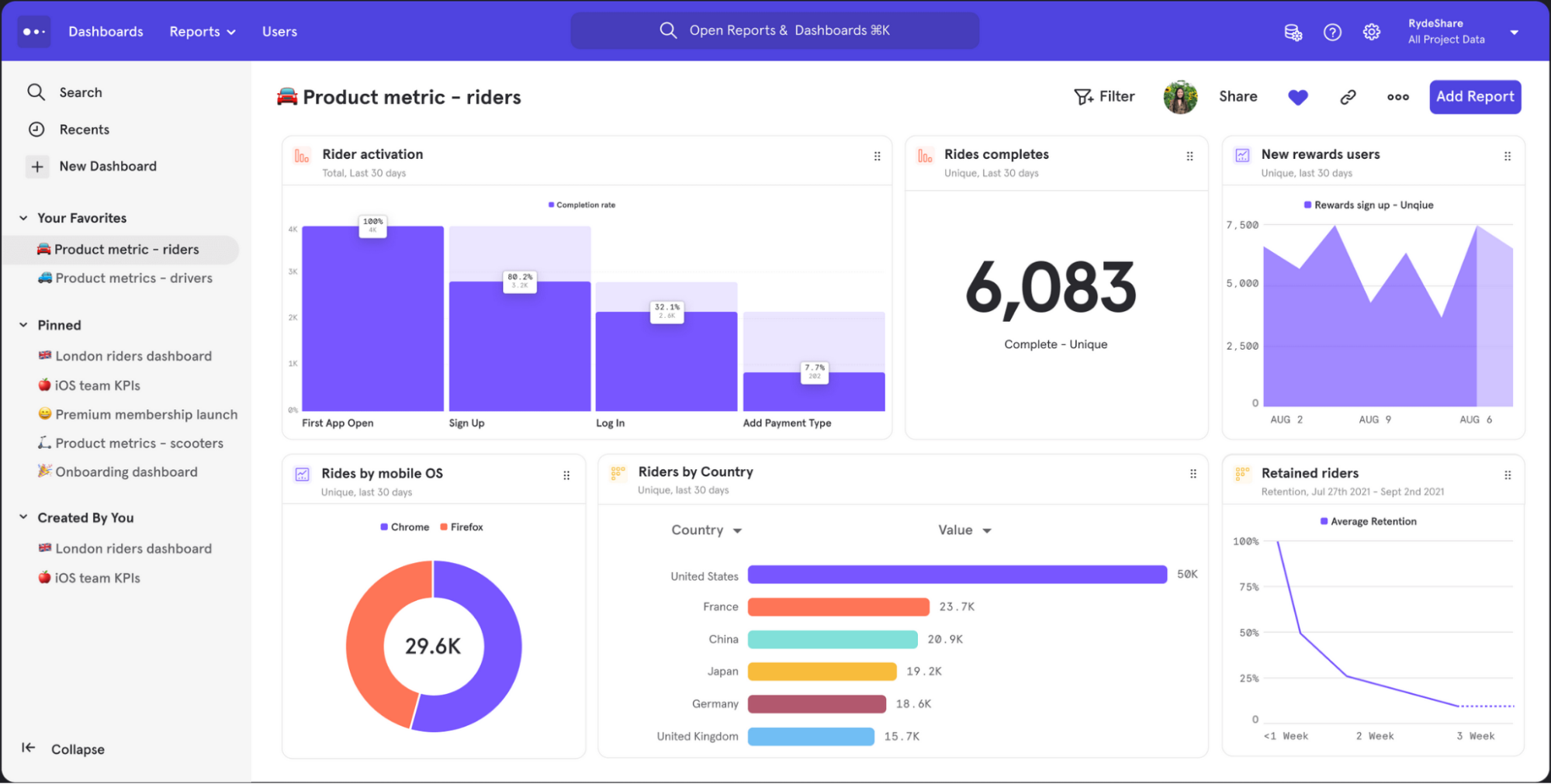 Mixpanel is a freemium web analytics panel that claims to be the most advanced for mobile and the web. 
Instead of just measuring page views, it measures actions to help you make your product better through segmentation and funnel tracking. It allows you to answer questions such as "how many visitors that arrived from a banner ad ended up booking a room in Costa Rica?," "do mobile app users share more videos on Facebook or Twitter?", and "of the paying customers, how many arrived via a Google ad who lived in Switzerland and haven't logged in awhile?" 
Pricing is based on data points (each event tracked in Mixpanel) and starts at $25 per month for businesses with more than 25,000 data points per month.
13. HubSpot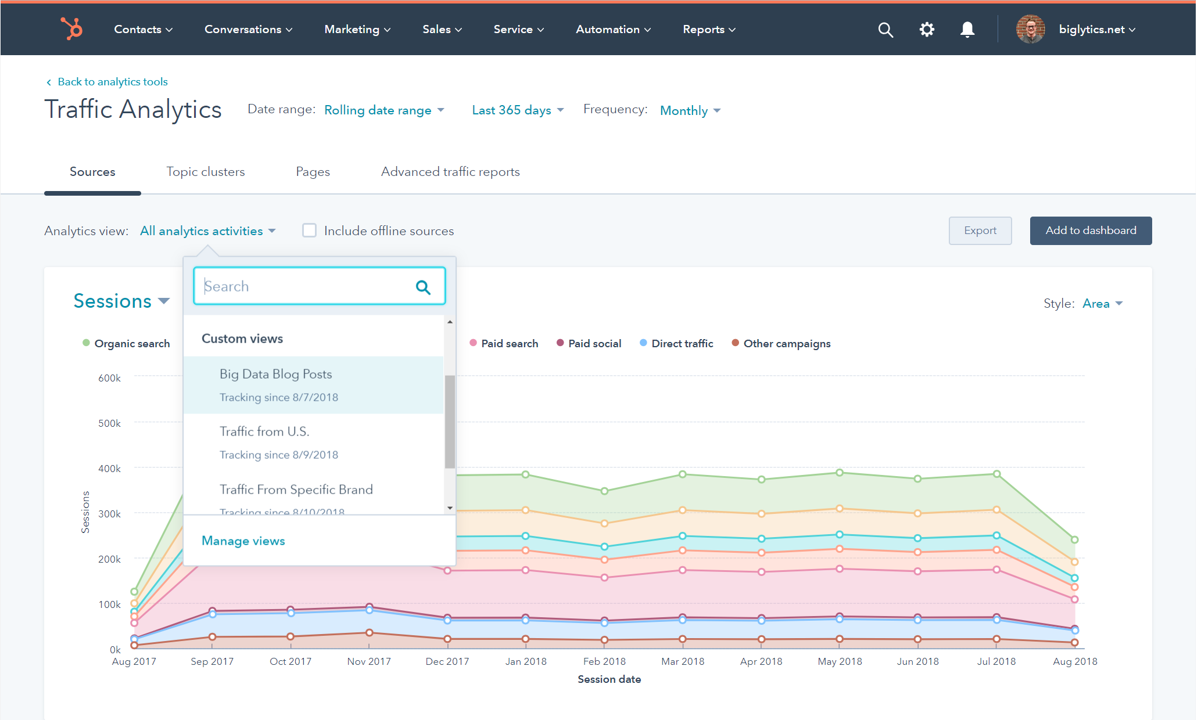 If you are using the HubSpot inbound marketing software, you will access their web analytics platform included in your plan. 
Their analytics are people-centric and offer integrated multi-channel views, full-funnel analytics, goals, and predictive tools. You can get clear insights from the sources report (how people discover your company), the contacts report (rich data on every individual contact in your database), the conversion assists report (identify influential pages on your website), and event's report (analyzes critical pre-cursors to important website eventsYou'llu'll also have integrated analytics for your landing pages, email, calls-to-action, and individual page performance. Pricing for their software starts at $200 per month.
Beyond Web Analytics
Want to go beyond standard website analytics? Here are an additional seven analytics tools that allow you to learn more about your visitors using heat maps, click analytics, and competitive data.
CrazyEgg

heatmap lets you collect more than 88% of the data you would use a traditional eye-tracking process. Pricing starts at $9 per month.

Clickdensity

records the position of every click on a page, creating a virtual heat map of visitor activity – a valuable usability tool. Pricing starts at $100 per month.

HeatSync

is a competitive analytics tool that gathers website visitor information, SEO details, social statistics and everything in between from the top sources of data on the Internet. Pricing starts at $22.45 per month.

ClickTale

allows you to visualize and measure in-page behaviour, create delightful experiences, and grow conversions, engagement, and sales. Pricing is free for up to 5,000 recorded page views per month and (according to third-party reviews) starts at $99 per month for more active websites.

Mouseflow

lets you record website visitors and generate instant heat maps showing where they click, scroll, and pay attention. Pricing starts at $19 per month.
Web analytics is one of the most critical parts of a successful search engine optimization strategy. Take your time reviewing all your options and getting familiar with various options!