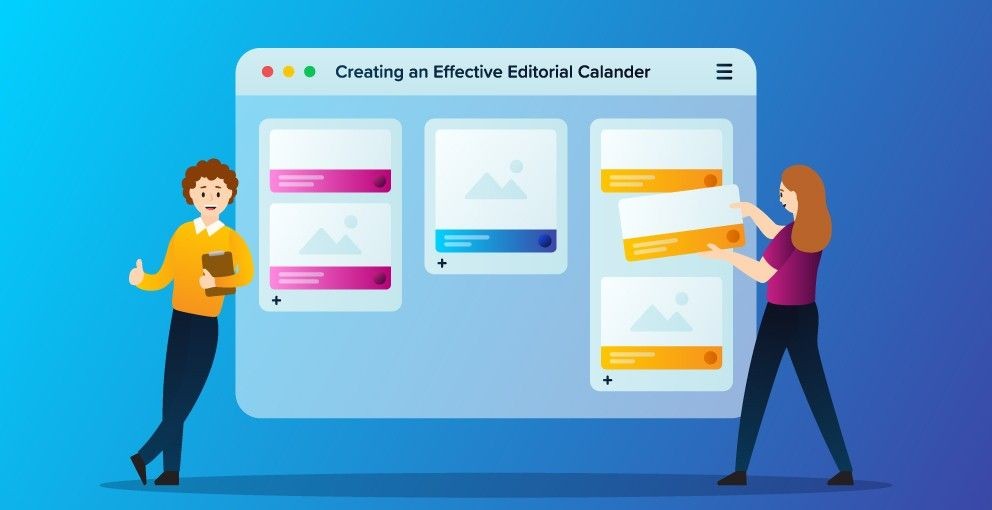 How to Create an Effective Editorial Calendar
Many businesses kick-start massive content marketing campaigns but later find that even the best intentions can go off track without the proper organization. 
An effective editorial calendar can solve issues such as a lack of consistency in posting, keeping up with team members and their assigned tasks, and being able to analyze any holes in your content plans. Don't forget that practical editorial calendars require consistent communication, starting with a reliable email solution. See our email hosting plans for more information.
This post will look at creating an effective editorial calendar that improves your content marketing results.
Start with a List of Great Topic Ideas
If you haven't already, start brainstorming a list of great topics to cover. Once you have issues with content you want to develop, how often you wish to publish and what themes you want to follow, become more precise. 
There are plenty of topic ideas and themes for your content strategy. It's just a matter of getting ideas out of your head and turning them into action items. 
It will inspire you to get your editorial calendar organized to start creating great pieces of content.
Establish a Realistic Publishing Schedule
It's tempting to research your competitors and decide that you should be too if they post new content to their blog once a day. 
But you have to consider factors such as how many people your competitors have dedicated to content development versus how many people in your organization are dedicated to content development.
It would help if you established a realistic publishing schedule for your business. It's better to start with one post a week and realize that you have plenty of time to create more than start with one post a day and always feel like your team is falling behind. The latter can be frustrating to everyone, leading to burnout and an ultimate lack of content.
The goal is to create a blog with high-quality content, not high-volume content. If you can guarantee that each piece is golden, you need to cut back on your frequency.
Choose the Right Tool
Having a dedicated editorial calendar or content management tool is essential. It will prevent communications from getting lost in lengthy emails, and it will allow everyone on the team to see what's happening in each step of the content development process.
There are tons of great tools to help you maintain your editorial calendar. Popular tools used by businesses for editorial calendars and content management include Coschedule, Trello and ClearVoice.
Coschedule is dedicated to content. It allows you to create an editorial calendar that includes task scheduling and promotion. You can also implement your editorial calendar directly in WordPress.
Trello, on the other hand, is a project management tool that makes tasks easy to visualize and organize using cards, lists and boards.
You can also use platforms that integrate everything involved in the content marketing process, like ClearVoice. This way, you can plan your content calendar, recruit content creators to help you develop your content, manage content files and analyze the results all in one place.
And, of course, you can also choose more straightforward tools that you are already familiar with, such as Google Spreadsheets, Google Calendar or Outlook Calendar. While they will have more minor features and versatility, they are better options than no editorial calendar.
When choosing an editorial calendar or content management tool, you must consider several factors. For example, will those who need access to it be wholly in-house or include contributors outside of your company? Do you want your tool to be desktop or web-based for access anywhere? Do you need additional features beyond the calendar, such as file-sharing or built-in promotion? Do you want to access your editorial calendar from mobile devices?
When you're unsure what to choose, get feedback from your content team. You might find that several people have experience with one particular tool, which will make it that much easier to implement. They may also be able to provide feedback about the features they like, features they dislike, and the features they need to make the content development process flow smoothly.
Once you decide, make sure everyone on your content team is trained on using the tool. While most tools are easy to use, you cannot assume that everyone will be familiar with them. Each member will need to learn how to use different tool features, including assigning tasks, sharing files, commenting, mentioning others, and marking schemes as completed. This will ensure that no one misses assignments, comments, or other essential communications.
Schedule Each Task
Most people will schedule a publishing date for each piece of content. But to be successful, you need to schedule each task in the content marketing process. These include the following.
Submission of a topic idea

Submission of the first draft

Editorial review

Submission of the revised/final draft

Artwork creation

Publishing date

Promotion

Analytics review
By breaking out each of these tasks, you will ensure that nothing is missed in the process that might affect your content's quality, reach, and refinement. You will also be able to troubleshoot any parts of your technique, taking longer than they should.
Each of the above tasks should be assigned to a person in charge. To ensure accountability, you may also want to assign the content manager to each milestone. They can be notified when a particular task is running overdue.
Get Feedback from Your Content Team
After implementing a new editorial calendar or content management tool, get feedback from your content team on its overall effectiveness. 
Find out what works best for them and what they think could make the tool work even better. 
The longer your team uses a tool, the more ideas they will have on ways to make it further benefit the content marketing process.
Follow the Tool's Blog
Last but not least, follow your tool's blog, Twitter or other social profiles to keep up to date on new features. Depending on what device you choose, you may also get great tips, tactics, and best practices from their blog.
The best way to be ahead of your competition is to create a consistent SEO and content marketing strategy. Hire a reliable digital marketing agency to create one that makes a difference!