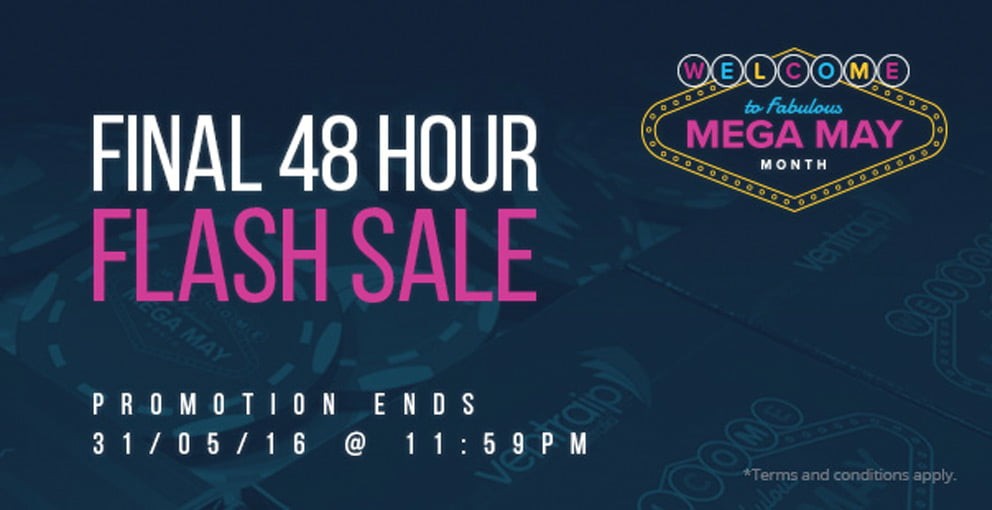 MEGAMayMonth Final 48 Hour Flash Sale
MEGAMayMonth officially ends 11:59pm Tuesday night and we're giving you one final opportunity to save big with some of your favourite MEGAMayMonth discounts!
Craving a holiday? How about $5,000? We've got you covered!
Pay any invoice before the end of May and you'll be entered into the draw to win our MEGAMayMonth grand prize which includes return flights and 5 nights accommodation in luxurious Las Vegas. We'll even give you $5,000AUD spending money to make sure it's the trip of a lifetime!
MEGAMayMonth is the best time to save!
We're giving you one last chance to save up to 75% on some of our most popular services. Simply purchase any product and use the associated coupon code to enjoy MEGA savings!
Save 75% on Shared Web Hosting
Purchase any new shared web hosting service for up to 2 years prepaid and we'll take 75% off your initial invoice!
Simply enter the discount code VEGAS75 at the checkout to have any eligible services discounted before payment. This offer is only valid on new services purchased before June 01, 2016.
$10.95 .COM.AU Domain Names
Register any new .COM.AU domain name and only pay $10.95 per year for the first two years!
Use the discount coupon SAVEAU at the checkout to enjoy cheap domain name registrations between now and the first of June. Offer excludes the renewal and transfer of existing domain names.
Half Price E-VPS
Our E-VPS is perfect for the business that needs to free itself from the shackles of shared web hosting. Until the end of May we're offering a MEGA 50% discount on all E-VPS packages purchased for up to 2 years in advance.
Enter the discount code VEGASVPS at the checkout to save today! Excludes the renewal of existing services.
50% off Trustwave Easy Trust SSL Certificates
Ensure your website's traffic is secure and purchase an SSL certificate today. To celebrate MEGAMayMonth we're offering half price SSL certificates until the end of May.
Simply enter the discount code SSL50 at the checkout to save 50%! Offer valid on new purchases only.
Dedicated Email Hosting less than $2/month
Don't risk your business' emails with free email hosting! Dedicated Email Hosting separates your emails from your website and can provide up to 30GB of storage per email account. Until the end of May we're giving you 50% off new dedicated email hosting packages purchased for up to 1 year. We'll even throw in a free IMAP transfer of any emails from your existing provider!
Use the discount code VEGASMAIL to save 50% on any eligible services. Excludes the renewal of existing services.
What are you waiting for? You've only got 48 hours to take advantage of these MEGA discounts!