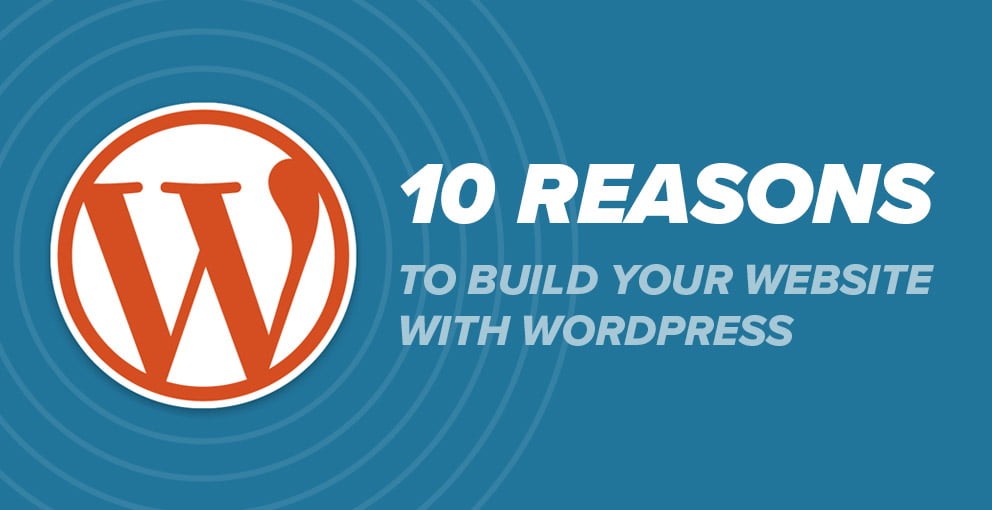 10 Reasons You Should Build Your Website With WordPress
It comes as no surprise that WordPress is now the largest CMS in the online world. This is because WordPress provides you with all the tools necessary to get started online, is easy to use, and is wrapped up in an intuitive interface. VentraIP Australia offers a specific type of web hosting for WordPress websites, so be sure to check that out if WordPress suits your need.
If you're interested in building your website with WordPress, our latest range of powerful Shared Web Hosting plans are optimised for speed and reliability when using WordPress. Here are ten reasons why you should build a WordPress website.
1. Easy To Use
WordPress is used by 28.2% of all websites because it is brilliantly straightforward to use.
WordPress is beginner-friendly and has a very intuitive interface, providing the perfect starting point for those who are starting up their own business and aren't considered very tech-savvy.  If you're not ready to try server-side configuration or to jump into the Linux command line, WordPress will provide you with everything you need!
2. Safe And Secure
Since its release 14 years ago, WordPress has endeavoured to enhance and hone its range of security features, providing its users with the best possible security and exploit prevention of any widely-used CMS available today.
It's important to note that older versions of WordPress will continue to work and be supported by our hosting environment. However, this is not recommended as this may leave you open to exploitation and malicious attacks. You can help mitigate these potential issues by using the nifty automatic-updater, which comes standard with your WordPress installation.
3. SEO (Search Engine Optimisation) Friendly
Having a well-ranked website in search engines such as Google and Bing is pivotal to the success of any business, and with WordPress, this makes this process a whole lot easier!
Plugins such as Yoast are the perfect way to ensure that your website is as SEO-friendly as possible, taking the hard work out of ranking on these search engines.
If you want to learn more about SEO and how it's essential to your business, we recommend reading Moz's guide to SEO.
4. Open Source Product
The beauty of WordPress being open source is that it gives you the functionality to amend the code to fit the needs of your website.
Having source code available to anyone and everyone allows developers and IT professionals to study, change, and distribute its source to improve testing and provide users with bug fixes as soon as possible.
As the old saying goes – the more, the merrier.
5. Provides eCommerce Solutions
Many of our customers rely on their online business as their primary source of income, and thanks to WordPress, your eCommerce options are endless!
There are plugins such as WP eCommerce and WooCommerce to build your site, which you can easily integrate with 3rd party payment gateways such as Stripe and Paypal.  In addition to using these fantastic plugins to help boost the customisation available to your eCommerce website, we always recommend ensuring that you use an SSL certificate to help prevent cart abandonment.
We recommend reading our blog post for more information about SSL Certificates and why you should be using one on your website.
6. Massive Market Share
We'll repeat it; WordPress is the figurative giant of the CMS world and has been for quite some time.
As of the 21st of September, 2017, WordPress had amassed a total of 59.5% of the world's CMS market share. With a company this large growing at such an exponential rate, you can bet that they will be looking for new ways to improve their product daily, and you can guarantee you'll never be left in the dark!
We recommend checking out the WordPress blog for all the latest WordPress news.
7. Social Media Integration
Having a widespread online presence is no doubt the backbone of a thriving online business, and thanks to WordPress, you now can easily embed hyperlinks into your social media channels (such as Facebook, Instagram, and Twitter) so that all of your customers can easily stay up-to-date with all of your latest movements, news, and products.
There are a wide variety of useful social media plugins for WordPress, so make use of them!
8. You Don't Need To Be A Developer
You may not know this, but WordPress is written entirely in PHP… Though this means nothing to the average user thanks to the streamlined interface and intuitive features provided by the WordPress CMS!
Why spend hundreds of hours learning HTML and CSS when you can use WordPress to build your website with an array of plugins and themes available to you for free!?
9. Thousands of Plugins and Themes
One of the most outstanding features of WordPress is the sheer number of unique themes that are available for use, many of which are free to use and are fully responsive! Whether your customers are looking to visit your website on their phone, tablet, or desktop, you know that visitors will always provide them with a high-quality user experience.
WordPress stands alone regarding the availability of up-to-date and a unique range of themes available for use. A vast majority of the themes are not only free to use, but they are also responsive, so those customers that prefer to view your website on their phone and tap around won't be subject to a poor viewing experience.
In addition to the themes available, WordPress provides its users with access to many plugins that help support every aspect of your website, from blocking spam comments to caching your content to provide a faster loading website. The possibilities indeed are endless!
10. More Than Just For Blogs
WordPress was initially designed as a CMS to create blog content and was extremely basic in the features made available to its users. The key to WordPress's success is that it has managed to retain its simplicity over the years whilst growing its range of features to be used for more than just personal blogs, even managing massive power websites such as Sony Music and The New Yorker!
Summary
WordPress is a powerful website-building tool that anybody can use to create an excellent and responsive website. It is constantly changing and adapting to the way people want to create their website, and this alone is reason enough to consider making a move over to WordPress.
As always, good luck, and we hope you make the right choice for yourself!