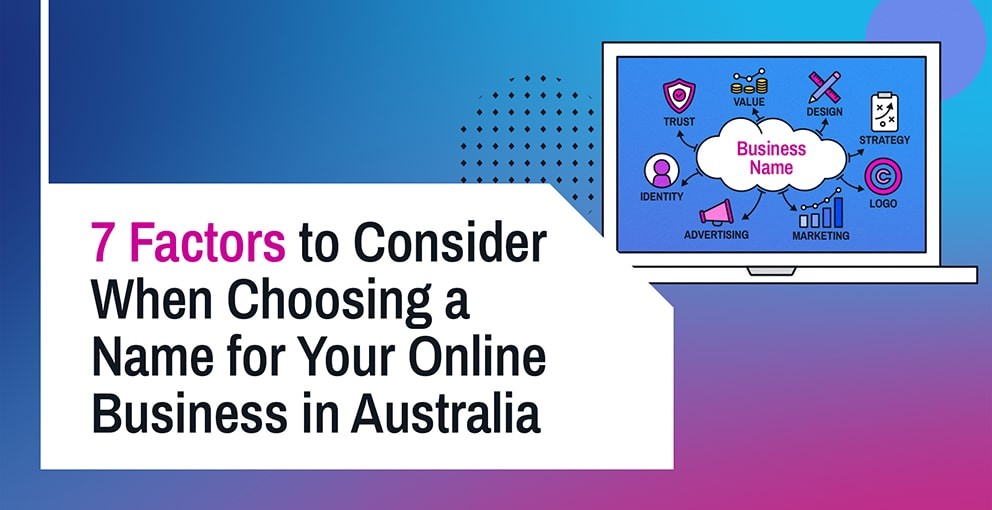 7 Factors to Consider When Choosing a Name for Your Online Business in Australia
Starting an online business can be a rewarding approach. There are often low start-up costs, greater flexibility in working arrangements, and you can get started far quicker than with physical alternatives.
But there are some key decisions to be made. 
For example, choosing the perfect name for your online business will set the foundation for your brand identity and future success. To help you navigate this process, we have compiled a list of seven factors to consider when choosing a name for your Australian online business. By following these guidelines, you'll ensure your business name resonates with your target audience, enhances your online presence, and supports your long-term growth.
1. Select a Name that Reflects Your Brand Identity
A common mistake new business owners make is to neglect what they would like their brand to represent and instead focus on their day-to-day operations. As your business name will be the first impression potential customers have of your brand, however, you need to choose one that effectively conveys your business's purpose and values. 
When brainstorming names, consider the emotions and associations you want your brand to evoke. For example, those selling sustainable, eco-friendly products may want a name reflecting their commitment to nature and environmental consciousness. 
The correct name will resonate with your target audience, helping them feel a connection to your brand and increasing the likelihood of repeat business.
2. Keep it Simple and Memorable
A memorable business name helps customers find and remember your brand, so aim for simplicity. Avoid complex words, difficult pronunciations, uncommon spellings, and any industry jargon that might confuse potential customers. 
Instead, opt for shorter, sharper, more precise names that are unique and can take root in someone's memory. After all, what's easier to remember – 'Ace Plumbing' or 'Premier Plumbing Professionals in Melbourne?'
3. Consider Future Growth and Expansion
As you brainstorm names for your online business, think about your long-term goals and growth potential. Avoid choosing an overly specific or limiting name, as this can make it challenging to expand your product or service offerings in the future. 
For example, if you start an online store selling only children's books, naming your business 'Children's Books 'R' Us' may limit your ability to later sell options suited for adults. Instead, choose a name that allows for flexibility and growth.
4. Legal Considerations
Before settling on a business name, research existing trademarks and registered business names to avoid potential legal disputes. The Australian Securities and Investments Commission (ASIC) provides a free online search tool that you can use to check business name availability. 
If you're unsure about the legal implications of your chosen name, consider consulting with a legal expert to help you navigate any potential issues.
5. Consider a Name Search Engines Will Love
When you are looking for a new product or service, chances are you'll look to search engines like Google or Bing for some suggestions. As such, search engine optimisation (SEO) will heavily influence how you drive organic traffic to your online business. This involves manipulating certain aspects across your website and landing pages to better attract the engines' algorithms. 
Your business name will play into this strategy. Consider incorporating relevant keywords that describe your products or services. Building on our example above, 'Ace Plumbing' will rank far higher in searches for local plumbers than 'Stop the Leaks Pty Ltd'.
Just don't sacrifice the creativity and uniqueness of your business name solely for SEO purposes. Instead, strike a balance between a name that is both SEO-friendly and appealing to your target audience.
6. Invest in a Fitting Domain Name
Since your business operates online, you will need an appropriate URL and email address(es) that match your chosen name. This lies with your domain names. 
Your domain name is the phrase, word cluster, or name that will appear in your URL (i.e. www.[domain name].com.au), as well as in your email address (i.e. sales@[domain name].com.au). 
Your domain name should be as close a match to your business name as possible to maintain consistency and make it easier for customers to find your website. Keep your domain simple to read and type, avoiding any unnecessary hyphens or numbers, which could make your domain harder to remember and more prone to typos. 

If your desired domain name is already taken, explore alternative extensions or consider slight modifications to the name while maintaining its essence and appeal. Consider investing in multiple extensions, too, as it can prevent others from purchasing one similar to yours, including:

'.com'

'.com.au'

'.au'

'.net'

'.net.au'

And so on



What's more, each extension will help signal to customers that you cater to the Australian market and can help improve your search rankings on local search engines.
7. Check Social Media Availability
To remain uniform across all your digital platforms, you want your business name, domain name and potential social media platforms/handles to be aligned. Before making your selection, check popular platforms like Facebook, Instagram, Twitter, and LinkedIn for their availability. Doing so will, again, make it easier for customers to find and engage with your brand online.
If you are set on a name, but your desired handles are already taken, consider adding a relevant descriptor or modifying the name slightly to maintain consistency with your business name and domain.
Secure the Perfect Domain Names for Your Business with VentraIP
Selecting the perfect name for your online business in Australia requires thoughtful consideration. Once you have your name and if you need any assistance in selecting the right domain names, contact our team at any time via eTicket, Live Chat and Phone (13 24 85).