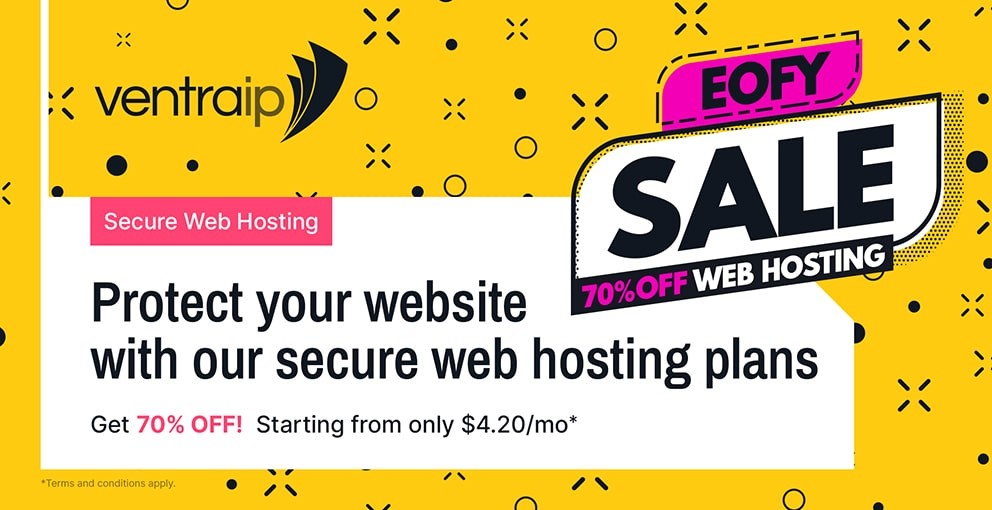 EOFY SALE 2023! Save 70% on new Web Hosting.
The end of the financial year is fast approaching, and what better way to celebrate than with our EOFY Sale!
We're thrilled to offer you unbeatable discounts on new web hosting and limited domain names, making it the perfect opportunity to kickstart your online presence or upgrade your existing one. Prepare to reshape your online identity and drive your business to success!
Unbeatable Discounts on Web Hosting
At the heart of any successful website lies reliable web hosting, and we're excited to offer you a whopping 70% off on all new web hosting plans. 
Whether you're a small business, a passionate blogger, or an aspiring entrepreneur, this discount presents the perfect opportunity to establish a much-needed online presence without breaking the bank. Experience unbeatable performance on Australian hardware, 100% Australian support any time you need it, and top-notch website security at an affordable price.
New web hosting plans starting from just $4.20 /mo – that's cheaper than a coffee.
Unbeatable Domain Name Deals
A memorable domain name is vital to attracting visitors to your website, and our EOFY Sale has got you covered!
Take advantage of our incredible discounts on domain names, including .co, .melbourne, and .sydney extensions.
Snag a .co Domain for Just $1.50: Stand out from the crowd with a sleek .co domain name for only $1.50! Whether starting a new business venture or looking to rebrand your existing website, this unbeatable deal will help you grab attention and establish a solid online presence.
Get .melbourne and .sydney Domains for just $8.25: If you're targeting a local audience in the vibrant cities of Melbourne or Sydney, now is the perfect time to secure your online identity. Enjoy our exclusive offer to register .melbourne and .sydney domain names for only $8.25 each! Strengthen your local ties, boost your search engine rankings, and connect with your target market like never before.
Why Choose VentraIP?
Trusted Expertise: With years of experience in the web hosting industry, we have built a reputation for providing exceptional services and unmatched customer support. Join thousands of satisfied customers who have trusted us with their online services.
Cutting-Edge Technology: Our state-of-the-art infrastructure ensures reliable performance, enhanced security, and blazing-fast loading speeds. With our web hosting plans, your website will always be available to visitors, providing a seamless user experience.
Easy-to-Use Control Panel: Managing your website has never been easier. Our intuitive control panel empowers you to effortlessly control every aspect of your web hosting, including domain management, email setup, and more.
Australian Customer Support: Our award-winning support team is available 24/7 to assist you with any queries or concerns. We believe in providing personalised attention to ensure your online journey is smooth and hassle-free.
Take advantage of our extraordinary EOFY Sale, offering unbeatable discounts on web hosting and domain names.
Act fast, as this limited-time offer won't last forever! Secure your success today and embrace your online future.
*Terms and conditions apply. Web Hosting: Discount applies to the first invoice of new hosting purchases for up to 1 year only. Domain Names: Discount applies to the first year on new standard registrations only. Premium registrations are not included.