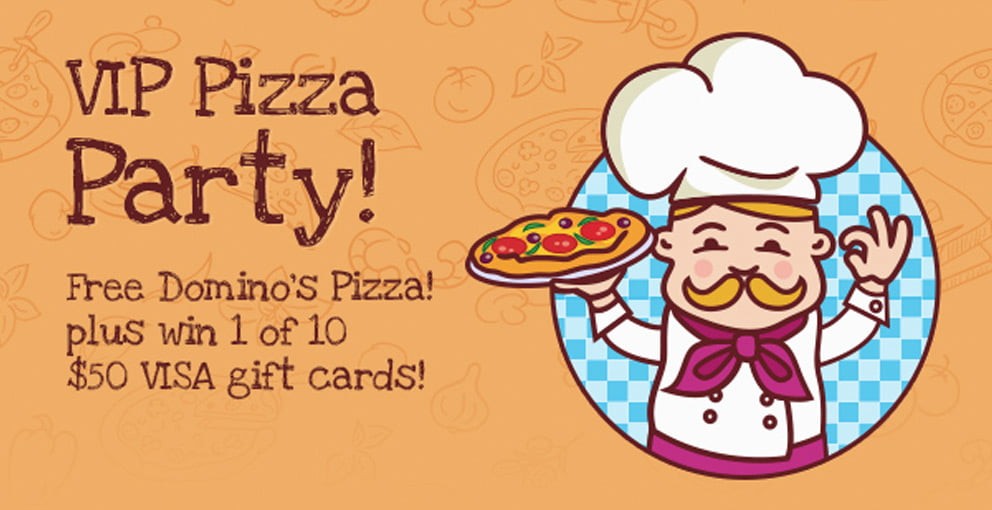 VIP Pizza Party | Free Domino's Pizza, Gift Card Giveaways & More
To celebrate the beginning of 2016, we're throwing a VentraIP Pizza Party! Win 1 of 10 $50 VISA gift cards, claim your free Domino's pizza, and enjoy massive discounts on a variety of delicious newTLDs.
Hungry for Hosting?
Thinking of purchasing a fancy new domain name or maybe ordering one of our lightning fast Business hosting plans? Do you like pizza? Then we've got you covered!
VentraIP has partnered up with Domino's Australia to give our customers a free pizza with every new order totaling $40 or greater, placed between now and the 24th of January.  There are a limited number of free coupons available so unfortunately we can't guarantee that we won't run out. First in, best dressed!
To be eligible for your free Domino's pizza, simply visit our website and spend $40 or more in a single order. Once payment has been confirmed, you can login to your VIPControl account here and claim your free Domino's pizza coupon via the banner on your homepage. Once claimed you can view the code via the same banner in your VIPControl account indefinitely, after all we don't want you to lose your coupon code before you get your free pizza! Please note that the coupon is not reserved until you utilize the 'claim now' banner in your VIPControl account. This offer does not include renewals and is only valid with new purchases placed in a single order totaling $40 or more.
To be fair, we've made this offer limited to one per customer to make sure everybody gets the opportunity to enjoy a free Domino's pizza with their order. As per the terms of the Domino's Traditional Pizza coupon, please note the following; the voucher code is valid for one use only and until the 31/12/16.  Must only be redeemed online at dominos.com.au or via the Domino's iPhone, iPad or Android App at participating stores only.  Not valid for redemption via phone orders or orders made in-store.  Not transferable or redeemable for cash. A surcharge applies to upgrade to premium pizzas, half 'n' half, additional toppings, indulgent crusts and promotional products.
VISA Gift Card Giveaway 
A new year brings new giveaways! We want our existing customers to enjoy a little extra financial freedom this holiday season, so to ease the stress we're giving away 10 $50 VISA gift cards.
To be eligible for our VISA gift card giveaway, simply renew an existing hosting service for a minimum of 1 year to automatically go into the draw to win 1 of 10 $50 VISA gift cards. The winners will be announced via Facebook and Twitter at the end of January, our CEO will even give you a call to make sure you know you've won!
Discount Domain Names
The VIP Pizza Party doesn't end with freebies and giveaways, we've also got a variety of heavily discounted newTLDs for all your delicious new websites.
Whether you're a pizza lover, coffee aficionado, or beer brew-master we've got the domain name for you. With 50% off, now is the perfect time to pick up that new domain:
.pizza
.beer
.cafe
.coffee
.restaurant
Simply use the code 'PIZZA50' during checkout when prompted. Please note that the discounted pricing is only available on new domain registrations for the first year. Renewals, transfers, and registrations of greater than 1 year are not eligible for the 50% discount.
This promotion will end 24/01/16. We cannot guarantee stock levels of Domino's pizza coupons as availability is limited. Stock is not reserved until the coupon is claimed via the banner found within the customer's VIPControl account.
Keep up to date with the latest VentraIP Australia announcements, offers, and promotions by following us on Facebook and Twitter.