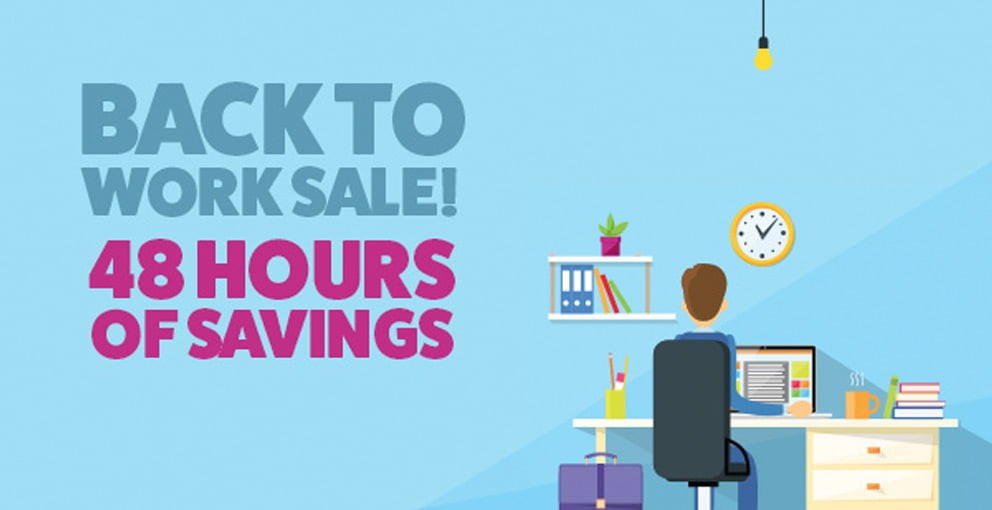 Back to Work 48 Hour Sale
January is almost over and with it comes the dreaded 9-to-5 grind of the working week. But fear not! VentraIP Australia are here to help you transition from holiday-mode to working warrior and are prepared to throw some big sales your way to keep our beloved customers smiling!
Now is your chance to save 75% on web hosting, get a free dedicated email service, and register a newTLD domain name at below cost price. The only catch is that you've now got less than 48 hours to redeem these offers as all promotions will expire Saturday the 30th of January – Better be quick!
Save 75% on Shared Web Hosting
It's back again! Our most requested discount has returned for a 48-hour savings spree! For less than $1.50 per month you can get started on hosting your specialist blog, business startup, eCommerce store, or company webpage.
Simply purchase any new shared web hosting service for up to 1 year and enter the coupon code BIZ75 at the checkout to receive 75% off the first invoice when purchased during the promotion period*.
*This discount is only valid for new shared web hosting services purchased during the promotional period. Existing services and registrations for longer than 1 year are ineligible. The terms of this sale may change throughout the promotional period at the discretion of the provider.
Get a FREE Dedicated Email Hosting Service
Have you been considering trying our superior dedicated email hosting? Tired of the cPanel webmail interface? Need a new .com.au domain name? We've got you covered!
Purchase any new .com.au domain name and we'll add a dedicated email hosting service to your account for FREE*! All you need to do is use the coupon code FREEMAIL at the checkout when prompted and the next time you login to your VIPControl account we'll make sure there's a fresh new Email Starter service waiting to be configured to your needs. If you require any assistance setting up your new dedicated email hosting service, feel free to submit an eTicket to our support team or by giving us a call on (03)9013 8464.
*The email hosting service is only free for the first month, after which time the product will be invoiced at a the current retailing price on a monthly subscription basis. You do not need to add the service to your cart, this will automatically be applied once the domain name has successfully registered.
Perfect for your 2016 Startup
With less .com and .com.au domain names available than ever before, more businesses are opting for newTLDs to stand out from the competition on the world wide web. We've rounded up some of the best in the business and are slashing their pricing by 50%!
.biz
.company
.email
.management
Simply use the code 'BIZ50' during checkout when prompted to receive this discount. Please note that the discounted pricing is only available on new domain registrations for the first year. Renewals of existing domains, transfers from other providers, and registrations of greater than 1 year are not eligible for the 50% discount.
Remember that the best way to keep up to date with the latest VentraIP Australia promotions, offers, and announcements is by following us on Facebook and Twitter.