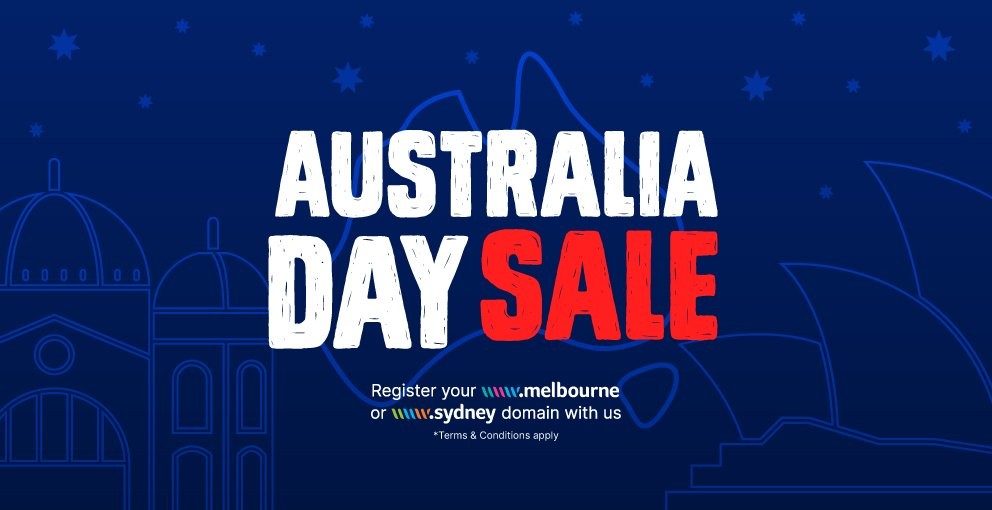 Register discounted .melbourne or .sydney domains this Australia Day!
Have you ever thought about starting, or even expanding, your online business by registering a .melbourne or .sydney domain name? Well, for just $2.95*, you can do precisely that with our 2021 Australia Day sale.
Using a .sydney or .melbourne domain name allows you to directly address your targeted audience and the city they live in.
A .melbourne or .sydney domain name can improve your overall SEO & Google rankings by increasing your domain authority for local searches in your city of choice. This can improve your organic traffic and point more people in your direction. 
Registering a new .sydney or .melbourne domain name does not mean you have to ditch your existing .com or .com.au domain name – that's if you have one – you can use the domain name to set up a redirect, so, if anyone goes to 'yourdomain.melbourne', they'll be automatically forwarded to 'yourdomain.com' – for example. We provide this service free of charge when you buy a domain name through VentraIP Australia and can be set up within your control panel. 
With the ever-growing number of domain names available to register these days, we understand that it can be tricky to determine which domain name would be best suited for your business, so, in true VentraIP Australia fashion, we believe that going 'local' is the best way forward. With that in mind, nothing says
local more than a .melbourne or .sydney domain name.
*Limited to one year on standard registrations only. Excludes Premium domain name registrations.
, search and register your new local domain name and watch the discount be applied automatically upon checkout.
If you're either a new or existing customer, you'll have the option to create a new account with us or sign in upon checkout.
Please note, the cost of $2.95 does only apply to the first year. After that, the amount will be calculated with the standard price of $69.95. There is no limitation on how many domain names you can purchase under one account.
Sure are! There are no eligibility requirements for either of these domain names.
With each domain name purchased through VentraIP Australia, we provide several free services which you can begin to use straight away.
Web Forwarding – This will give the ability to automatically forward requests for your .melbourne or .sydney domain name to another website address. This tool is perfect.
Email Forwarding – Any emails sent through to an email address using your .melbourne or .sydney domain name can be forwarded to an email address of your choice.
DNS Management – Providing you with the ability to add and remove your records directly from within your
control panel.
You'll be able to use your new domain name, but you'll need to purchase a web hosting service
and/or email hosting service alongside it. You don't necessarily have to buy this through VentraIP Australia, but we'd certainly love your support if you did.
Feel free to direct your questions to any of our helpful resources or contact our Melbourne-based team for assistance.