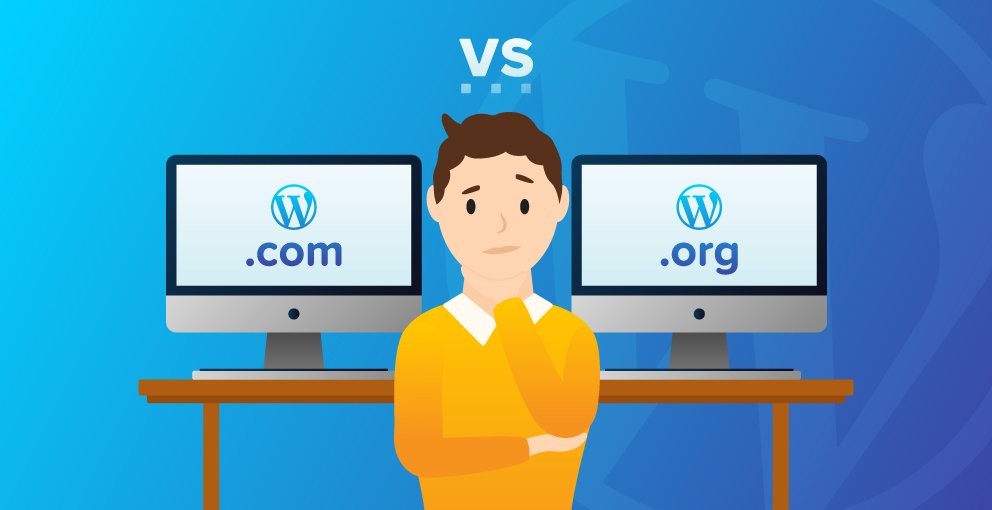 A WordPress beginner guide to starting a blog website in 2021
It is estimated that about 1 in 4 websites on the internet are built on WordPress. Blogging with WordPress is easy as the popular platform caters to all demographics – whether you're 50 years old, starting a blog about your favourite hobby, starting a new business or building on your existing online presence.
We understand that the thought of building a site from scratch can be overwhelming, regardless of your technical prowess; be not afraid! Here is our step-by-step WordPress beginner guide to getting started.
WordPress Beginner Guide:
First off, you'll need these…
Before charging ahead, you will need to have the following to prepare yourself for this process:
An idea for the domain name(s) you intend on using for your blog.
It's not a big deal if you completely change your mind on what domain name you use, and you do not need to have a domain registered just yet; having some ideas on what name you will use will help shape the way you set up the layout your website.
Check out our post on how to choose the best domain name first if you're stuck for ideas.
A web hosting environment where you can install WordPress.org.
The easiest way to get started on building a WordPress website is to install it on an active web hosting plan, which will save you the trouble of uploading files and databases later once it's time to "go live" (which is a consequence of building your website offline using tools such as XAMPP).
WordPress.org is the "self-hosted" version of the WordPress site builder. It's free to use and can be installed on just about any web hosting server. We recommend this over the WordPress.com version as there are far more plugins and themes available, as well as greater freedoms around the types of content you can put on your website.
Although not necessary for running a WordPress.org site, we recommend choosing a web hosting plan that comes with a WordPress Toolkit or installer so that you can get set and ready to go in just a few clicks. If you haven't yet decided on a domain name, don't stress! You can choose "I already have a domain name" while setting up your hosting service and use a placeholder. The domain used on your web hosting service can be changed later when you've decided on one.
Ready, set… go!
Now you have a web hosting environment to work in. It's time to install WordPress. Refer to the official guide from WordPress.org for detailed steps on using 'automatic installation tools' or manually uploading the WordPress files and creating your database. If you've chosen a VentraIP Australia service, you can refer to our guides on how to do this instead.
Check out how you can install and log in to the WordPress admin in just a few clicks!
During the set-up process, you will have the opportunity to nominate your site title (what shows on your web browser tab), admin account, and database name.
Not sure what to enter for these? Don't stress over these little details – they can all be changed later. If you're using an automatic installer, you can safely start using the default values and then change those details later as you wish.
Visiting your newly-installed website
If you've decided upon a domain name, make sure it is connected to your web hosting service. Consult your hosting provider for assistance in ensuring that your domain name is connected to your web hosting. If you are a VentraIP Australia customer, you can consult Step One of our Getting Started series or give our 24/7 support team a call for help with this.
If you haven't got your domain name at this point, OR if your domain name isn't loading your website yet, there is a safe and reliable workaround for you. Use our guide on testing your website before pointing your domain to learn about your computers 'Hosts file' and how you can use it to load a website without needing the domain name to work.
Now that's out of the way, try visiting your website in your web browser. You will likely see the 'default' theme and content that comes with WordPress – either the TwentyTwenty theme or the new Twenty Twenty-One theme. Log in to your admin account by navigating to yourwebsite.com/wp-admin/ and entering your credentials.
Now, it's time to customise!
From your WordPress Admin, find and hover over Appearance in the left toolbar, then select Customise. This section allows you to change your website's appearance on a 'global' or site-wide basis. Changes made here will apply to all of your pages and posts.
Start with a theme
Click Change next to Active theme, then select WordPress.org themes to explore the full library of themes available. Have some fun with the search bar, and try searching for some terms related to your website or the style you want. You can hover over a theme and select Theme Details to get a bigger picture of how the theme should look. Click Install & Preview to see how it looks on your website.
It is important to note that many themes upgrade to their "pro" version to unlock additional features. You may use the "free version" of a paid theme or choose another theme if you don't wish to purchase one.
At this stage, ignore the content on the page (we'll get to this soon!) and focus mainly on how the display, colours, fonts, header, footer look. Move down the menu under your theme name to start customising each part of your theme. These menu options will change depending on your theme.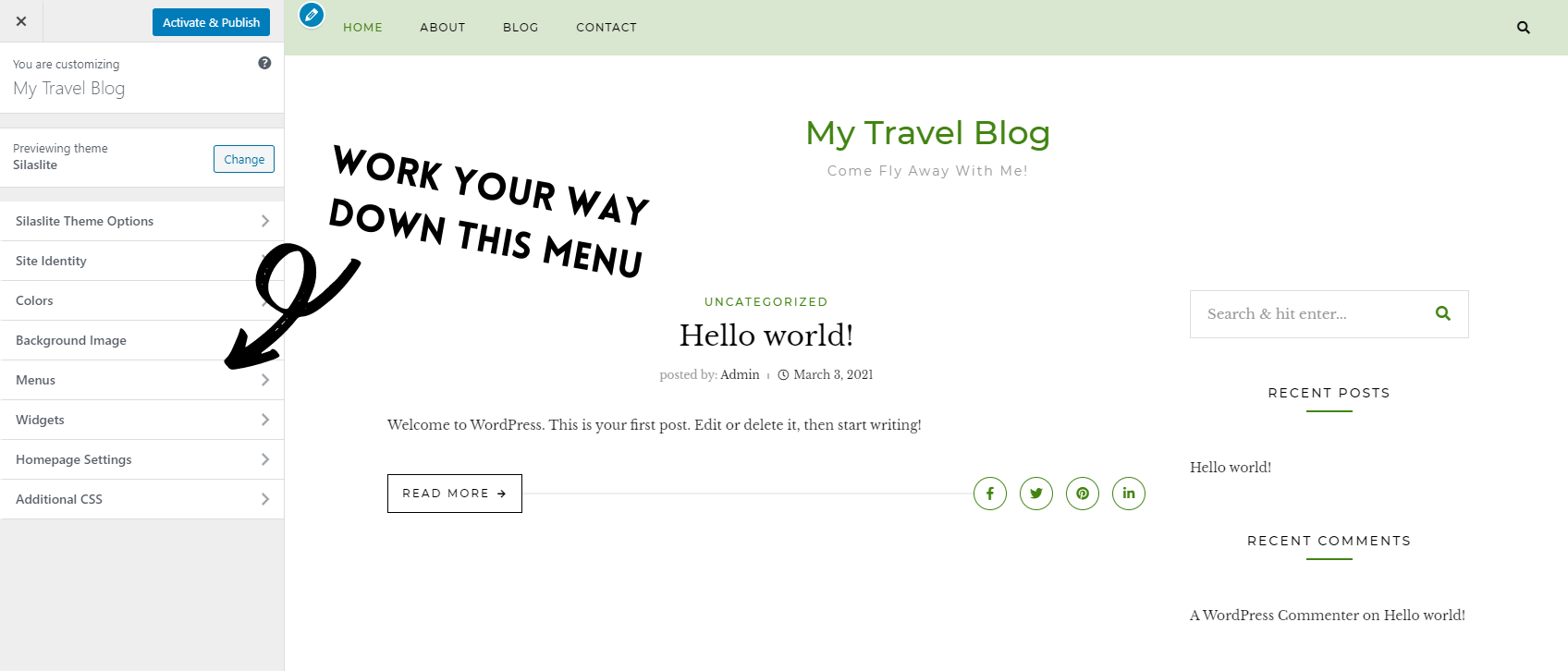 We recommend navigating to Homepage Settings and changing Your homepage displays to Your latest posts for a blog website. This will give you a better look at how the Widgets in your theme will look.
Activate & Publish
Don't overwhelm yourself too much with all of your options just yet. You can always come back to the Customise tool once you have developed your style ideas.
Once you've done some customisation, click the blue Activate & Publish button to save your changes. Then, click the X button in the top-left corner to be returned to the admin dashboard again.
Start making content!
To get the full picture of how your blog will look, some content is sorely needed. Click the + New button at the top of this page to create a new post. Use this page to write and design your very first post.
Before we click the big blue Publish button, there are a few things to brief in the right toolbar…
URL slug
Edit this to modify the "slash" part of your URL to this page. By default, WordPress will include the date and the title – however, you can modify the slug to be whatever you like (as long as it's not being used by another post or page). In the example pictured below, the slug is /my-trip-to-amsterdam/. You can change the way that WordPress automatically formats these from Settings → Permalinks.
Categories
The categories of a post will be important once you have established more posts, especially if these posts' topics can vary. Use this as an opportunity to create and apply some categories to your post, so it will be easier to find them later.
You can then view or link to all items in that specific category using it in a URL, such as yourblog.com/category/europe/.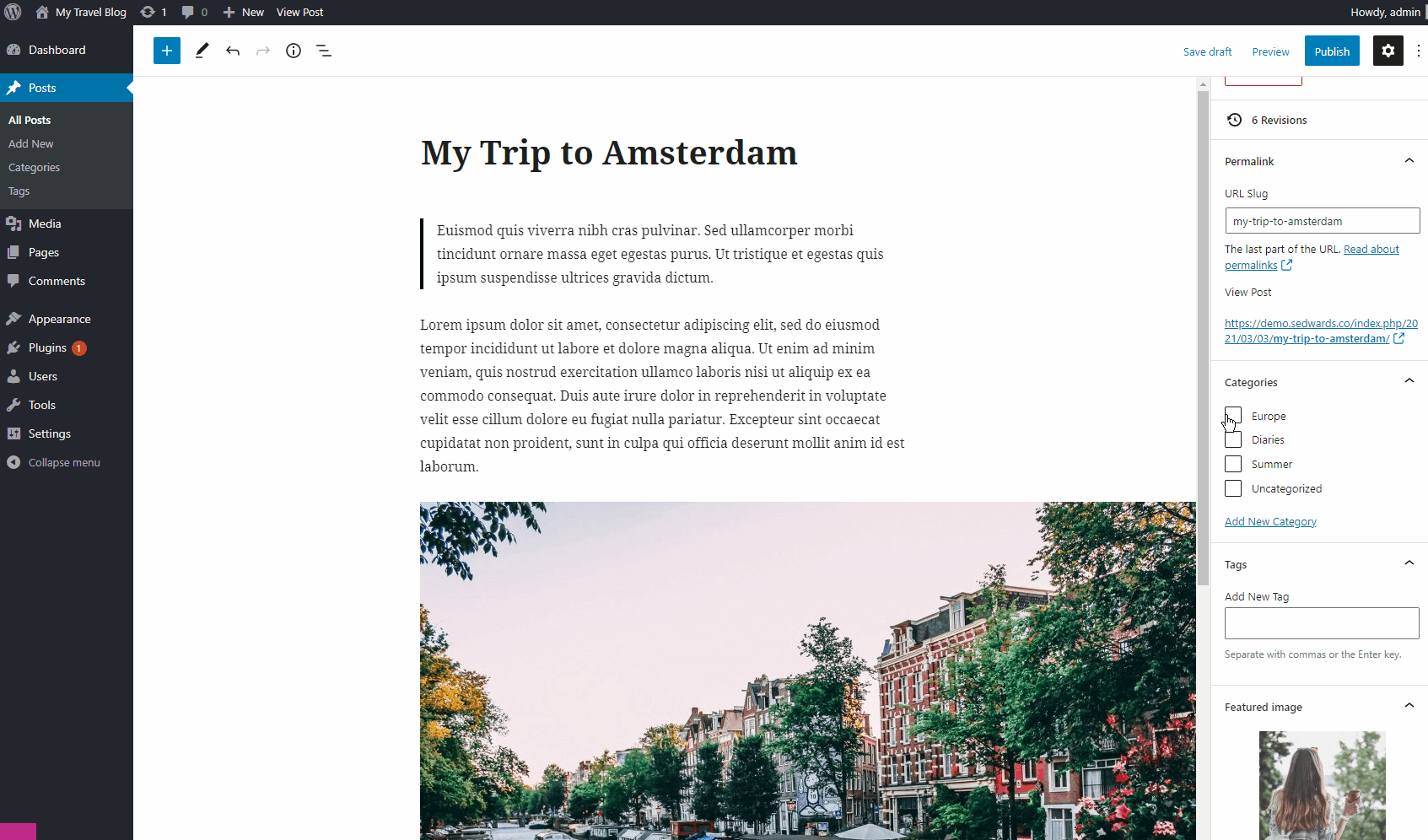 Featured image
This one is more important than you think – most themes will have a place for your featured image that you won't see when writing your post. Add a featured image to your post, then look at the post on your website after publishing it.
Chances are, this has been added to the top of your post, or perhaps as a page header. If you don't like how this displays, you can remove the featured image from your post or reconsider your theme. This is also used as a thumbnail on pages where you view multiple posts (category pages or post feeds).
Tidying up
Your WordPress installation will have come with a few "sample" pages, comments, and posts to help you visualise your site. Once you have some of your own content, you can delete these sample items.
In the WordPress admin page, hover over the Posts link in the left toolbar, then click All Posts. Hover over "Hello world!" in the list, and click the red Trash link to delete this sample post. Repeat these steps for the Pages and Comments sections of your admin area.
Edit a page instead of deleting it
While deleting the sample pages, consider clicking edit on one of them instead to keep it on the site. This is a great opportunity to get a head-start on these pages as they will already be displayed in your menus and theme.
Keep adding to your WordPress blog.
We've covered everything to get you started – now it's onward and upward for you! Once you've added more content, you may want to re-visit the Widgets and Menus section of the Customise interface to add this content across your site.
Now you're an expert, here are a few other things you may want to consider adding to your website using plugins. For example, you could add a Contact Form to your new website using WPForms or Forminator. You may want to improve your search engine optimisation (SEO) with plugins such as Yoast SEO or Rank Math SEO. These plugins will help you add "keyphrases", which are crucial in helping your website show up in search results. Plugins such as Google Site Kit or MonsterInsights used to track Google Analytics will further empower your search engine performance.