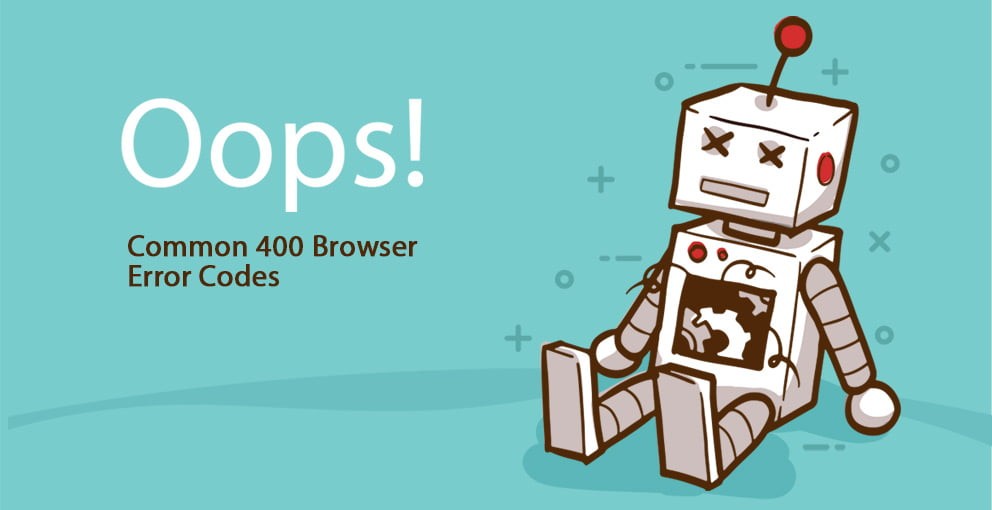 The Most Common 400 Browser Error Codes Explained
We've all been there, that groan-inducing moment when you try to open a web page… only to be faced with an ominous 400 browser error code. To top it off, the error codes rarely feel the need to explain themselves in any helpful fashion.
Don't worry, VentraIP Australia to the rescue! In this post, we've outlined the most common browser error codes that you may stumble across when making changes to your website or domain name, what the principles mean, and what you should do if you encounter one.
401 Unauthorised
What's the cause?
There are a few different ways a 401 Unauthorised Error can crop up, but the most likely scenario is when you have tried to log in to something with an incorrect username or password one too many times. The purpose of this error code is to keep the bad guys out, but sometimes things don't go to plan, and you can end up temporarily blocked from logging in to your website.
Suppose you've been trying to access your CMS-based website, running things like WordPress, Joomla or Drupal, and are seeing a 401 Unauthorised Error. In that case, the odds are the security software has been triggered, leaving you temporarily locked out.
What's the solution?
A 401 Unauthorised Error is usually a temporary block that resolves itself within 30 minutes. However, if you contact our friendly technical support staff by submitting an eTicket or giving them a call on 13 24 85, they will be able to clear the block for you immediately.
The most important thing to take away from this error is to ensure you're logging in with the correct username and password to prevent the error from occurring again in future. You may even want to look into a password manager solution such as LastPass, hopefully making 401's an error of the past.

403 Forbidden
What's the cause?
The following error code we're going to cover is known as "403 Forbidden". When you see this error, chances are the permissions within your website have been incorrectly adjusted somewhere along the line.
This could be due to file/folder permissions, database permissions, or even individual lines of code in your .htaccess file. While it's far more likely to be caused by a misconfigured .htaccess file or a permission issue with a particular file/folder/database, it's always worth considering some of the less-obvious things such as server-side security software when diagnosing a 403 Forbidden Error. 
What's the solution?
The first place you should look at when diagnosing a 403 Forbidden Error is the File Manager tool in cPanel. This particular tool will give you a clear view of your file and folder permissions on the right-hand column, helping diagnose any misconfigurations or unintentional restrictions that you may have set.
Before making any changes, we always recommend making a record of how your permissions are currently set, just in case you need to change them back at a later date. While a simple A screenshot should do the trick in this case, it is always a good idea to ensure that you have a complete, current backup before making any changes to your website.
As a general rule, permissions for your website's folders should be '755', while permissions for files should be set to '644'. If you notice any permissions set to something other than this, you could try changing them as above to see if that clears up the error you're encountering. If you would instead not go fiddling through the files and folders within your cPanel (we wouldn't blame you), VIPControl offers a handy tool to reset all of your files and folders back to their default permissions.
To access the tool, simply login to your VIPControl Account and browse to your web hosting service by clicking the (big pink) 'Manage My Hosting' button on the dashboard. Next, you'll click on the (blue cogwheel) 'Action' button, revealing a complete list of tools for your service. Finally, find and click on the 'Permissions Fixer' tool, which will send you an email once the permissions have been reset to their default.

404 Not Found
What's the cause?
The 404 Not Found Error can occur for several different reasons. Does the URL you have entered contain a spelling mistake? Has the page you are trying to get to been moved to a different URL, or perhaps it's been deleted entirely? It is also possible that there may be something untoward in your .htaccess file that is causing the error.
What's the solution?
When diagnosing a 404 Not Found Error (aside from checking that the URL you are trying to access is the correct one) is cPanel's File Manager tool. Does it seem like any files have been moved around? Or perhaps you don't see many files at all, and it could be that they've been deleted, either mistakenly or maliciously. If that does occur, the best thing that you can do is restore your files from a backup.
With a VentraIP Australia hosting service, you have the option of using our' Acronis Backups' via cPanel, or you may have a backup that you have taken either manually or using a plugin that you can rely on. Our jams are handled by a software called Acronis and are stored for 30 days.
Our backups are taken daily for resellers and hourly for all other shared hosting plans. However, if you're unsure about restoring from a backup and how it might affect your site, you should always consult a web developer first.
If your website is running WordPress (like 28.7% of sites globally), then the more likely scenario is that you're missing some essential WordPress code in your .htaccess file. But don't despair! This situation is, fortunately, a speedy and easy fix.
If you do happen to be missing the default WordPress configuration lines of code, then all you need to do is add them into the .htaccess file in the directory that your website's files are stored in. WordPress requires this to handle any permalinks settings, so if it's removed or altered, you may find that some links that worked before won't work anymore.