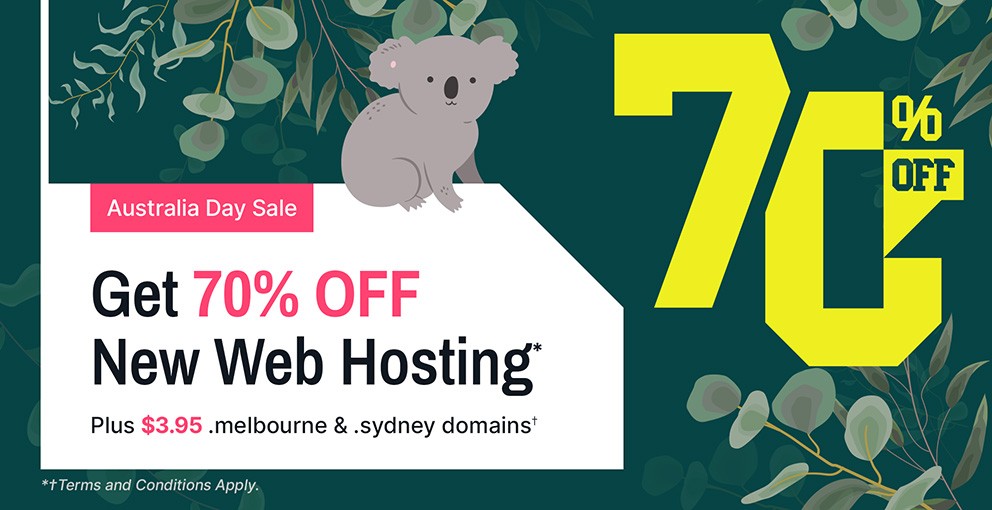 Australia Day Sale 2023 – 70% OFF New Hosting
Happy Australia Day!
Are you looking to upgrade your website's hosting this holiday season?
Look no further than VentraIP, Australia's leading web hosting provider. This Australia Day, we're offering a special sale on all of our hosting packages.
Our web hosting plans come with unlimited bandwidth, fast loading speeds, and reliable uptime. Plus, with top-notch security measures in place, you can rest assured that your website and its data are safe and secure.
But that's not all – for a limited time, you can take 70% OFF on all our web hosting packages. Plus, when you sign up for one of our plans, you can claim a free .store domain name to help kickstart your online presence.
Save more by prepaying for up to 12 months in advance.
But hurry – this Australia Day sale won't last long. To take advantage of these great deals, simply visit our website and purchase any new web hosting plan. Discount automatically applied.
CLICK HERE TO EXPLORE OUR PLANS
This offer is perfect if you're starting a new website, or switching an existing one over from another hosting provider (such as GoDaddy, Crazy Domains, Webcentral, or MelbourneIT).
Don't forget – Refer a friend to VentraIP and receive $50 CASH – Get paid for each new customer who purchases a Domain Name and Web Hosting. Access your referral link here.
Don't miss out on this amazing opportunity to upgrade your website's hosting with VentraIP. Happy Australia Day!
*Discount applies to the first invoice of new web hosting purchases for up to 1 year only. Offer valid until 11:59 PM, Sunday 29th January, 2023.
Are you looking to establish a strong online presence for your business or personal brand?
Consider using a .melbourne or .sydney domain! These local domain names are perfect for businesses and individuals based in Melbourne or Sydney. They're easy to remember and help customers find your website while standing out in search results.
Don't miss out on this opportunity to boost your brand. Secure your .melbourne or .sydney domain today!
Web hosting provides you with a physical space on one of our servers in which you can store the files necessary to put your website on the internet for all to view. Web hosting and a domain name are required for any website.
Nothing! During your initial consultation, our web hosting expert will organise a migration of any existing cPanel services that you may need to be moved to your new server at absolutely no cost to you.
An SSL Certificate is used to encrypt the connection between your website and the web browser of viewers of your website. This is essential when your website asks for sensitive information from your viewers, such as a password or credit card number, and it also gives viewers a sense of security knowing their transaction with your website is secure.
We don't believe in lock-in contracts! You'll never find any here at VentraIP Australia and can always refund a credit back to your account for any unused time on a prepaid service.
The main difference between our shared web hosting plans is the allocated resources regarding storage space, processing speed and memory capacity. The plan best suited for you would depend on your website. But if you're unsure you can always contact our support team for a recommendation for your specific needs.
Yes, we offer a 45 day money-back guarantee. If, at any time with-in the first 45 days of signing up a new hosting service with us, you decide you no longer want to continue using your service. We will provide you with a full refund.