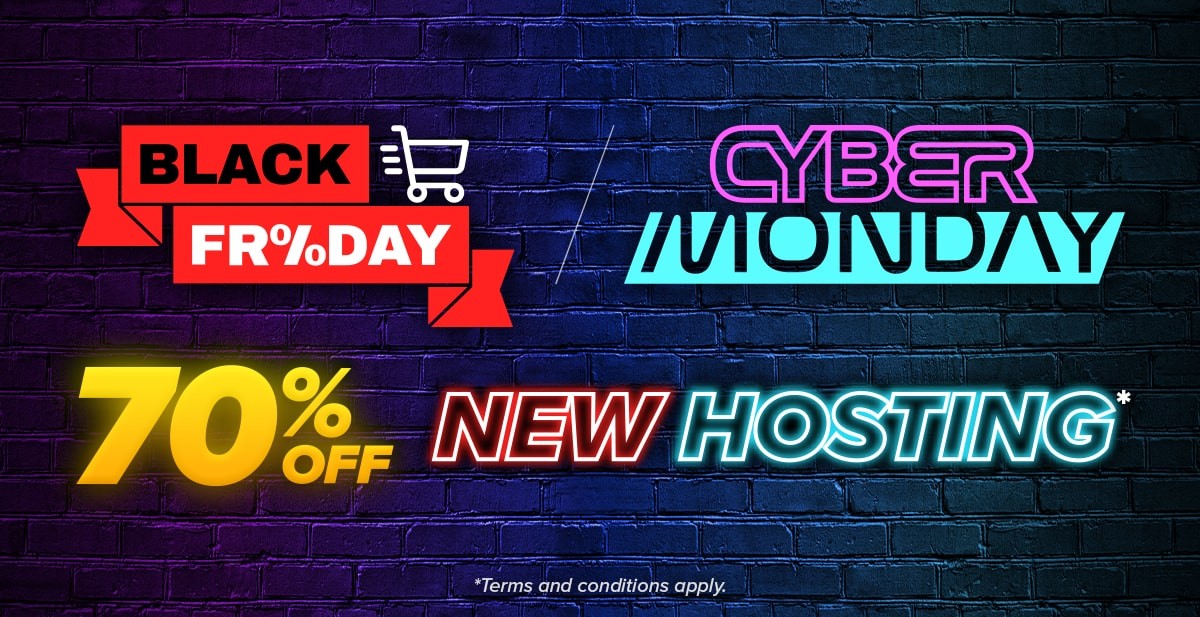 70% OFF All Web Hosting Plans this Black Friday
Our Black Friday and Cyber Monday deal has landed!
Bringing your business online is now more important than ever before. Purchase any new Web Hosting service and take 70% OFF* the total cost!
With our cPanel-based web hosting plans, your website will have the ultimate speed and security suitable for any sized business. And with instant activation, you can get started in just minutes!
Browse our Business, Custom or WordPress Web Hosting plans, choose the one you want and watch the discount get automatically applied upon checkout – no coupon code required.
CLICK HERE TO EXPLORE OUR PLANS
Save more by prepaying for up to 12 months in advance.
This offer is perfect if you're starting a new website, or switching an existing one over from another hosting provider (such as GoDaddy, Crazy Domains, Webcentral, or MelbourneIT).
Our plans offer it all, check out their amazing features:
Unbeatable Performance on Australian Hardware – Our Hardware is at the core of our business, which is why VentraIP is committed to delivering cutting-edge technology so we can provide the best possible service for our customers. Hosted on Australia's fastest web hosting platform with 99.9% uptime, your online business is open 24/7, so your website needs to be online 24/7.
100% Australian support – Our friendly and experienced technical experts are based in Australia, and are ready to help you with any questions you may have regarding your website. We take pride in delivering the most efficient service to our customers.
Website security – We've invested heavily in our network security infrastructure to ensure the best possible defence from cyber attacks. All network traffic is inspected before it reaches your website, protecting you from attacks and vulnerabilities.
Don't forget – Refer a friend to VentraIP and receive $50 CASH – Get paid for each new customer who purchases a Domain Name and Web Hosting. Access your referral link here.
*Discount applies to the first invoice of new web hosting purchases for up to 1 year only. Offer valid until 11:59 PM, 28th November 2022.
Web hosting provides you with a physical space on one of our servers in which you can store the files necessary to put your website on the internet for all to view. Web hosting and a domain name are required for any website.
Nothing! During your initial consultation, our web hosting expert will organise a migration of any existing cPanel services that you may need to be moved to your new server at absolutely no cost to you.
An SSL Certificate is used to encrypt the connection between your website and the web browser of viewers of your website. This is essential when your website asks for sensitive information from your viewers, such as a password or credit card number, and it also gives viewers a sense of security knowing their transaction with your website is secure.
We don't believe in lock-in contracts! You'll never find any here at VentraIP Australia and can always refund a credit back to your account for any unused time on a prepaid service.
The main difference between our shared web hosting plans is the allocated resources regarding storage space, processing speed and memory capacity. The plan best suited for you would depend on your website. But if you're unsure you can always contact our support team for a recommendation for your specific needs.
Yes, we offer a 45 day money-back guarantee. If, at any time with-in the first 45 days of signing up a new hosting service with us, you decide you no longer want to continue using your service. We will provide you with a full refund.