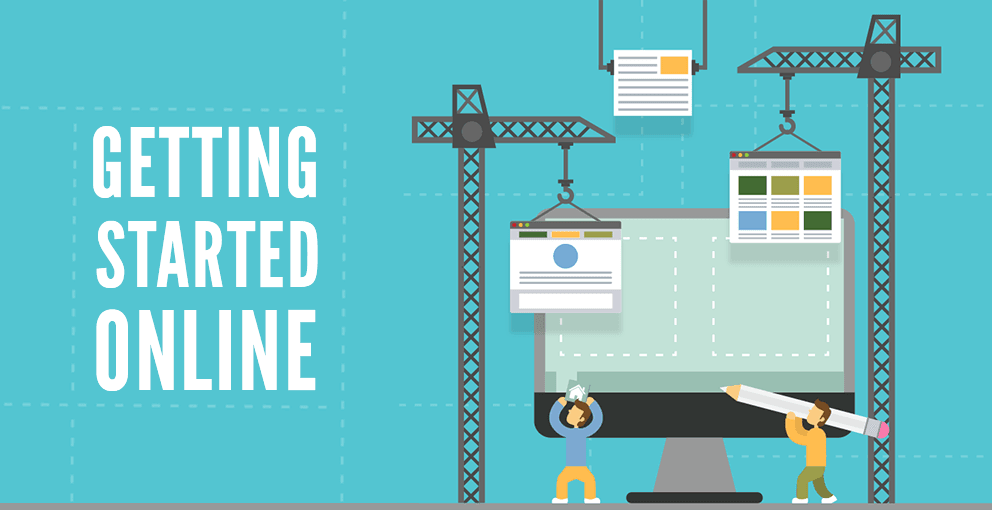 The Beginner's Guide To Getting Online – 6 Easy Steps To Getting Started
Before setting up your online presence, it's important to know your main requirements and what features you want on your website. This will help you get started on a solid footing and ensure you don't get stuck further down the track.
Some questions to ask yourself when starting are:

Am I going to be putting a lot of images and posts on my website?

Am I going to be selling any items on my website? 

Are speed and performance more important than cost?

Do I expect a lot of visitors per day?

Are my customers local or international? 
These factors will impact what sort of hosting plan you choose, where you intend to host your website and the domain name you purchase.
If you are running an eCommerce website, you may want to read about whether you need an SSL certificate and what is right for you.
If your customers are also international, you may want to consider using Cloudflare due to their routing network functions.
Now here are our 6 steps to Getting Online:
Step 1. Purchase a Domain Name
The first step you need to take is choosing a domain name. Your domain name should be related to your business and easy for your customers to remember. You'll want to register several versions of your domain name such as .com, .com.au and .net.au to ensure you protect your brand and set you up to dominate the search results.
VentraIP Australia gives you the option to register 100's domain extensions meaning there's a perfect option for everyone.
Step 2. Purchase a Hosting Service
Now that you have your domain name, the next step is to purchase a hosting service. Your hosting service powers your website and keeps it live on the web 24/7. Choosing a hosting plan depends on the nature of your website; we choose our cars and houses based on our needs and financial position, and choosing a hosting service is no different.
For example, if you're running an eCommerce website with a range of different products and images on it, you'll want a hosting service that provides a high level of speed and performance.
If you have a simple website, primarily containing blog posts, you can opt to go with a less expensive hosting service as your website will be far less resource demanding.
Our Premier plan is our fastest available plan yet, so for those with large businesses, you may want to invest in a more high-performance plan that's tailor-made for resource-intensive websites.
Step 3. Purchase an Email Service
It's pivotal to every successful business to have a working and redundant (backed up) email service. You can opt to use your hosting service for your email service, but keep in mind that if your website goes down for whatever reason, it can also affect your email service.
Redundancy is a major component in most successful businesses, so having a backup plan is not only smart – but incredibly effective when you need to communicate with tireless customers.
You'll also want to ensure that if you're using or intend to use IMAP as opposed to POP3, that you purchase an email service with sufficient storage space, as accounts using IMAP store the emails on the server, rather than the local device like POP3 does. Using IMAP can quickly fill up your email account storage allocation, so it's something to keep in mind when making your decision.
Step 4. Install your Content Management System (CMS)
You're almost at the home stretch now! You've got the 3 key tools you need to get your website off the ground. The last part is choosing a suitable Content Management System (CMS) to build your website.

WordPress is the largest CMS in the world, thanks to its intuitiveness and low learning curve. It is beginner-friendly and perfect for those who don't want an expensive developer to build their website from scratch.

Besides, having a developer build your website doesn't allow you to learn anything in the process, and learning is always beneficial when getting your presence known online.
If those aren't enough reasons for you to use WordPress, we have written a post pointing out the 10 Reasons You Should Build Your Website With WordPress.
However, if WordPress isn't your cup of tea, VentraIP Australia also gives you access to over 100+ one-click installs of the world's most popular CMS, including Joomla, Magento and Drupal, all of which you can easily be installed via Installatron inside your cPanel.
Step 5. Begin Building Your Site
Once you have your CMS installed, you're now in the design process of building your website.
The beauty of this is you're able to put your own creative flair into your website. Your website may be related to your business, but it's your business, so have fun but remember to set deadlines and goals for yourself, as this will propel your work ethic into overdrive, and you'll keep kicking goals.
If you decide to build your website with WordPress, you'll have access to a wide range of themes that you can easily install.
Alternatively, you can always get a developer to do this for you, but if you are dealing with developers, you must choose someone local that you can easily contact if something goes wrong.
Step 6. Set Up an Analytics Program
This last step is totally optional – but you've spent all that hard work building your website, so don't you want to find out what people are doing on your website?
This is especially important for eCommerce websites. With an analytics program, you'll be able to check conversion rates, where and how people found your website, cart abandonment and areas for improvement.
Most online businesses lack the appropriate analytics setup, and as a result, are left dead in the water with no performance indicators or ways to improve for the future.
If you are interested in setting up an analytics program, the most common and widely renowned program is Google Analytics. The program is free, so there's no reason not to invest the time into something that will benefit you in so many ways. 
We hope that this guide provides you with the appropriate information you need to get your online business started today. As always, good luck, and if you've read this far, congratulations on the new (upcoming) website.
If you need any assistance, feel free to contact our sales team: sales@ventraip.com.au or 13 24 85.