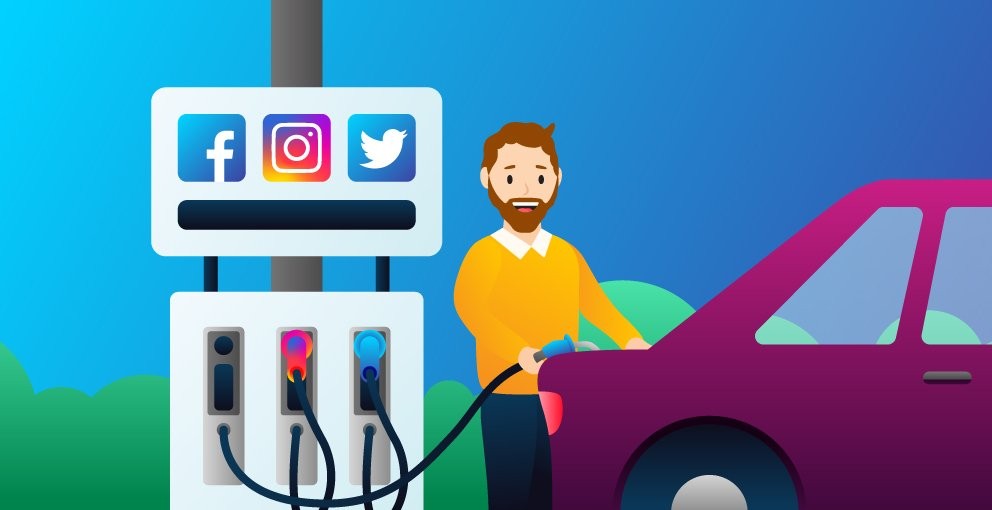 Create a Social Media Strategy to Benefit Your Site
Getting Started
Whenever people aren't on your website, they're most likely on social media, so how do we get them from one to the other? From building a brand identity to converting an audience into leads, every site can benefit from social media. Below you will find a list of helpful hints and guides on where to begin in developing your own social media strategy. Remember these are tips to benefit your website, so make sure your website is up to scratch and is performing well.
The best performing website should run on the best performance website hosting and for high-speed hosting, you can't go past our business hosting plans.
Optimise your social profiles
Before we can begin improving your social media strategy, ensure the traffic you receive is giving your customers the right information. Most social media profiles will allow you to input identifying details such as contact information and site links. If using older profiles, make sure this information is up to date and if creating new profiles, make sure the information matches your other social media platforms. This is often the first thing a visitor will see when visiting your page, so it's important to make sure it sets the right impression. 
Determine your audience 
To create an effective social media strategy, you will need to know who your audience is; in turn, you will know how to best communicate with them and where. Isolating and investing your effort into social media channels that your audience actively uses is important as it's likely impossible to manage them all unless you have a large and dedicated social marketing team.
Choose your channels 
Twitter: allows images and text but limits text-based posts, perfect for linking to longer blogs and pages, making small announcements, or posting visual focused content. Promotes discussion between users. 
Facebook: The largest user base of all social media platforms, offers a balance of text, image, and discussion content. Users are typically there for light content, best used for upbeat communication and imagery. 
Instagram: minor discussion or text capability but ideal for businesses with desirable imagery like restaurants or a pet groomer showcasing their 'clientele.' 
Youtube: Flexible video uploads, room for discussion amongst viewers, but it's the smaller focus of the channel, perfect for an online business looking to regain the tangible aspect of shopping with in-depth product reviews, tips, and tricks related to your website or even large announcements. 
Pinterest: image sharing, ideal for building brand personality, theme, and style. Pinterest involves not just sharing your own images but creating mood boards and collaborations of posts, and Pins can link back to text and websites, meaning you can throw your site directly into the mix. The platform is classified as a "visual discovery engine," so if you're going to go this route, it's best utilised with stylised images or infographics.  
Reddit: like Facebook, this channel distributes text, images, and discussion well with the added aspect of anonymity not found on Facebook. As such, a direct advertisement is typically not the best way to go. See if your website fits an existing subreddit's focus and add to the content there to begin with. 
LinkedIn: a professionally focused social media platform perfect for advertising websites that benefit or collaborate with other professionals and businesses. You can also use LinkedIn to provide a presence to your business or brand. 
Snapchat: spontaneous image/video sharing, ideal for younger target markets and websites with popular focuses like food, clothing, animals, and entertainment/experiences 
Tiktok: spontaneous video sharing, ideal for younger target markets and websites with popular focuses like food, clothing, animals, and entertainment/experiences, it is more accessible across multiple devices compared to Snapchat currently. 
Focus on visual content 
Text paired with an image generates more engagements than just text alone. Your social media strategy should include frequent images. In the majority of social media platforms, people will be scrolling through endless amounts of content. An image can help separate your post from the tidal wave of content on the screen. Visual content also has more shareability with markable differences in share rates on posts with visual content. These don't have to include photos; graphs, videos, menus, and gifs all work as well. 
Posting at the right time
Making your posts when your target audience is active is important for many reasons. Social media will prioritise new posts in your audience's view; if your target audience is fast asleep, they're not going to be able to appreciate or engage with your posts. If you're determining your audience, you can always use the inbuilt tools within social media to see when your posts garner the most engagement to begin building your strategy around that time frame. Peak times can differ between social media platforms, so check engagement on all platforms as one size does not necessarily fit all. 
Create Shareable Content 
The more accessible your content is to share, the farther it has the potential to reach. Using shareable posts, images, polls, and competitions can help reach people you wouldn't organically. This is why one of the most common social media strategy competitions involves liking and sharing the post itself. The sharing factor broadens your reach beyond your current audience to their friends and then the friends of their friends infinitely. Hence, the like requirement also ensures those individuals are likely to see your content again in the future. Content shared by an individual also carries that individual's credibility, like the sticker you see on the front of books denoting its interest from a celebrity, a post that interested your friend will likely interest you, or so the thought goes. 
Be consistent 
In a world where everyone is online every day, it can be easy for a user to forget about your website if other options are more present in their overall media view.  Posting consistently means you have more moments to remind your viewers that you're still around. Overposting can be remarked in the same light as spam, so it's a fine balance between making sure people are consistently aware of your presence but not smothered by it. 
Incorporate calls to action
Content that asks for the input of the viewer is more likely to attract engagement. This can be the request to click a link for more information, a poll they can participate in, a link to visit the website directly, or the request for them to contribute to an overall conversation on the post itself. You can also incorporate a call to action into your post, and ad's on Facebook by creating a border for the post that can include a button connected to a link. The button can be configured with Shop now, Learn more, book now, sign up and Download. These are very effective in diverting traffic to your site itself. 
Gain trust, credibility, and community 
Building an online presence and engaging with the community will help bring credibility to your website. This is particularly important if your website is eCommerce-based or involves a product or purchase. Customers knowing the website is active with multiple communication methods can help ease any new website nerves. Even if your website doesn't involve purchases, the active online presence will lend you legitimacy. It also allows people to speak of their experiences with your site, which others can see and interact with, boosting your site's overall credibility.   
Use #hashtags effectively.
You can use hashtags to join larger conversations and create associations between your website and certain themes. Find hashtags related to your website and add these to your posts. That way, users who search for those hashtags to find new content matching their interests will have a chance to find you. 
Manage Engagement  
Whilst posting alone can be used to generate interest, express brand personality, and provide information, a successful post with lots of engagement may go to waste if your viewers feel like they're talking to a wall or the lights are on, but nobody's home. Managing and engaging with the posts you've made where possible will make a world of difference. Take extra advantage of the social portion of your social media strategy by engaging with individuals directly or updating posts based on information and feedback provided. 
Make sure your site is responsive.
People are accessing websites from a more varied list of devices than ever before. Social media is accessible from many different formats, from phones, tablets, computers, and even the home TV. Without a responsive site, users may navigate your site from one of these devices only to be greeted with a mess of content that doesn't allow them to navigate your site effectively. A responsive website will mean that no matter the device users find you with, they will be presented with a functional page to browse and take in.