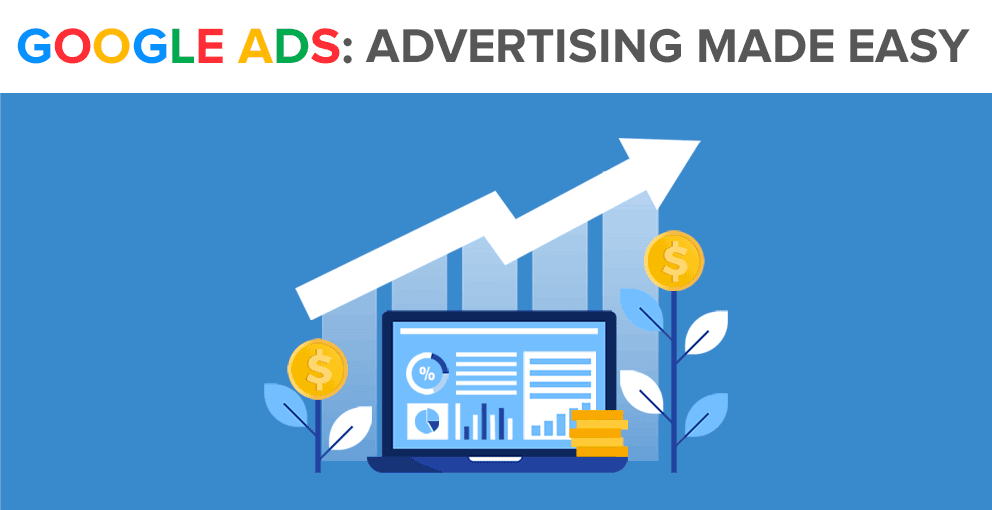 Google Ads: Advertising Made Easy
Last updated: September 2019
Having a website live on the internet is a great start for any business, providing users with a place that they can easily access your offerings and get in contact if necessary.
The tricky part is generating awareness for your website and then getting people to actually visit it to make a purchase. This is where Google Ads can become a handy tool.
What is Google Ads?
Essentially, it is an advertising management system that allows you to create and distribute promotional content. The content itself can be disseminated in a variety of different forms, with each having a unique point of attraction.
The styles available can be broken down into two distinct categories:
Search Network:

This includes Google search and related extensions (Maps, shopping and play), as well as sites that have partnered with Google.

Above is an example of a text-based at that can be displayed on the Google search engine. In addition to a URL, description and links to pages throughout your site, you also have the ability to add a business address and/or phone number.
      2. Display Network: Includes websites such as youtube, blogger and Gmail, alongside partnering websites across the internet. Examples include banner ads that can pop up on different websites. These can be made responsive so that they blend naturally into the websites that they are featured on.
Now that we have gone over some of the content types that can be utilised, it is important to cover how you get your ads to pop up over those of competitors.
Keywords
Basically, these are words that you associate with your ads so that when someone searches for the related word, your ad is more likely to be displayed. Think of them as the bait you are using while fishing.
Different fish are after different bait. If you know there are fish out there searching for worms, then you are going to want to use worms as your bait.
When it comes to obtaining keywords, it is just a matter of purchasing the right words to represent your ad and underlying product. The related prices will vary depending on the word you are after. Generally, the payment will be an ongoing cost that you only pay for when someone clicks on your ad (PPC). Take a look at some of the most expensive keywords…
Bidding the most money for keywords won't necessarily ensure that your ad is displayed. Your quality score and coinciding Google Ad Rank are also key factors. These are in place to ensure that advertisements can be measured fairly, resulting in only the most useful and effective are being shown.
What are the benefits of using Google Ads?
Leverage Google's coverage:

Given that it receives billions of searches each day, Google's usefulness as a marketing tool speaks for itself. Take advantage of their presence to grow your brand awareness online.

Control your targeting:

Just like any form of advertising, it is important to define your target audience to get the most cost-effective results. Google Ads allows you to set specific parameters and use different platforms to ensure that your ads are reaching the right people.

Capture more conversions:

Through specific targeting and continual campaign management, you are able to frequently adapt and adjust your content. This increases the likelihood of generating multiple touchpoints and an eventual purchase.

Campaign Tracking:

Statistics are critical when it comes to monitoring performance. Luckily, Google Ads has an inbuilt data system that allows you to easily review key information such as impressions, clicks and much more.

Budgeting:

One of the more tedious aspects of preparing and launching a campaign. Through Google Ads, you will be able to set and alter the parameters of your budget. Being able to automatically bid using the budgets that you define, gives you more time to focus more on the actual content itself.
Getting started with Google Ads is going to be a challenging experience. However, there are plenty of user guides and courses available to help you get used to all that the system has to offer.
Once the basic fundamentals are understood, Google Ads can be a highly rewarding tool for any brand. Having such a simplified interface paired with the ability to generate limitless content makes reaching your customers easier than ever. Why not give it a go?
Note: Google Ads is useless without a website. If you still need one of your own, you can sign up for one of our hosting plans anytime!