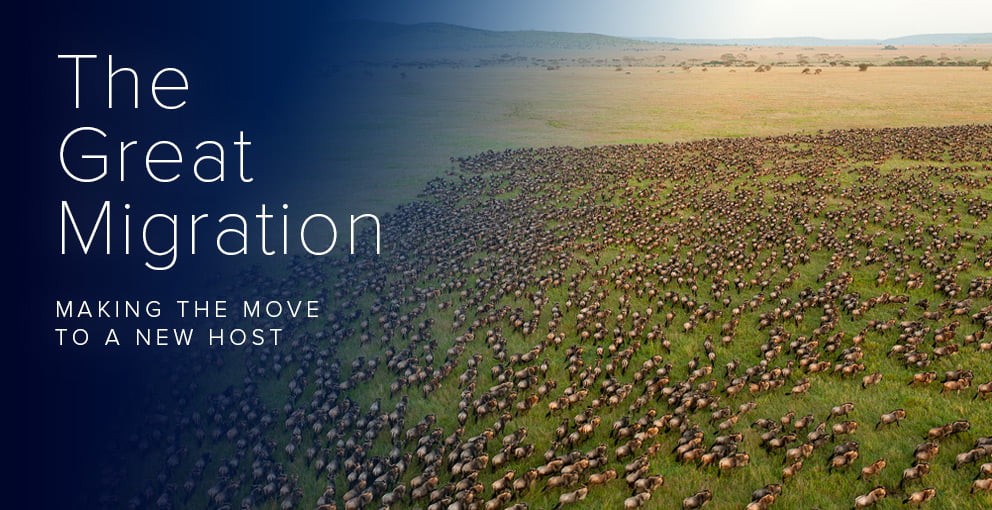 The Great Migration: Making The Move To A New Host
The journey to transfer your services to a new provider is often perceived as a treacherous one, fraught with danger and uncertainty. Disruptions, data loss, high cost… These are common fears that may be experienced when going through the process of migrating your website. Luckily here at VentraIP Australia, our award-winning services and industry-leading support team negate the need to worry.
What is migration?
To put it simply, a migration involves moving a web hosting service from one server to another and is necessary when changing hosting providers. If you are bringing over a website, you are transferring over all of the associated files and data used to build that website.
The most common types of migrations include…
1. Web Hosting Migrations
To have your website migrated over, a few key details need to be provided from your existing hosting environment. Using cPanel as an example, all that you would require is the cPanel username, cPanel password, and the server's IP address. Post move is just a matter of updating the DNS so that your new web hosting service can be located by the domain.
2. Email Hosting Migrations
Similar to web hosting, moving emails do require some information to be provided. The great news is that all you need is the email address itself and the IMAP server information. It is important to remember that your email services operating under a particular domain name must all be located under the same hosting service.
3. Domain Name Transfers
The movement of domain names is far simpler than the migration of web hosting or emails. Basically, your domain name password is the only thing you need, commonly referred to as an EPP code. This code will allow you to transfer your domain freely between registrars and can be obtained from your current provider.
How long does a migration take?
The process of moving a service from one provider to another usually includes some downtime and can range from 1-4 hours, depending on what you're hoping to move. We recommend initiating your migration overnight to help deal with this potential downtime.
Looking to migrate to VentraIP Australia?
Once your desired plans have been purchased, head to your VIPControl Account and access the Migration Request tool found at the bottom of the side-nav bar. Here you will be able to fill out our basic migration form, where you can supply the necessary information and select the ideal date and time to have your service moved over to VentraIP Australia.
That's pretty much everything you need to know to begin organising your own migrations! Understanding the procedure and the different services you can move should help speed up the migration process and ensure you're ready for the move.

If you have any questions throughout the migration period, don't hesitate to send an eTicket through to one of our helpful teams or give them a call on 13 24 85.