Mail app setup for Android
Updated
Monday January 18th 2021
/
Category
Email
Looking to update the settings on an existing account? Check out our guide for that here.
Prior to setting up email on your device(s) you will need to have purchased cPanel shared hosting and set up any required mailbox(es) for your domain OR purchased and configured dedicated email hosting mailbox(es) for your domain.
Once you've created a mailbox using one of these methods you will be able to retrieve server settings from cPanel – if you're using Dedicated Email Hosting this will be in the welcome email we send out once your mailbox is configured.
Setting up your account for the first time
1. Open the Mail (or 'Email') App and select Add new account. Enter your full email address and password, then tap MANUAL SETUP.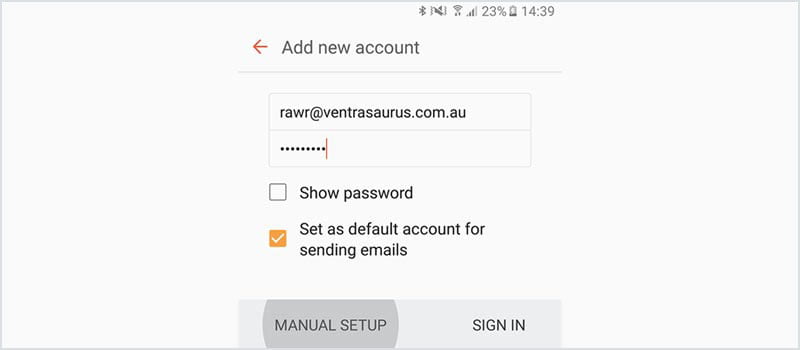 2. Tap IMAP Account as the type.

3. Enter in your account information.
Email address: Your full email address needs to go here.
Username: Your full email address, the same as above.
Password: The password for your email account
Incoming server: This is the same as your cPanel hostname, or Dedicated Email Webmail address (e.g. b1s1-1b-syd.hosting-services.net.au OR syd1.email-hosting.net.au)
Security type: SSL
Port: 993

4. Continue filling out the details.
SMTP server: This should be identical to the Incoming server.
Security type: SSL
Port: 465
Make sure 'Authentication required before sending emails' is ticked.
Username: Your full email address again.
Password: Your email account password
Tap SIGN IN.

5. You should now be ready to send/receive emails!

Still having issues getting set up?
Our support on issues using this software is limited – we're happy to verify you've put everything in the right place. Please submit an eTicket through to our technical support team with screenshots of the configurations you applied as per this article and we will let you know if anything has been missed.
Beyond this, you will need to follow our earlier suggestion of consulting the internet or looking into the vendor's knowledge base.
Click here for the Android Help page.