Retrieve your email setup information for a mailbox on a cPanel hosting service.
Updated
Tuesday September 12th 2017
/
Category
Web Hosting
This guide will allow you to retrieve mailbox information from cPanel for any mailboxes you create under a hosting service for your domain.
For a guide on how to set up an email account in cPanel see here.
For our setup guides for third party email software and devices see here.
Please note: While our team will do their best to ensure your mailbox is working properly and test the account via webmail – If you run into issues while trying to apply your mailbox settings to a specific device or software you will need to source support from the internet via a search or by contacting the software vendor directly. Our staff are not able to provide support on software not developed or sold by us.
Retrieving your mailbox settings from cPanel
Log into VIPControl and select one of the following options:
The purple button labelled "Manage My Hosting"
Shared Hosting > Manage from the left hand menu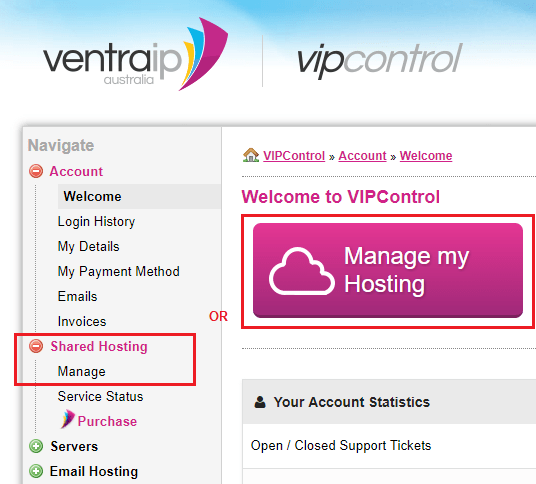 On the page displayed select "cPanel" next to the domain account your mailbox is on.
(If it's on a reseller service you will need to select "Login" against the sub-account after this step.
Once inside of cPanel you need to navigate to "Email Accounts". The fastest way to do this is to type "Email" in the search bar cPanel provides at the top of the page and select from the results below.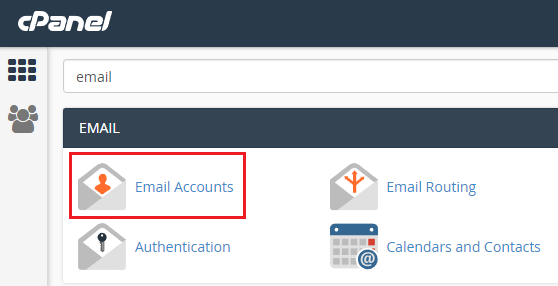 From the Email Accounts page you just need to scroll down and view the actual section labelled "Email Accounts" – Find the mailbox you want to setup in the list and select "Set Up Mail Client" on the right side of the account.

In this area you will be presented with some automatic scripts provided by cPanel which you can download and use to setup your email automatically on certain platforms.
If you can't find a script for the software you are using or you prefer to setup manually you can do a manual setup using our guides and the details underneath.


We recommend to always use the left side details for SSL/TLS setup, this encrypts your mail going to and from the server for security.
This is only an example, Your incoming/outgoing server will likely be different. Please follow the steps above to identify exactly what your server is.