What are the steps involved in completing an AU domain Change of Registrant (COR)?
A Change of Registrant (COR) is required in order to change the legal owner of an AU domain name, that is, the ABN/ACN/RBN/other eligibility type listed on the domain Whois.
To initiate a COR simply follow these steps:
Login to your VIPControl account.
Click the My Services option on the top-left of the account > Domains from the menu below
Hit the Manage button for the domain name that you wish to initiate the COR for
Select the Change of Registrant option under Admin on the left-hand side > Initiate Change or Registrant button
Simply follow the prompts to finalise the process
This will generate a $14.95 invoice in your account. Once paid, we will automatically initiate the COR from our end.
From here, an email will be sent to the current domain registrant contact to approve. Once that form is completed the gaining registrant will receive an email to enter their details. Following this, we will verify that new details are correct and then push it through for completion.
NOTE: If you simply wish to update your domain name contacts (Not change the ABN) then you do not need to complete a Change of Registrant process.
The Change of Registrant process can be found here: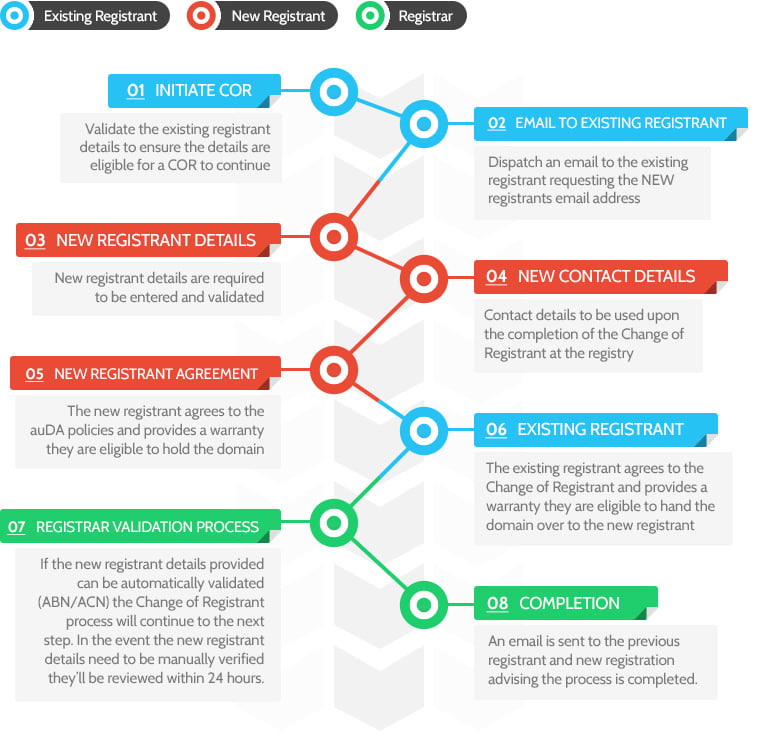 If you need any assistance whilst following through with any of these processes, feel free to get in touch with us via eTicket or over the phone on 13 24 85.