Support Centre
Find the answers to your questions and get the support you need with the VentraIP help centre.
Changing the Primary domain on a cPanel hosting service
You are able to update the primary domain on your cPanel hosting services at any time. This is all done within VIPControl.
After logging in click on the

My Services

option on the top-left of the page >

Hosting

from the options provided.

Select the

Manage

icon for the service you want to change the primary domain for.

Under the

Account

area on the left choose

Primary Domain

Hit the

Change

button > enter the new primary domain name

Make sure you read over the

Confirmation

box and accept before initiating the change.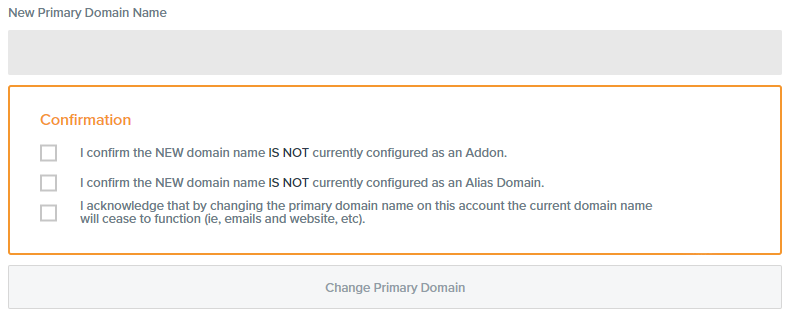 As specified in the image above, it is essential to make sure that:
The domain does not already exist on the DNS cluster – Meaning it cannot be an Addon or Parked domain on an existing account.

You need to acknowledge that by changing the primary domain name all services attached to the existing primary will stop working
Extra steps for WordPress websites
If you're running a WordPress website, you will need to change the domain name in the WordPress database/settings. See our separate support guide for further details on how to update your WordPress URL.
Important Information
Before changing the primary domain associated with a hosting service you will need to ensure that the website URL and all links have been updated to the new domain name before changing the primary domain.
If your website used WordPress you can follow this guide to update the site URL.

We Are Here to Help You
Get in touch with one of our local experts at any time.