Support Centre
Find the answers to your questions and get the support you need with the VentraIP help centre.
Legacy cPanel shared hosting package information (Economy, Business, and Reseller plans)
As per the announcement of our new hosting plan structure on July 1st 2017 all current Economy, Business and WHM Multi hosting services on VentraIP have been moved to a legacy status. This concerns the following cPanel shared hosting service types:
Economy-Saver, Economy and Economy-Plus
Business-Lite, Business and Business Plus
WHM Multi and WHM-Multi Plus
Our Beginner, Advanced, and Professional reseller plans were also moved to a legacy status as of February 5th 2019.
What does this mean for my hosting service?
Your hosting will continue as long as you continue to renew it and you should expect the very same level of service and features it's always had. Monitoring and support on these hosts has not changed and you can still submit eTickets via VIPControl or call our helpdesk for support exactly as before this change for any technical or account issue.
What are the specifications and cost of my Legacy hosting service?
Legacy ECONOMY

Legacy BUSINESS

Legacy WHM MULTI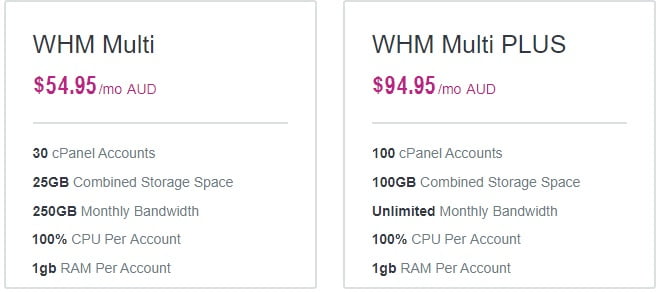 Legacy RESELLER

Can I still upgrade or downgrade my service?
Movements within the same tier can still be organized (For example, moving from Economy to Economy Saver or Business to Business Plus)
To organize this please submit an eTicket to our accounts and billing department who can set this up for you.
If you wish to change service types however such as moving from Economy to Business you will need to purchase one of our new hosting plans that meets your requirements using your domain and then book a migration in to bring it across to your new plan. Once completed you can submit a cancellation for your old Legacy service via VIPControl.
Are there still optional extras available to my current plan?
Certainly are, We have the following optional upgrades still available for Legacy Economy, Business and WHM service accounts where applicable:

Resource Supercharger
Add 50% extra CPU and RAM to your plan: $3.95 per month Not available to WHM Multi accounts.
Improves Economy from 100% (1 Core) and 1gb RAM to 150% (1.5 Cores) and 1.5gb RAM
Improves Business from  200% (2 Cores) and 2gb RAM to 300% (3 Cores) and 3gb RAM
To arrange any of these upgrades please submit a request via your VIPControl (Select "Actions" on the desired service and head into the appropriate option) or simply submit an eTicket to our accounts and billing team.

We Are Here to Help You
Get in touch with one of our local experts at any time.