Support Centre
Find the answers to your questions and get the support you need with the VentraIP help centre.
Retrieving email setup information for a cPanel hosting service
This guide will allow you to retrieve mailbox information from cPanel for any mailboxes you create under a hosting service for your domain.
Please note: While our team will do their best to ensure your mailbox is working properly and test the account via webmail – If you run into issues while trying to apply your mailbox settings to a specific device or software you will need to source support from the internet via a search or by contacting the software vendor directly. Our staff are not able to provide support on software not developed or sold by us.
Retrieving your mailbox settings from cPanel
Log in to VIPControl.
Click the My Services link on the top 

→ 

Hosting from the tabs underneath.
Click the cPanel button for the hosting service that houses the email address in question.
Where is this in cPanel?
Once inside of cPanel you need to navigate to Email Accounts. The fastest way to do this is to type Email in the search bar cPanel provides at the top of the page and select from the results below.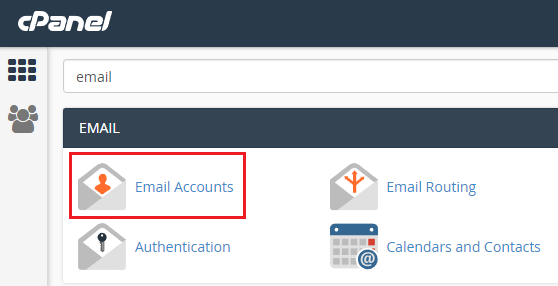 From the Email Accounts page, you just need to scroll down and view the actual section labelled Email Accounts – Find the mailbox you want to set up in the list and select Connect Devices on the right side of the account.

In this area, you will be presented with some automatic scripts provided by cPanel which you can download and use to set up your email automatically on certain platforms.
If you can't find a script for the software you are using or you prefer to setup manually you can do a manual setup using our guides and the details underneath.

We recommend to always use the left side details for SSL/TLS setup, this encrypts your mail going to and from the server for security.
NOTE: This is only an example. Your incoming/outgoing server may be different. Please follow the steps above to identify your exact server details.
Related articles

We Are Here to Help You
Get in touch with one of our local experts at any time.