Support Centre
Find the answers to your questions and get the support you need with the VentraIP help centre.
Domain name expiry process for gTLD domains
In the domain name expiry process, different things can happen depending on the extension. In this article, however, we will be focusing on gTLD domain names – that specifically means any domain that is a generic top-level domain, and this usually means governed by ICANN.
What is a gTLD domain name?
A gTLD domain name is a 'generic top level' domain name. A common example is .COM or .NET or .BIZ.
Renewing a domain name before expiration
As per registry policy, we will send the registrant contact on the domain name emails at 90/60/30/10/5/1 day(s) before the expiration of the domain with instructions on how to renew. We will also send an email on the day of expiration, to let you know that the domain name has expired and that any web-hosting or email services tied to the domain will cease to function (As DNS will stop responding).
If you do renew the domain name before expiration, then there will be no disruption to any web hosting or email hosting services associated with the domain name and you will notice the date in VIPControl will increment. You can choose to renew your domain name for up as many years as you like, with a cap of 10 years total on the domain name.
VIPControl will present the options to you (Including the price) and only the options your domain name is eligible to be renewed for (Example, if your domain has over 4 years remaining and you want to add more years, VIPControl will only show you up to 5 years renewal).
Renewing domain name through VIPControl
Renewing your domain name through VIPControl is easy, and takes a few seconds to complete.
Log in to VIPControl.
Click the My Services at the top

→ Domain Management

from the menu below (you will be taken here by default).
Click the Manage button for the domain name that you wish to renew.
Here you can select the Renew option on the left-hand side  or scroll until you reach the Renew Domain Name area.
Simply click the Renew button to select a renewal period and generate an invoice.
Once the invoice is paid the extra period will be added within 15 minutes
NOTE: EFT or BPAY payments can from 1-3 business days to land with us, so please make sure that you pay in advance of the expiry date for your domain if using either of these methods
Renewing your domain name after expiration
When a gTLD domain name expires, we place a status of 'client-hold' onto the domain name which will stop the DNS from resolving on the domain. This means that any web hosting or email services you have associated with the domain name will cease to function.
At the time of expiration, you have 40 days to renew the domain name before it enters the Redemption Grace Period (RGP). Anytime between the expiration date and 40 days, you can renew your domain through VIPControl using the options detailed above.
Outside of the 40 day period (when the domain enters RGP), you will need to contact our billing team via eTicket to have a restore performed on the domain name. This fee varies per domain name as some domain names will come at a higher cost than others. Our team will confirm the fee with you, and you can proceed if you choose to.
Whilst in the RGP, you have 30 days before the domain name will enter Pending Delete for 5 days and it will then eventually drop and be available for general purchase (to anybody).
NOTE: You will not be able to renew or restore the domain name once it enters the pending deletion stage
For a visual representation of the gTLD life cycle, please see the image below: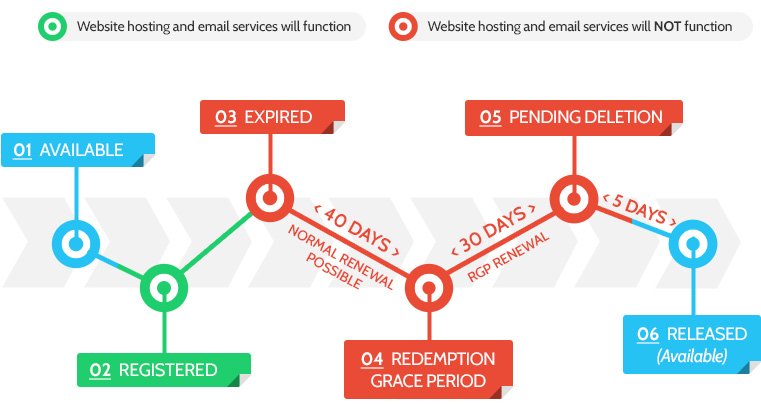 We Are Here to Help You
Get in touch with one of our local experts at any time.