Support Centre
Find the answers to your questions and get the support you need with the VentraIP help centre.
How to purchase extra Disk Space for a NetVirtue shared hosting service
Step 1 – Login to nvArea (https://nvarea.com.au)
Step 2 – In the menu to the left of nvArea, click Hosting Services to open the drop-down menu and then click Manage Hosting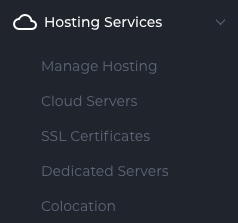 After you click Manage Hosting, you will see a list of your active services.
Step 3 – Click on the service name open the Details for the service you will be working with.
Step 4 – Click on the "Upgrade/Downgrade option from the top menu.

Step 5 – Choose the desired disk space upgrade from the dropdown and click the "Add Disk Space" button.
Your extra disk space will now be added to your service.
An invoice should now have been sent to your email address on file for the extra Disk Space.
This invoice will need to be paid before the due date or your service may be suspended for non-payment.

We Are Here to Help You
Get in touch with one of our local experts at any time.