Support Centre
Find the answers to your questions and get the support you need with the VentraIP help centre.
Verifying if a VentraIP email is phishing or real
Protect your money and services by ensuring you only action real emails from VentraIP.
Recently we have seen a dramatic increase in phishing scams targeting our customers. These scams usually come to your email with the threat of suspending your service unless a payment is made immediately. We have also seen scams made to impersonate our invoices.
We ask all customers to be vigilant and complete some simple checks on all emails claiming to be from VentraIP.
You can do three essential things to ensure that the email is valid.
The email came from noreply@ventraip.com.au, and says the account holder's name in the email (not "customer" or "client").
Check that the URL is correct when visiting VIPControl (https://vip.ventraip.com.au/login/)
You can see all your services within VIPControl before paying any invoice.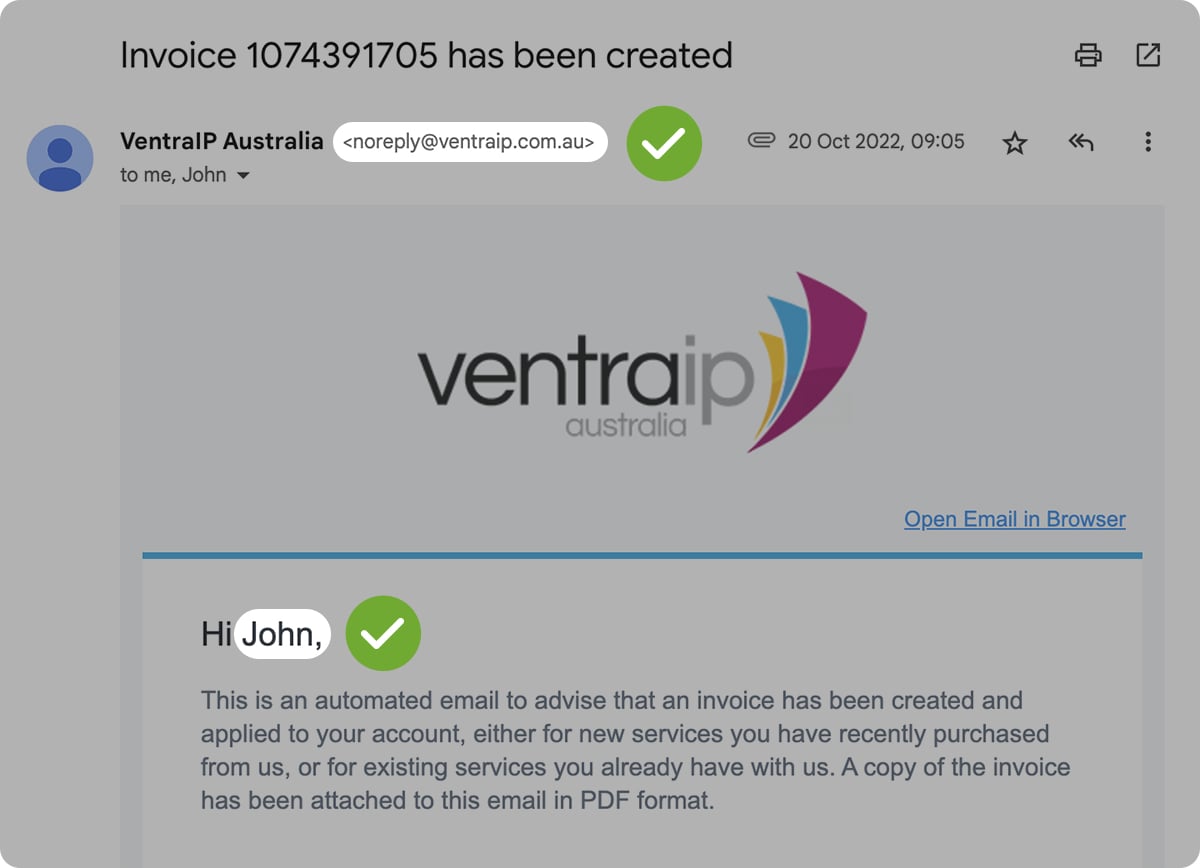 Confirming you are in VIPControl
When logging into VIPControl, you should only the following in the address bar – https://vip.ventraip.com.au/login. This is the only URL that allows you to log into your VIPControl account. If your browser's address bar has any other URL, you should consider this a scam, and you should leave the site immediately.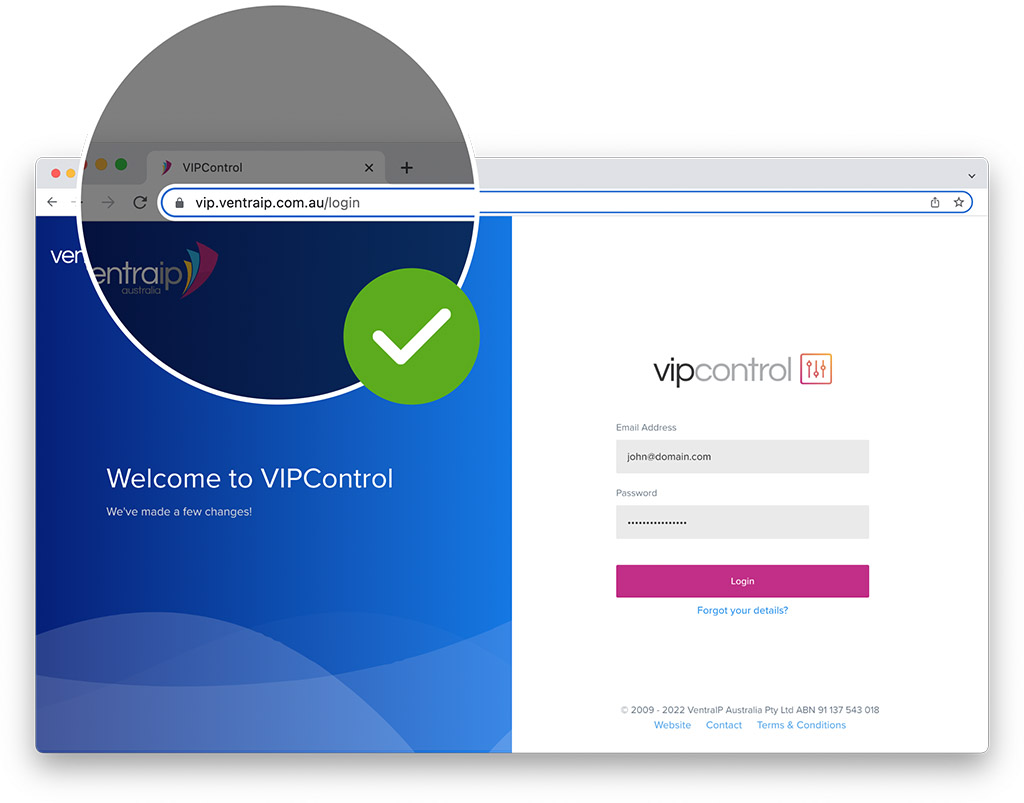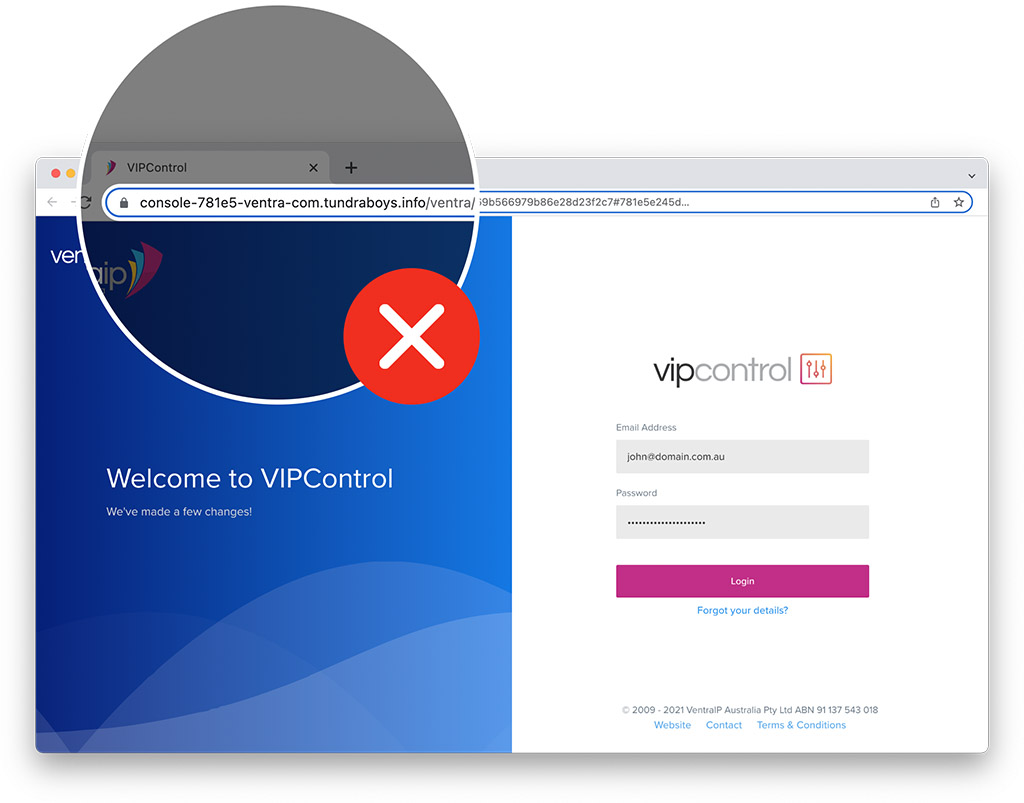 Verifying your services within VIPControl
Scammers do not know what services are within your VIPControl account. If you log into a phishing page, it generally takes you straight to a Credit Card payment page to enter your credit card details. If this happens, then this will be a scam.
Legitimate emails from VentraIP will direct you to log into the VIPControl dashboard, and you will see all your services, not just a credit card screen.
When you log into VIPControl, the address bar should show the dashboard URL – https://vip.ventraip.com.au/dashboard.
You can do a quick check withing VIPControl to verify you are within our system.
Your name and phone number will be listed at the top of the page
You will see all of your domain names and active services in the Express Service Manager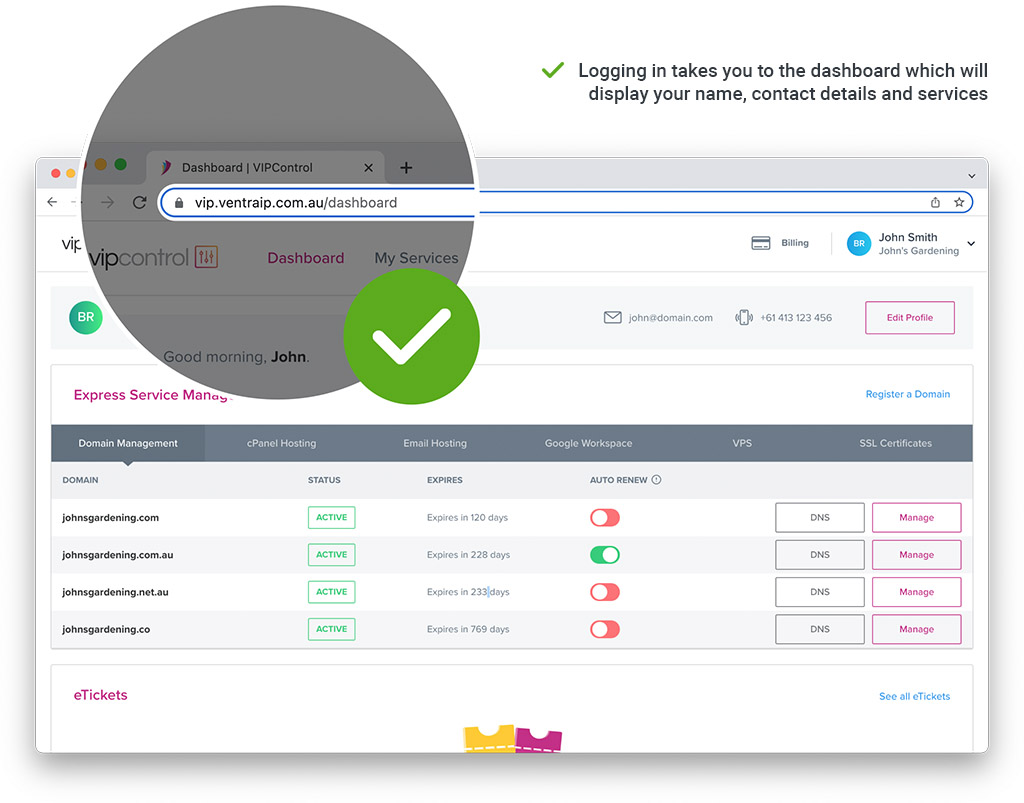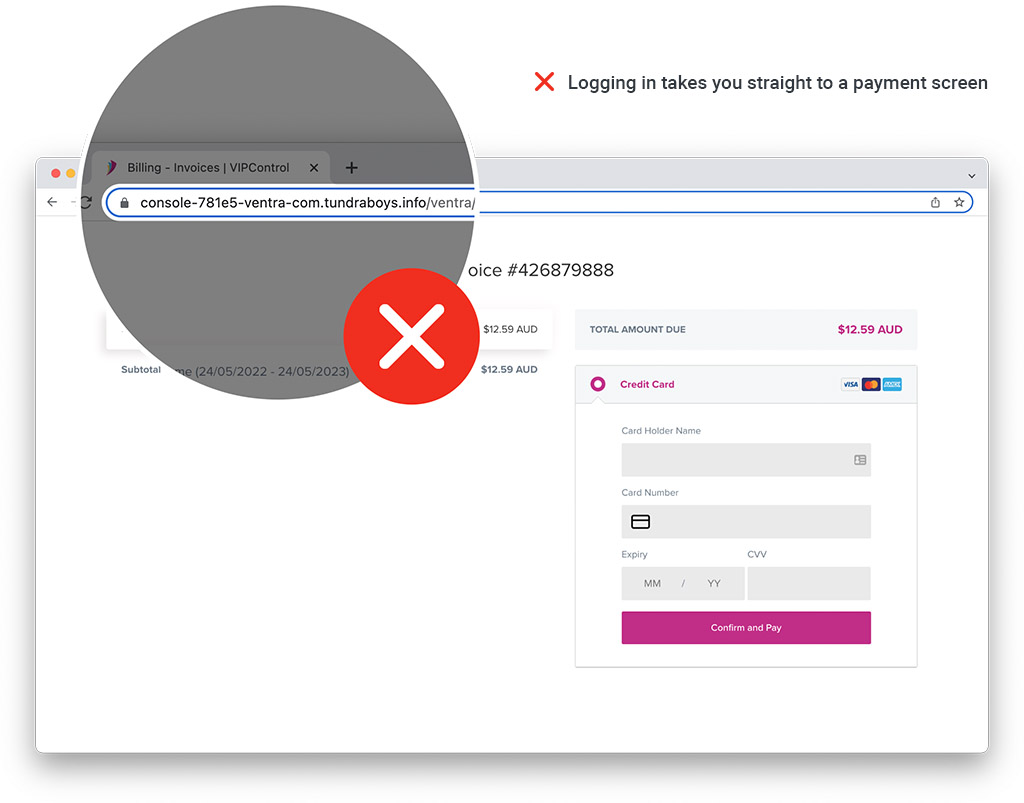 What do I do if I receive a phishing email?
The best thing to do is to mark the email as spam in your email client and then ignore the email. If you are worried about having an unpaid bill, we suggest you open a web browser, go to https://ventraip.com.au and click on login in the top right-hand corner. Once you are in VIPControl, you can click on invoices to see if there are any listed as unpaid.
I logged into the phishing website.
If you have clicked on the link and logged in, you will need to change your VIPControl password to ensure the scammers do not take control of your account. You can do this under "My Profile" in VIPControl.
I entered my credit card details.
You will urgently need to contact your bank and cancel your credit cards to ensure the scammers cannot use them.
What further steps can I take to protect myself?
We strongly suggest that all customers set up two-factor authentication (2FA) on their VIPControl account. Enabling 2FA will ensure only you gain access to your VIPControl account and prevent scammers from accessing your services from within VIPControl.
To activate 2FA on your VIPControl account, you can follow the guide from our FAQs.
How do these scammers get my details?
There are some clever ways they obtain this information.
They know you are with VentraIP, as usually, the domain is pointing to an IP address on our server network. They also use technology that scrapes websites for email addresses and then uses this email to send to you. Other times is the email associated with the domain name itself, or sometimes they guess common emails used like info@ or hello@ your domain name.

We Are Here to Help You
Get in touch with one of our local experts at any time.