Getting Started with Google Workspace
After purchasing a Google Workspace service you will need to login and complete the initial setup of the administrator account for your domain. This will involve going through verification of your domain, creation of any users and then customization of your Google Workspace account if you wish to add any third party plugins from various software providers.
On first login to the Google Admin centre you will see the following prompt up the top of the dashboard: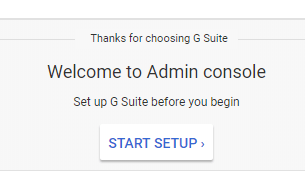 We will need to follow this through to the end to set up your new services, Setup is broken up to 3 steps.
Essential
Get Started
Set Up Mail
We'll go over the ins and outs of each below.
Essential
This area covers domain verification to ensure they own the domain you are trying to connect up with Google Workspace. Verification can be done several ways, This includes:
TXT DNS verification
Requires a unique TXT record be put in place on the domains active DNS zone. This is generated in the prompt given and usually starts with 'google-site-verification=' followed by a long string of characters.
This can generally be picked up immediately after being put in place.
HTML tag
This requires the site <head> data be edited to include a unique meta-tag be included which is given out to visitors looking in the right place of the page request after loading the site.
We cannot assist in implementing this type of verification as it falls under content development and should instead be done by a developer.
HTML file (Beacon File)
Google provide a .html file to be downloaded and uploaded on to the web hosting account for the domain being verified. The file should be placed in the webroot (public_html on cPanel, httpdocs on Plesk).
Once uploaded you should be able to visit the page to display a code in the file from Google. Once they can see this using the verification tool it will be considered verified as only the owner could have put it there.
Google Analytics
This allows a customer to prove ownership using an already existing analytics account which they'd of already performed validation for by adding a meta tag to the sites <head> content. Again as this falls under content/development we cannot assist on this type of verification other than to explain what they need to do.
Once verification has completed it will go back to the overview saying verification still has to be performed. When you go through the prompts it will say doing a second method will make the connection more resilient.
This step is not required however and you can just select "Not Now" to proceed.
Get Started
This step you will be presented with 2 options:
Add Users
When adding users you can add them manually or several at once, We'd always recommend just manually add people unless you are familiar with Google Workspace from another account.
The prompt to manually add people just asks for a First and Last name along with the username they wish to be known by. You can also select to set a password manually if they don't want a temp random one assigned.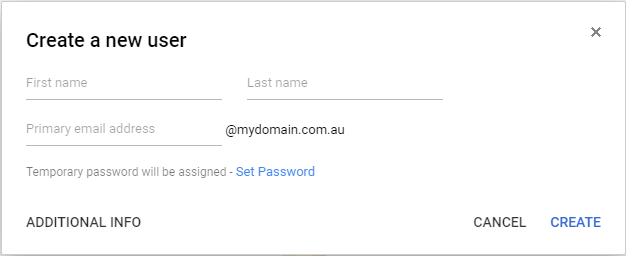 Additional information, you can add secondary email addresses and employee details if desired.
Tour of Admin Console
We'd highly recommend all customers set up this service if new to the Google Workspace platform to follow it through. This will show you how to navigate the admin panel and what each section does.
This can be accessed after this step through the right side menu at ANY time if you need to brush up on how to perform a certain action.
Set Up Mail
Once all mail accounts have been set up in Google Workspace it will then want to link the domain to Google Workspace email services.
The initial question will be "How you want to route your email?". If your email has no mail filtering service that you need to pass mail through you should select "Google Services". If you a mail filtering provider you should use "Another Server" – If unsure speak to our support team and we'll inspect your current setup and advise the best option.
Once selected press Next.
It will now show your current domain MX records and guide on adding the MX records. Currently, we are not listed to have exact steps given so they should select 'Other' for now.
This will display all MX records that need to be added.
| Priority | Points to |
| --- | --- |
| 1 | ASPMX.L.GOOGLE.COM. |
| 5 | ALT1.ASPMX.L.GOOGLE.COM. |
| 5 | ALT2.ASPMX.L.GOOGLE.COM. |
| 10 | ALT3.ASPMX.L.GOOGLE.COM. |
| 10 | ALT4.ASPMX.L.GOOGLE.COM. |
If using Free DNS there are a "Set Google Workspace MX records" button in the VIPControl to add these records under the "Manage DNS" prompt on the domain.
If using cPanel nameservers these will need to be added inside of the cPanel account via Zone Editor.
Once the records are in place it will present a prompt showing what's currently set and what should be in place. This page will update once the new MX records have propagated.
With or without MX records being completed there is some final settings it will ask about putting in place, First of these is 'Mobile Management'
This allows you to enforce the following on your users that setup devices to connect to Google Workspace user accounts you have set up, these features include:
Screen lock required to unlock mobile devices
Selective account wipe of corporate data on mobile devices
Inventory management of all mobile devices in your organization
Mobile app management for Android users in your organization
After this is 'Extend and customize your Apps'
On this page, it will ask about enabling or disabling some extra features for Google Workspace. Some will be enabled by default and there is a highlight next to each option to explain what each thing does.
Each of the options is as follows:
Allows the admin to select apps to integrate into Google Workspace from the marketplace. Most require external accounts with those service providers.
This will provide a prompt on where to download Chrome. It also recommends sending the link on to users of the accounts the setup so they can use Chrome too.
Create custom web addresses
Allows the admin to create custom URLs for accessing Google Workspace which doesn't include 'google.com' in them.
If you own multiple domains they can add others and create accounts for multiple domains when adding or managing users.
Tailor who uses which apps
Set up multiple levels of access through groups, Allows admin to lock down access to certain parts of drive on the Google Workspace account.
With this all out of the way it will now present some options for Training and Support for use of the Google Workspace platform. Both as a user and administrator.
As an admin there are several resources for you to go through:
As mentioned, We recommend all customers acting as admin should go through these to learn what they need to use the platform efficiently and effectively.
You can send your users to "learn.googleapps.com" so they can have some guidance on using the platform.
Support
In terms of support options for any issues you run into with their service or using the G Suite platform after setup. This includes troubleshooting articles, known issues, customer discussion forums, and more.
There is also live chat, This can be found here when logged in as an admin.
When logged in you will also have options for Email Support and Phone Support. The details of these are hidden until logged in as the administrator for the domain though.
Our support team at VentraIP are also here to help you perform certain actions on your services. Generally, we can assist or point you in the right direction with anything you may be doing on your administrator account. Feel free to submit a support eTicket with an explanation on what you may be doing and any errors/issues you encounter and we'll do our best to help out or point you in the right direction at the very least.