Support Centre
Find the answers to your questions and get the support you need with the VentraIP help centre.
Resetting the Admin password for Google Workspace accounts
If you have forgotten the password set for your Google Workspace admin account then it can be reset directly from the login pages used to access the administration portal.
Supply the email address your account is under and on the next page it will ask for the password and an option Forgot Password?, click on it.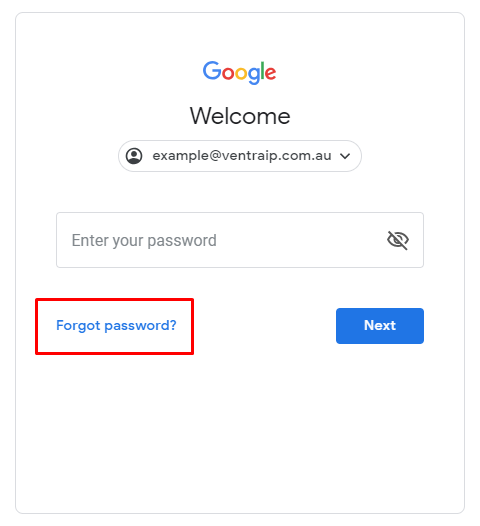 It's now going to ask a set of verification questions to establish ownership. These questions will range from:
The LAST password you remember using on the account successfully
The full name set on your Google Workspace administrator account
The date the Google Workspace account was created (You should have a welcome email on a secondary email account to provide this)
The last date that you remember signing in successfully
Organisation name set on the account
Number of users that are set up under the account
Successfully answering enough questions will provide a prompt to reset the password on the account. Failing to answer enough/all of these will prompt a contact support option which will initiate a ticket to Google Workspace support.
These can take up to 72 hours to be actioned and this cannot be sped up in any way.

We Are Here to Help You
Get in touch with one of our local experts at any time.