Support Centre
Find the answers to your questions and get the support you need with the VentraIP help centre.
Updating your VIPControl contact information
Why is having updated information important?
It will make sure that you can always log in to your account;
we can contact you at any time for issues regarding your service, reminders, invoices;
and we can authenticate the account holder if there are any disputes.
Where do I update the details?
Log in to your VIPControl account.
Navigate to the My Account page.
Click Personal Details on the left side of this page.
Edit the account details as required.
Click Save Changes to complete the process.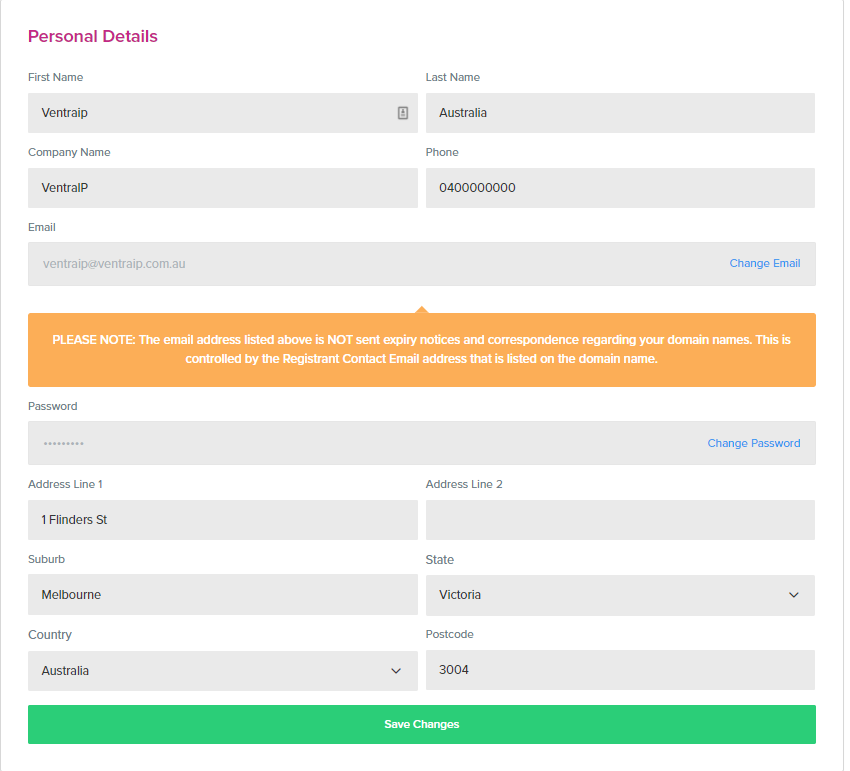 NOTE: Your VIPControl account details and your domain registrant details are separate and will need to be updated individually. For information on updating your domain name contacts, please see this article.
Your VIPControl contact email
When choosing an email address for your account, we recommend using a personal email address that is hosted outside of your services with us, such as a Gmail our Outlook address.
This is a preventative measure, just in case anything ever goes wrong with your @yourdomainname.com service hosted by us.
This contact address will be responsible for receiving invoices and logging into your account. On top of this, it's the address that we will contact you for anything service-related. For these reasons, we strongly recommend making this an alternative email address that you will always have access to.

We Are Here to Help You
Get in touch with one of our local experts at any time.