How to find the IP address of my cPanel web hosting service
Updated
Thursday January 21st 2021
/
Category
Web Hosting
What is an IP address?
As a definition, the IP address of your server is basically the home address for your hosting service.
When it comes to locating your server's IP address, there are a number of places to find it.
Within cPanel
You can find the server IP address once logged into your cPanel under the General Information section. This will typically be on the right-hand side of the account.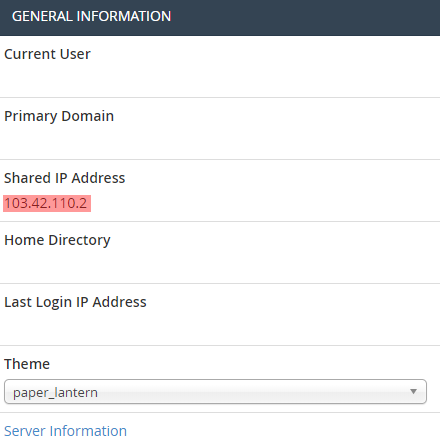 Within VIPControl
Click on the My Services option in the top left of your account, then Hosting from the menu below.
Hit the Manage button for the hosting service that you wish to access.
You will find the server IP address under the Server Details area on this page.

NOTE: If your service is using a Dedicated IP address you can only see that IP from within cPanel through the Server Information link.